Remembering the 'Fog Bowl' 30 years later: 'The weirdest day of my football life'
Listen
3:55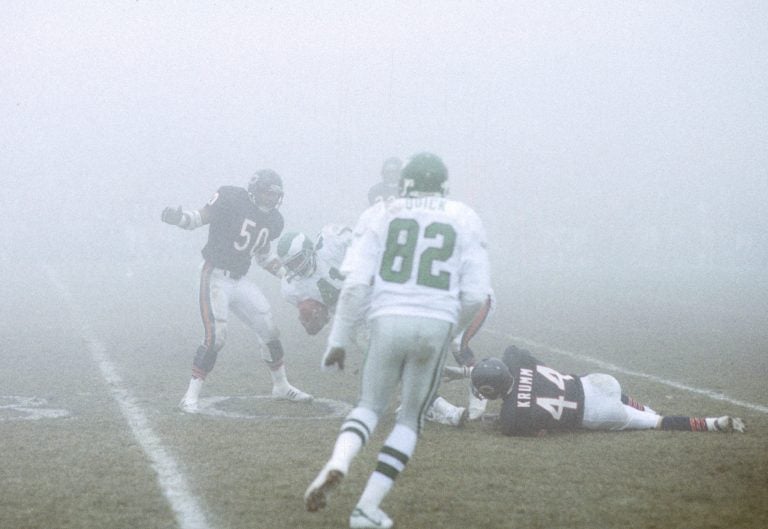 When people ask legendary Eagles radio announcer Merrill Reese what it was like to call the infamous "Fog Bowl" game 30 years ago, he has a colorful metaphor at the ready.
Or, is it a color-less metaphor?
"I always tell people, go up against a white wall in your house and just stare at that white wall, and you have the same vision I had calling the Fog Bowl," he recalled.
The Philadelphia Eagles will travel to Soldier Field in Chicago Sunday to take on the Bears in the first round of the NFL playoffs. That showdown will come 30 years after the two teams met in one of the craziest playoff games anyone has ever strained to see.
On the final day of 1988, the Bears beat the Eagles 20-12 in a fog so thick the players could barely see one another. And Reese? He couldn't see a thing.
"It was a feeling of total frustration," Reese recalled. "It was hopeless. It was just futile."
The day started well. In fact, for New Year's Eve in Chicago, the weather couldn't have been much better.
The week before, Reese recalled, the team had practiced in Arizona to avoid any weather-related disruptions. Now, the Eagles had another blessing from the climate gods — a sunny day that would allow their offense to flourish in usually icy Chicago.
"Before we knew it we were taking off layers of clothes," Reese said. "That's how nice and warm it was."
The only thing warmer than the weather was the Eagles team, who'd won six of their last seven behind a stingy defense and prolific passing attack. Head coach Buddy Ryan seemed poised to knock off his former boss, Bears skipper Mike Ditka, in a much-anticipated grudge game.
When the Eagles arrived, Ryan, known for his bravado, instructed team buses to circle Soldier Field while blaring their horns in order to send a message.
"Buddy Ryan said we're not sneaking into Chicago," recalled Stan Walters, a former Eagles lineman who called the game along with Merrill Reese that day. "We're going in full bore."
The Eagles made a couple of costly errors in the first quarter and a half, and the Bears raced ahead to a 17-6 lead. But the Eagles offense looked strong, and a comeback seemed within reach.
Then, midway through the second quarter, something that looked like a puff of smoke blew in from Lake Michigan.
"I said, 'There must be a fire in the parking lot because it's awful smoky off to our right,'" said Walters.
"But then, it didn't have any smell to it," said former Eagle Mike Quick, who played receiver for the Birds that day. "Then I started to realize that it was just fog."
The vapor moved fast.
"Within minutes, the field was totally enveloped in fog," Reese said.
The fog was so dense, Quick and his teammates could barely see each other. The Eagles had to abandon their high-flying pass attack. And up in the radio booth, Reese had to abandon any pretense that he could see the game.
"I was trying to be somewhat entertaining, and saying things like I can tell [Eagles quarterback] Randall Cunningham is having trouble, he just came out of the huddle led by a German shepherd," Reese said.
As Reese remembers it, the Bears sent a public address announcer down to the sidelines with a wireless microphone to call out what was happening on each play. Based on those announcements, Reese relayed the events of the game to his radio audience.
For Walters, it wasn't exactly the pinnacle of his radio career.
"You're on a live broadcast of a pro football game and you can't talk about the game," he said. "That was amazing."
Thirty years later, Reese said it's still the toughest game he ever had to call.
"All the binoculars did at Soldier Field on that day was make the fog look even thicker," he said.
A 'mist' opportunity
While Reese struggled to do his job, both teams struggled to muster any offense. The Eagles' comeback attempt fizzled, leaving one of the more talented teams in team history to stew over what might have been.
"For many of us who had been in the league for several years, it was the opportunity of our lifetime," Quick said.
Quick thinks the game should have been called or at least delayed. Both he and Reese believe the Eagles would have won if the fog hadn't descended.
Now the pair call games together — Reese still as play-by-play man and Quick as color commentator.
The former wideout laughs when mulling what he'd do as an analyst today if confronted with similar weather conditions. Both he and Reese point out that the placement of the radio booth at FedEx Field, where the Washington Redskins play, makes it perpetually difficult to see the action. But when the Eagles won there to punch their playoff ticket, "at least I could see images," Reese said with a chuckle.
For Quick, the Fog Bowl remains a painful memory. Whenever he's with old teammates and the game comes up "we make sure that we throw water on that right away," he said.
Still, he understands the enduring fascination with the game. He says it's the strangest game he's ever played in or seen.
"I started playing football when I was 8 years old," Quick said. "It's the weirdest day of my entire football life."
What happened afterward is almost as weird.
Reese descended to the locker room for post-game interviews, worried that the fog would ground him in Chicago and cause him to miss a New Year's Eve party he was hosting in Philadelphia that night.
But when he left the media scrum and stepped back into the parking lot, the fog had lifted. As Walters recalled, the day ended with conditions as pristine as they'd been when the game began.
"All of a sudden, it's clear," Walters said. "Clear as night."