Taxis, limos, and disabled activists to file lawsuit seeking injunction of PPA's agreement to effectively legalize Uber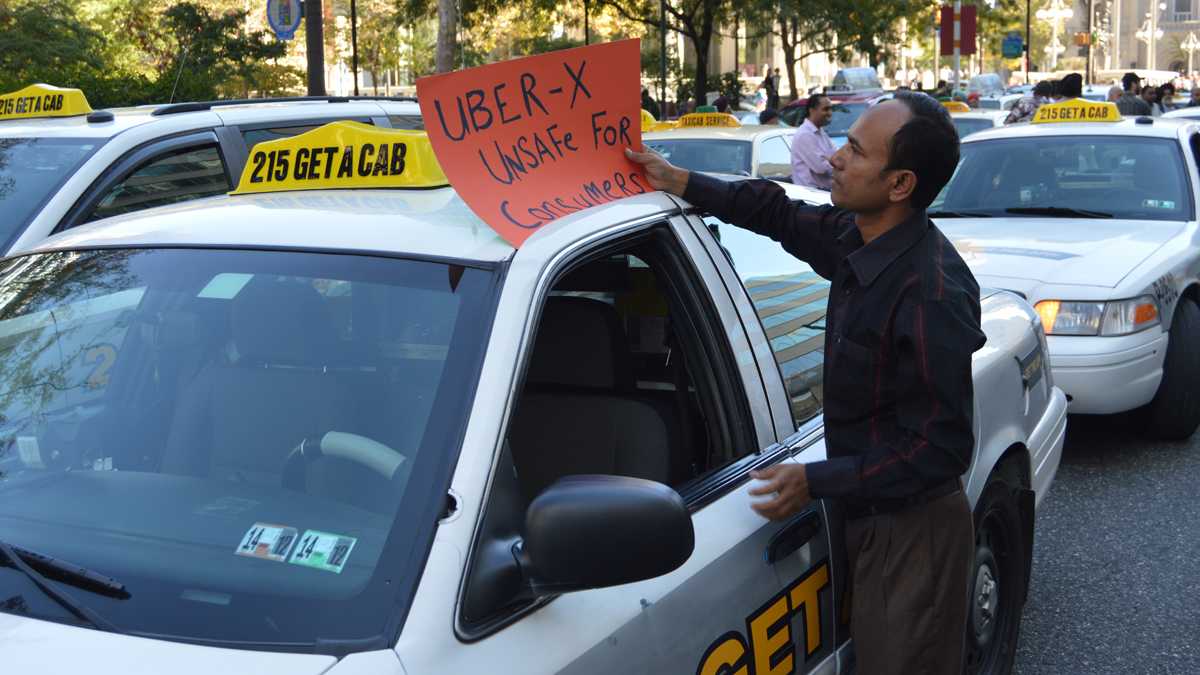 A coalition of taxi drivers, limousine drivers, and advocates for the disabled announced, calling itself Fair Ride Philly, plans to file a lawsuit tomorrow in Philadelphia's Court of Common Pleas seeking an injunction against the Philadelphia Parking Authority's (PPA) agreement with Uber to allow the ride-sharing company to operate temporarily without enforcement actions against it.
The lawsuit names the Taxi Workers Alliance of Pennsylvania, the Limousine Drivers Association and Liberty Resources as plaintiffs, and argues that the PPA exceeded its legal authority by signing an agreement with Uber to allow the company to operate its UberX and UberPOOL services through September without fear of impoundment and fines by PPA officers.
In a filing earlier this year, brought by the PPA, UberX was declared an illegal "hack" taxi service; Uber appealed immediately, but while that lawsuit continued, fines against the company accrued to nearly $ 1 million. As part of the non-enforcement agreement, Uber will pay just $350,000. The taxis, limos and disability advocates are also alleging that this settlement amounts to a bribe.
For a taxi industry battered by the popularity of ride-hailing companies, which have operated in Philadelphia without abiding by the expensive regulations applied to cabs, the lawsuit may be a death rattle.
"The reality is we don't expect to be granted the injunction," said Angela Vogel, a spokesperson for the Fair Ride Philly coalition. "We think it's a long shot but it's a shot we think has to be taken."
A preliminary injunction would temporarily suspend the effect of the PPA's agreement with Uber, requiring the authority to resume enforcement actions against the company while the lawsuit continued. Meanwhile, a bill in Harrisburg to legalize Transportation Network Companies like Uber and Lyft has stalled amid budget battles.
By entering into an agreement with Uber, Fair Ride Philly alleges, the PPA effectively created a law, exceeding its powers as a regulatory authority. The coalition also argues that the PPA lacks the ability to declare a public emergency and then suspend enforcement of the laws pursuant to that emergency. In the announcement last week, PPA officials cited the SEPTA Regional Rail car shortage and the upcoming Democratic National Convention as reasons why it felt forced to enter into an arrangement with Uber. The Pennsylvania law on taxicabs and limousines in Philadelphia does not explicitly provide for emergency powers.
The lawsuit will additionally argue that the PPA is improperly ignoring the Americans with Disabilities Act (ADA) by authorizing Uber operations. Disabled activists have complained that ride-hailing companies like Uber and Lyft discriminate against passengers with wheelchairs. Ride-hailing apps rely on drivers using their personal cars, which rarely are equipped to handle passengers in wheelchairs.
In ongoing court battles across the U.S., Uber has claimed that it is a technology company, not a transportation provider subject to the ADA. The ADA requires transportation services to accommodate wheelchair users if the chair can fit, meaning even UberX drivers in their own cars should make room if they have enough space. Advocates like Liberty Resources say that many UberX drivers have simply refused to pick up passengers in wheelchairs.
In the their announcement, the coalition contends that "they are not seeking an end to ride-sharing." Rather, they say that it is unfair that taxis and limos must comply with all sorts of regulations when Uber, which essentially provides the same service, is rewarded for ignoring the law.
A separate lawsuit brought by UberBlack drivers against Uber continues to work its way through federal court in Philadelphia, with the judge in that case requesting supplemental legal briefs from the parties last week. There, UberBlack drivers contend that they operate as employees, not independent contractors as Uber has classified them, and thus are entitled to healthcare, reimbursed costs and other benefits. Uber is currently seeking to have that case dismissed, arguing that arbitration clauses in the app's terms and conditions should preclude the lawsuit from being heard. A decision on that motion to dismiss is expected sometime soon.