Streets Dept. Summer Construction Update: Potholes (still), 41st Bridge, trails, roads and more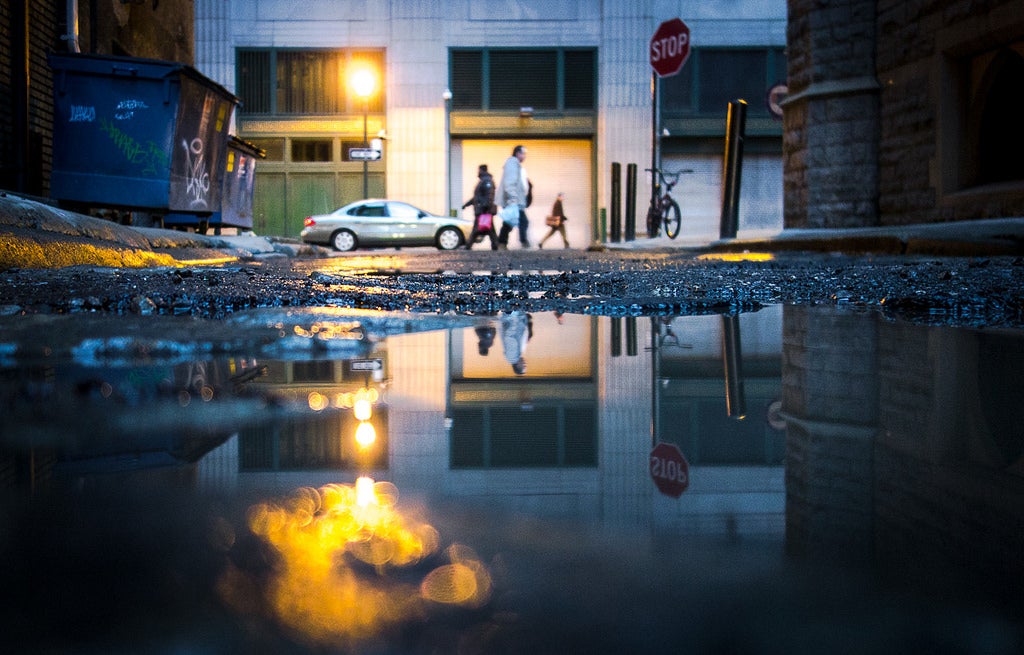 Every now and again, we like to check in with Philadelphia Streets Department Chief Engineer, Darin Gatti, to find out what the boys in neon green and safety-cone orange are up to. When PlanPhilly spoke with Gatti a few weeks ago, Streets was still filling potholes (keep reporting them to 311!) while getting ready for a full summer of construction and repair projects to Philly's roads.
IN PHILADELPHIA NOTHING CAN BE SAID TO BE CERTAIN, EXCEPT DEATH, TAXES AND POTHOLES
Gatti said that Streets is continuing to work on potholes following yet another rough winter. While this past season didn't have the kind of snowfalls that 2013-2014 did, it featured a thaw-freeze-thaw-freeze cycle that is absolutely devastating to streets: potholes are mainly caused by water seeping into small cracks, then expanding as they turn to ice, displacing bits of asphalt as they do. Those bits turn into chunks and before you know it, enterprising mixologists on the go can make bad martinis simply by adding gin, vermouth and ice to a travel mug and going for a bike ride.
Like Philadelphia's rough schools and my credit card balance, a lack of money is to blame for the sorry state of Philly streets. While Act 89 dramatically improved the amount of state money available for construction and repair, Philadelphia is far behind peer cities in how much local funding we spend on transportation infrastructure. And if Congress doesn't do something soon to replenish the national Highway Trust Fund, Philly could be in even worse shape.
Potholes are really just a symptom of a larger underlying problem: the lack of money for street resurfacing. Gatti said that really busy roads – think City Avenue – should be repaved every seven years, right now Streets is only getting to do those every 15 years.
Residential streets can often go longer – up to 15, even 20 years – while most need to be repaved every 10 years, on average.
Right now Streets picks the roads to repave based more on a triage system than anything else – getting to those that need it most, first. But repaving is supposed to be preventative care. Streets is too busy removing the worrisome moles constantly popping up to invest in some sunblock.
That's why so many of the 2,235 miles of city streets the Department oversees are in rough shape. And the same goes for PennDOT's 502 miles throughout Philadelphia, which include more than just the highways: Broad Street is under PennDOT's control, for example.
When you add on the Americans with Disabilities Act's unfunded mandate to install sidewalk ramps, plus the ongoing needs to overhaul and replace old traffic signals, fix aging bridges and redesign dangerous intersections, and there simply isn't enough money to do it all.
"Something has to be done to adequately fund transportation projects so we can maintain infrastructure," said Gatti. "Our economy can't work if you can't get from here to there. Everything hinges on our infrastructure."
A BRIDGE TO THE FUTURE
Streets is continuing work on reconstructing Mantua's 41st Street Bridge. The Streets Department engaged the local community to completely redesign the nearly 80-year-old span. The result should be a sleek-looking, modern design uniting two residential neighborhoods and replacing an uninviting stretch of rusted metal and chipping concrete adorned only by graffiti.
(Philadelphia Streets Department)

(Philadelphia Streets Department)
In recent years, Streets also resurfaced 41st Street's sibling bridges along 40th and 42nd Street. All three bridges cross over rail lines owned by Amtrak and Norfolk Southern.
41st Street should be ready to reopen sometime in the fall of 2016. Gatti described the $10 million project as "exciting" and "a little different looking," and praised the neighborhoods for providing feedback and remaining patient during the long process of replacing the trio of bridges.
"We're really proud of it."
(Philadelphia Streets Department)

(Philadelphia Streets Department)

(Philadelphia Streets Department)
OTHER PROJECTS COMING DOWN THE ROAD
Like Philly's infatuation with pop-up beer gardens and the field to become the Republican presidential nominee, Delaware Avenue continues to grow. In Bridesburg, the Streets Department is finishing an expansion of Delaware Avenue that began last year, stretching the road from Lewis Street up to Orthodox. Following that, the next phase will expand Delaware Avenue to Buckius Street.
The project aims to get some larger trucks off Richmond Street, which Gatti said was a bit too small to handle the through traffic. Eventually, Streets wants to expand the road all the way to Tacony.
In Chestnut Hill, work on the Willow Grove Avenue Bridge will continue through the summer with the expectation of wrapping up by the end of the year. The $4 million project is rehabbing the bridge right next to the SEPTA regional rail station, which will remain open throughout (as will the parking lot there).
The many hikers and bikers eagerly awaiting the opening of the Manayunk Trail Bridge will need to wait a bit longer. The project is connecting the Schuylkill River Trail to the Cynwyd Heritage trail via an old SEPTA bridge over the river. Some unexpected issues are delaying its opening until the middle of 2016, said Gatti.
The delay should give all of us more time to try to learn how to spell and pronounce the ridiculous words associated with this bridge, which will also connect three distinct periods in local history: from Lenni-Lenape's Manayunk to the Dutch settlers' Schuylkill to the Welsh immigrants' Cynwyd.
Down the river, Streets is also overhauling the pedestrian crossings on Pennsylvania Avenue near the Philadelphia Art Museum, making the crossing between the PMA's main building and its Perelman Annex safer. Gatti expects the project to also add some parking to the area. The project should finish sometime before the end of the year.
Finally, Gatti noted that a number of signals and streetscapes across the city will be upgraded as part of some ongoing projects. The Department is continuing to make curbs ADA-compliant by adding wheelchair accessible ramps. And along North Broad, new light towers and trees will be installed and planted over the summer.