Step aside Hardy Boys, Biden and Obama are on the case
A new book unites Joe Biden and Barack Obama as a crime-fighting duo investigating the suspicious death of an Amtrak engineer in Delaware.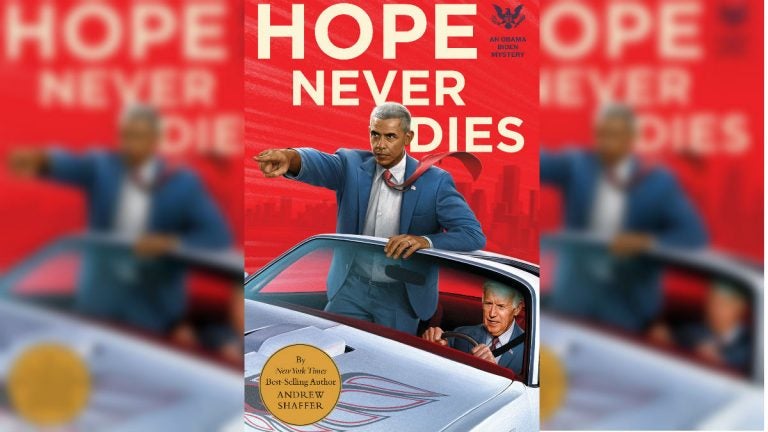 Dan Quayle's spelling. Al Gore's invention of the internet. Dick Cheney's bird shot hunting accident. The role of a U.S. vice president has typically been punching bag and foil for satire and over the top impressions.
More recently, Joe Biden's persona as a shirtless, aviator sunglasses-wearing, Trans-Am-washing veep can be  attributed mainly to a series of articles posted by The Onion. His penchant for enjoying ice cream cones and being pictured doing so also helped build the Biden mystique.  Then there's the Biden-Obama bromance memes that Biden helped stoke when he tweeted a pair of friendship bracelets with "Joe" and "Barack" spelled out in tiny letters to mark President Obama's 55th birthday.
Biden has spent his time since leaving the White House setting up shop at both the University of Delaware and the University of Pennsylvania. And while he's appeared as himself in the TV comedy "Parks and Recreation" and alongside fictional "Veep" Julia Louis-Dreyfus in a video bit for the White House Correspondents Dinner, his latest role could be his most surprising yet: Joe Biden, crime fighter.
Andrew Shaffer's new novel "Hope Never Dies" reunites Biden with Obama as amateur detectives trying to solve the death of an Amtrak engineer. Shaffer tells the story through Biden's eyes.
"I'd always thought that Joe Biden would make a great action hero or noir detective," Shaffer said. "He just has this sort of stereotypical detective look about him, and I thought it would be funny to hear what was going on behind those shades."
The book opens with a lonely Biden at his Greenville, Delaware, home longing for a reunion with Obama, who has been jet-setting around the world, relaxing with celebrity friends. The death of a train engineer Biden knew from decades of riding Amtrak from Wilmington to Washington brings the pair back together.
"We have sort of a Watson character who is down to earth in Biden, and then we have the brainy Sherlock Holmes, which is Obama, and together they make a great team," Shaffer said.
He acknowledged that Biden is a policy wonk with plenty of smarts, but it makes a much better book to portray him as his public image has been shaped by social media. "He's fun loving, but he's got a very serious side, and so I really wanted to go more with the public perception in this case."
The book doesn't get overly political with only few dismissive lines about the current occupant of the White House. Shaffer has written satire and parody books before, including his "50 Shades of Grey" parody titled "Fifty Shames of Earl Grey," which made it to the New York Times best-seller list.
Though fictional, it's an affectionate look at the Biden-Obama relationship. "This is a very flattering portrait of these two politicians. I've done satire before, but this is more of a parody. It's a very different book, it's almost more 'Naked Gun' than 'Wag the Dog'," Shaffer said.
While it's still unknown whether Biden will make another run for the White House in 2020, he will be back in the sequel to "Hope Never Dies," which Shaffer expects to be published next summer.
Shaffer will be in the region to talk about his book this weekend. On Sunday, he'll be at Browseabout Books in Rehoboth Beach. Then his book tour heads north to the Free Library in Philadelphia on Monday and the Hockessin Bookshelf in Hockessin, Delaware on Tuesday.
WHYY is your source for fact-based, in-depth journalism and information. As a nonprofit organization, we rely on financial support from readers like you. Please give today.