State Rep. Tony Payton: Recovery homes are a real estate problem
It has become something of a tradition at Frankford Civic Association meetings in the past year.
The first 15 or 20 minutes of the meetings, held in a conference room on the second floor of the old Frankford Hospital, are devoted to typical zoning issues, event announcements and new community concerns. Then something changes.
The meeting becomes more of a conversation and the topic is always the same: recovery homes.
True to form, it happened again Thursday night. Only three or four residents were in attendance, outnumbered by media and legislative aides and almost doubled by the association's executive board, but the conversation was no less lively.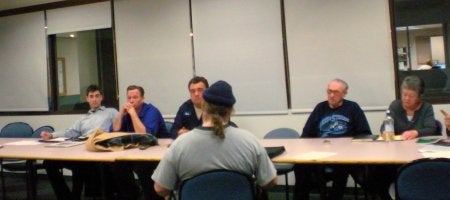 Indeed, last night, a fresh voice came to the meeting. Standing in for his chief of staff Jorge Santana, State. Rep. Tony Payton Jr. ambled in as the meeting began and interjected his thoughts throughout, including on the topic of the controversial, unlicensed homes that are either for helping people fight or fueling addiction — depending on whom you ask.
"Let it be known," Payton said, looking around this small gathering, "that until it is not profitable, this will still happen in our community."
"This is a real estate problem, we need to prop up the real estate market. You say they wouldn't let recovery homes happen nearer to Center City, but the real truth is that it's too expensive to operate recovery homes profitably nearer to Center City."
Payton, who usually has his chief of staff report at these meetings, also made clear how important he says it is that Frankford residents push for the city's new zoning codes — which are currently being reworked — to include a distinction for multiple occupancy dwellings devoted to issues of addiction.
Hoping that such distinction would allow for better control of derelict versions, the Frankford Civic Association is submitting to the zoning commission next week a letter requesting just that, says board member Tim Wisniewski.
Also at last night's meeting, Jason Dawkins, a representative of Councilwoman Maria Quinones-Sanchez, introduced the office's new monthly report, including an ex-offender's re-entry program and a new recycling initiative in the city.
Dubbed Philadelphia Recycling Rewards, beginning in March, residents who sign up with the city will receive a bar-coded sticker to place on their recycling tubs, and will be able to receive points relative to how much they recycle. Those points can be used for discounts at participating businesses.
"But we want more community involvement, so we're looking for more small businesses and residents to get involved," Dawkins said.