September 17: Philly rap landmarks | Ben Franklin Bridge trolleys | House GOP <3s Northeast Corridor | Divine Lorraine photos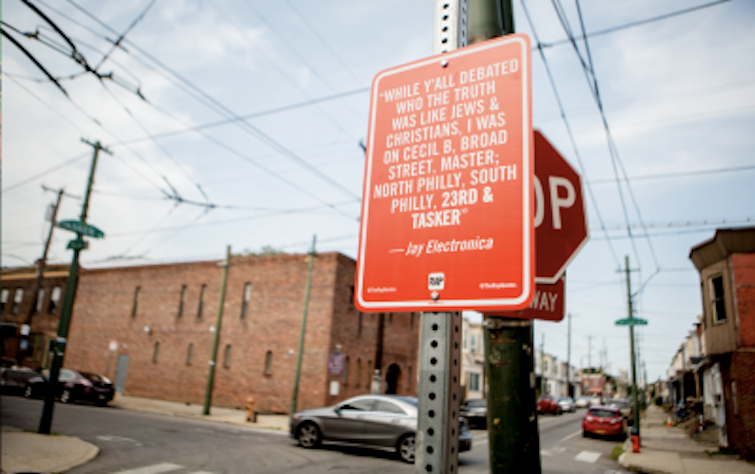 Tanya Snyder says there are some good ideas in the House Republicans' transportation bill – namely letting Amtrak's Northeast Corridor service keep more of its own revenue to invest in service upgrades on that line.
State Rep. Bob Freeman has introduced a bill that would allow municipalities to use recreation fee proceeds from a development for any recreation project within municipal borders, rather than solely for the development in question. Potentially interesting source of park, bike, or ped plaza funding for PA municipalities.
Have all those state tax cuts from the past three years come a cropper? The Corbett administration had to take out a $700 million loan from the Treasury so the state can pay its bills in the face of weaker-than-budgeted tax collections.
Incredibly fun piece from Cassie Owens – Philly is the latest city to receive rap lyric street signs, courtesy of artist Jay Shells' Rap Quotes project. There are 22 signs, placed at locations mentioned in the songs.
The Ben Franklin bridge was built to accommodate trolley service from New Jersey, but the trolleys never ran. There are trolley terminals and everything. Transportation wonks: is it possible or desirable to run this service?
There's now an official Divine Lorraine website where you can follow the project's progress, and view old and new photos of the iconic North Broad St. hotel.
Franklin Mills Mall in the Northeast is also getting some upgrades, and will henceforth be called Philadelphia Mills.
"Drivers who do rolling stops through signs or lights to make right turns don't look for pedestrians. They're scanning for oncoming traffic from the left, and can't possibly take the time to scan for oncoming pedestrians from the right."
WHYY is your source for fact-based, in-depth journalism and information. As a nonprofit organization, we rely on financial support from readers like you. Please give today.