SEPTA seeks federal funds to keep system above water
Spring may be upon us, but this winter's weather and the impact snow and freezing temperatures can have is not yet a distant memory for SEPTA or its customers. Chances are the impacts of rain and heat are not out of mind, either. In SEPTA's 50-year history, 2010 proved to be the snowiest winter. 2011 was the wettest year. 2012 was the warmest summer. 2013 was the wettest summer, and 2014 was the second snowiest winter.
"The weather is just all over the place," said SEPTA Deputy General Manager Jeff Knueppel. "Whether you agree with global warming and all that, what most people have to agree is that climate variability is intense now."
For a transit system like SEPTA, that erratic climate poses a new challenge when it comes to maintaining a state of good repair. Equipment floods, embankments wash out, overhead wires short and bring train lines to a halt.
"Our aging legacy systems are increasingly vulnerable to these kinds of extreme weather [events]," said Erik Johanson, SEPTA strategy and sustainability planner.
To shore-up the system and to ensure that service runs smoothly, SEPTA has applied for $186.6 million in Federal Transit Administration (FTA) funding and hopes to invest a total of $249 million in its Infrastructure Resiliency Plan. The plan would focus on keeping the power on, right of way stabilization, flood mitigation and emergency communication.
Fifty years of 100-year floods
As a region, we've already experience a 67 percent increase in heavy rain since the mid-20th century. In Norristown, more than half of the highest Schuylkill River crests have occured in the last 10 years.
SEPTA has been dealing with the impacts of extreme weather before climate change and climate variability were recognized by the industry, but the transit folks have taken notice now.
In 2011, the FTA awarded SEPTA a $150,000 grant to better understand regional climate projections, assess vulnerabilities and come up with solution strategies that could be applied to the entire northeast. Transit agencies in places like Los Angeles, Chicago and Texas were tasked with developing similar assessments and solution strategies for their respective regions.
"The thought behind it was that the FTA recognized through their own research that climate change was going to affect different agencies in different ways in different parts of the country," Johanson said.
For SEPTA, this pilot program was a "dream come true."
It was an "opportunity to go through all the horrible memories in my mind over the last 15 years and all the data we had and really look at what we could do to make our storm performance even better," Knueppel said.
In its final report for the FTA, SEPTA highlighted things it is already doing to protect its infrastructure against extreme weather – like raising signal huts off the ground. That effort started after Hurricane Floyd left signal huts on the Airport Line as much as seven or eight feet under water. Using flood maps, SEPTA determined the point on the Norristown Line where tracks have historically been submerged. Then they put a turnback point just outside the water's limit so trains can travel as far as possible before having to stop.
Tree trimming has become a new discipline.
"With this kind of wild weather, some years being like tropical rainforests, the tree growth in those years is spectacular, so disciplined cutting of trees and brush is just so critical to an electrified railroad," Knueppel said.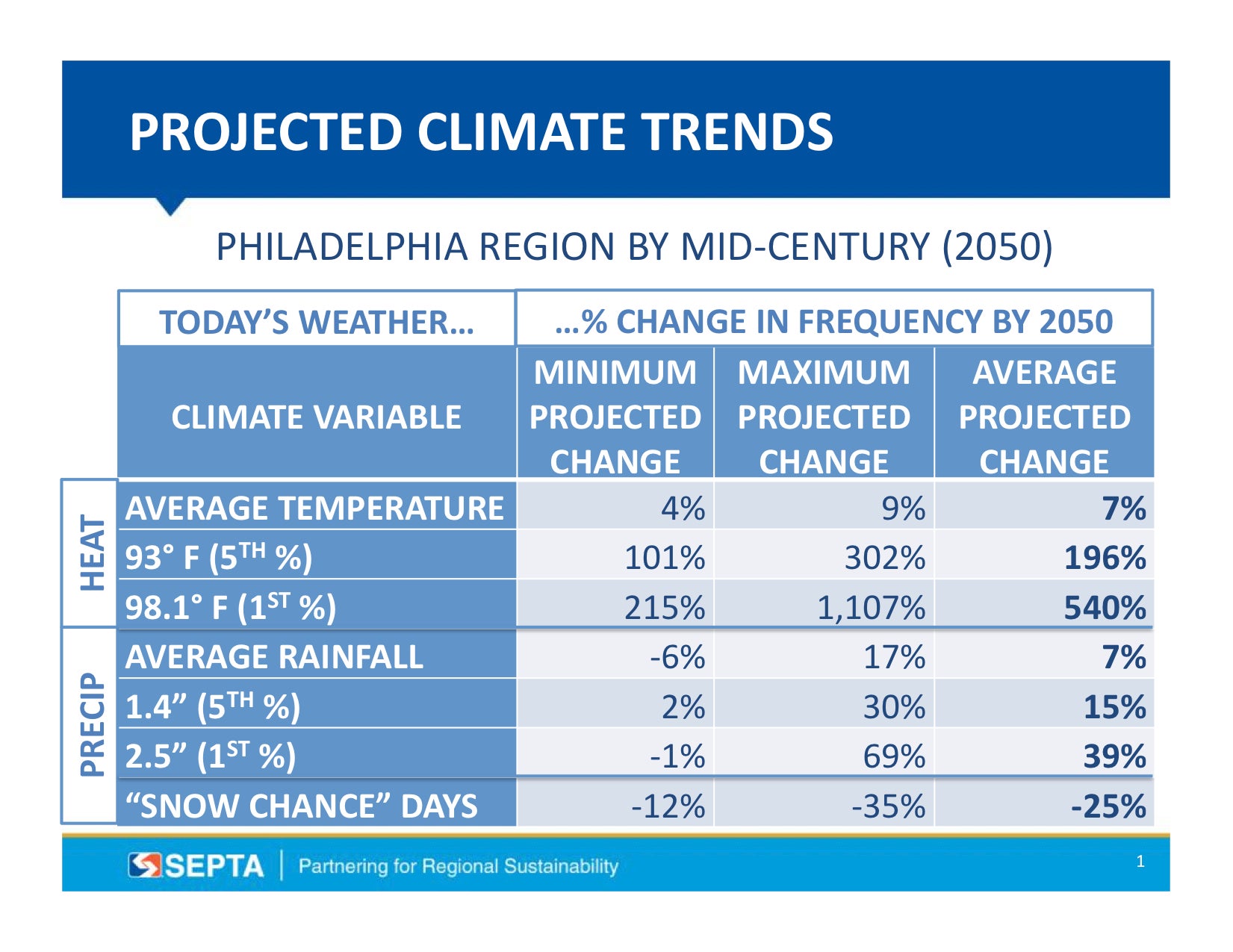 Staying afloat
"What we like is that we can demonstrate some of the effectiveness of the measures we've already taken and hopefully show the benefit of expanding them to the rest of the system," Knueppel said.
The $186.6 million in FTA funding that SEPTA has most recently applied for is part of a $3 billion funding opportunity that is part of the federal Hurricane Sandy relief package. This discretionary funding will be awarded on a competitive basis to transit agencies in the Hurricane Sandy zone. That means SEPTA is competing with agencies in New York, Boston, New Jersey, Washington and Amtrak.
If SEPTA does receive its funding request, it will focus on a variety of projects and power will be a big emphasis.
At some South Philadelphia subway stations like Tasker-Morris, half an hour without power can mean water levels reach the third rail. That's groundwater, not stormwater. Stations like those need emergency generators.
On regional rail lines, much of the overhead wire is bare copper so when trees fall on them or ice settles in, it's easy to short out. SEPTA has been changing out critical sections of the lines and replacing them with underground cable or jacketed cable, but the authority wants to accelerate progress on that project.
Railroad embankments need to be strengthened and walls need to be built so that track-side slopes don't fall in the way of trains. SEPTA is also considering building a new rail yard near Trenton, where trains were flooded when Hurricane Irene swamped the current yard in 2011.
"These projects were very intentionally chosen because the FTA criteria is to harden existing assets … not to create a new set of assets that will then have to be fortified," Johanson said.
SEPTA hopes to hear back from the FTA within a few months and seems optimistic.
"We're very excited about this," Knueppel said. "After 15 years of very intense weather, to have a funding source that's just tailored and suited to dealing with that, I'm not exaggerating, it really is a dream come true.
"We're all in on this one," he said, "and we really, really are very hopeful that we can garner a significant amount of money to make this system even stronger because we want to be able to operate when the chips are down. We really want to be there for the region."