Ruffin Nichols Memorial AME Church Demo Underway [slideshow]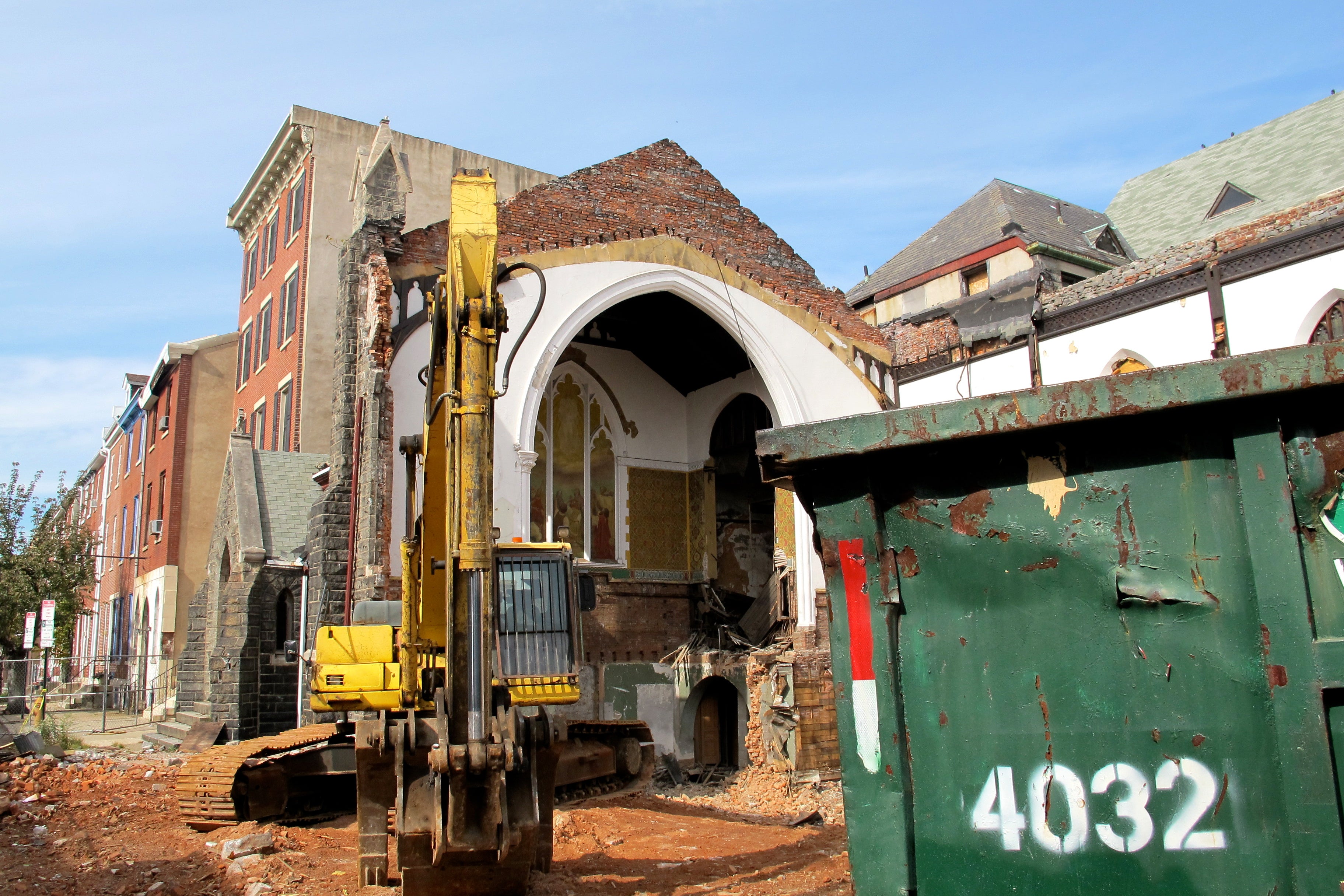 And while we're on the subject of church demolition, here's the view from the corner of 11th and Mt. Vernon streets on Wednesday, where the sanctuary of the Ruffin Nichols Memorial AME Church is currently half standing.
I was en route to a site visit this week and gasped when I looked down Mt. Vernon from 11th to see much of the church's interior outside, the fresco on the west wall illuminated by daylight. I knew the demolition was happening, but the view was still striking. The roof and wall along Mt. Vernon Street (which had started to collapse in a recent rain) was totally gone. Decorative finishes – like paintings, woodwork, and stained glass windows – remain in situ even as the church's heavy stone and brick walls are being knocked down.
The church was featured in a recent episode of National Geographic's Abandoned, in which a salvage crew snagged some stained glass windows from the sanctuary as well as elements from the basement bowling alley. Otherwise there are still pews tucked into the tower and lots and lots of schist blocks that could be reused. And that's just what I can see from outside.
The church was designed by Napoleon LeBrun as the Church of the Nativity in 1844. It and the multi-purpose building next door are being demolished by developer Anthony Randazzo. In their piece on the demolition, Hidden City Daily said Randazzo felt preservation was not an economically feasible proposition because the church had some structural issues. Instead Randazzo's company, Keystone Custom Builders, intends to built 12 townhouses on this site.