Proposal to increase parking minimums finds no support at Planning Commission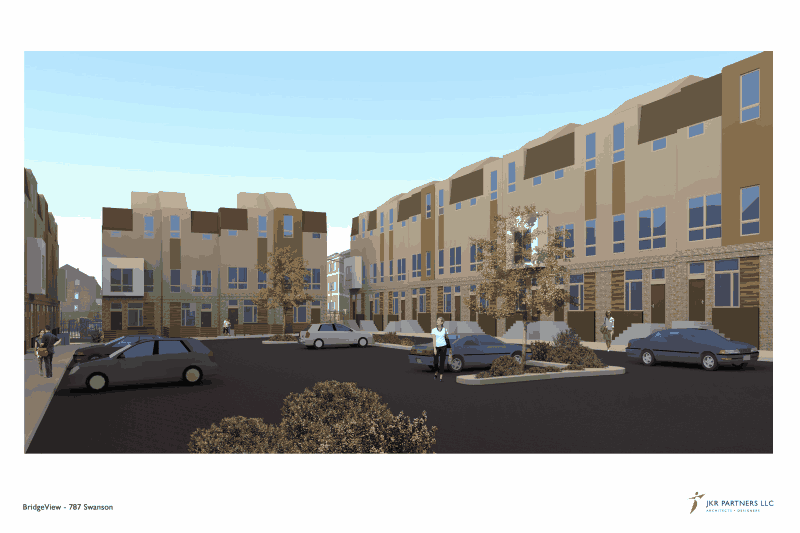 Tuesday's meeting of the Planning Commission centered on Councilwoman Jannie Blackwell's bill to double the amount of parking required at many forms of new development in the city. The bill would substantially rewrite a portion of the four-year old zoning code and, according to the extensive research on the question of parking minimums, have the potential to dramatically increase the cost of new housing in the city.
The Planning Commission expressed its dissatisfaction with the legislation and voted to extend consideration of the bill for another 45 days. Four groups testified against the bill, including representatives of the West Powelton RCO, within Blackwell's district. No one spoke in favor of it.
Blackwell's bill would reverse the 2012 zoning reform's dramatic downscaling of parking minimum requirements across the city. Currently single family houses, apartment buildings of less than four units, historic preservation projects, and commercial buildings do not require the developer to the provide parking. Although some neighborhood groups opposed these conditions during the zoning code rewrite, arguing that it will make it harder for residents to find parking, the academic literature on the subject finds that requiring the construction of parking spaces dissuades development and raises the prices of housing.
Blackwell's bill would still require no parking for the first three units of newly-constructed housing in most areas zoned for rowhouse development, then requires three spaces for every 10 dwelling units thereafter. (This would also hold for row houses divided into apartments too.) Medium-to-large scale residential developments would be required to provide six parking spots instead of three for every ten units of housing. In areas zoned for higher density commercial development—which are mainly found in Center City—the ratio would shift to six spots for every 10 units. In industrial residential mixed use areas (IRMX) the requirement would be seven parking spaces for every 10 housing units.
"I'm not sure where these numbers came from or how they came about," said Marty Gregorski, director of development for the planning commission. "We don't necessarily like what we are seeing here. This is a citywide change and we haven't necessarily had a chance to talk with the councilwoman about what we are trying to get at here. Are we trying to solve the parking problem in the city, or based on one incident in one neighborhood?"
Gregorski asked for 45 days—the maximum delay planning can request—to talk with Blackwell and other council representatives and try to come up with something a little more focused. "As it stands we don't really like this."
Four groups spoke against the parking minimum bill, while the Philadelphia Association of Community Development Corporations sent a letter expressing concern that Blackwell's bill would negatively affect the availability and provision of affordable housing in the city. Groups speaking against the bill included the Philadelphia Crosstown Coalition and the West Powelton /Saunders Park RCO (based in Blackwell's district).
"I heartily endorse your suggestion that this be considered for a further 45 days, or perhaps 45 months, or 45 years," said Tom Lusfenhop, senior vice president of U3 Advisors and a developer active in University City, which is also in Blackwell's district. He feared it would reduce property values and thus property tax revenues for the city.
"This proposed bill would ratchet progress back," testified David Feldman of the Development Workshop, an umbrella lobbying group that advocates for real estate development interests. "[It would] re-introduce a 20th century, automobile-centric approach, to how we build and live in our city….we cannot revert to building the city of yesterday."
After the testimony against the bill concluded, Jeffery "Jay" Young, legislative counsel to City Council President Darrell Clarke, immediately left the room (having arrived only shortly before consideration of Blackwell's bill began). It is unclear where Clarke stands on the parking bill, although he expressed support for more mandatory parking earlier this year and has previously proposed new parking minimums.
Blackwell's bill comes as many cities across the country are rolling back parking minimum requirements, with hot market cities like New York, San Francisco and Seattle leading the way. A recent Wall Street Journal article reported that a law exempting conversions of vacant commercial-to-residential buildings from parking requirements in Los Angeles resulted in that type of development generating 75 percent of the city's housing units between 2000 and 2010.
Although Blackwell's parking bill received the most attention several other items were considered as well. The Commission recommended a bill introduced by Councilman Mark Squilla, which would tweak the zoning code to close a loophole that allows developers to build solely residential buildings in areas zoned for mixed-use, CMX-2 and CMX 2.5.
Currently the code only specifies that attached and semi-attached structures are required to have a commercial tenant on the ground floor, thus allowing developers to build detached buildings they can then rent as entirely residential.
Though the underlying zoning is intended to enable mixed-use buildings, there have been cases like the 3600 block of Lancaster Avenue, where under the current code a block-sized single-tax lot enabled a proposal to replace the mix of storefronts and apartments with a block-sized residential building and no ground-floor commercial to support the corridor. This change would close that loophole.
It is also much quicker to rent housing units than storefronts so some developers have been going the easy route even on thriving commercial corridors like Frankford Avenue and Point Breeze Avenue.
The Planning Commission did not recommend another zoning bill introduced by Councilman Squilla, which would essentially exempt developers in Society Hill from taking advantage of the density bonuses available from allowing "green roofs," or construction that allows for gardens and other greenery on the roof.
The Commission also expressed approval for a couple projects considered by the Civic Design Review committee earlier this month, including a West Philadelphia charter school and a nursing home facility in the Northeast, which will now be sent on to the Zoning Board of Adjustment. They also watched a presentation on the final Upper North District plan, which concluded its public meetings last week and was introduced this in draft-form for 30 days of public comment.