PHL Local Gaming offers $6 million for former produce, seafood site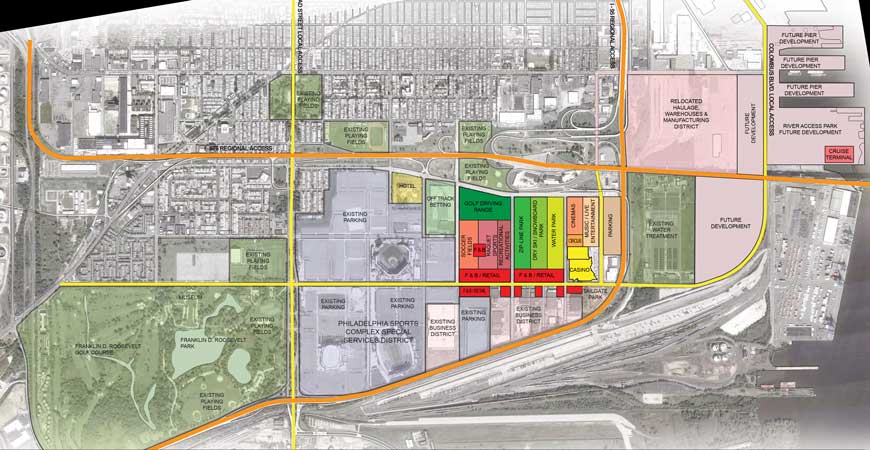 PHL Local Gaming, the entity which wants to build Casino Revolution at Front Street and Pattison Avenue, has made a $6 million offer to purchase 28.4 acres from the Philadelphia Industrial Development Corporation – land upon which PHL has pledged to build the LoSo Entertainment Center.
The land in question is located at 3300 and 3301 S. Galloway Street and 3401-3427 S. Lawrence Street – the former produce terminal and seafood terminal complexes of the food distribution center. It is adjacent to the parcel where PHL would build Casino Revolution, should the Pennsylvania Gaming Control Board choose to award this team the second Philadelphia casino license.
The PGCB meets this Wednesday, but choosing among PHL; Penn National's Hollywood Casino; Cordish and Greenwood Gaming's Live! Hotel & Casino; Tower Investment's Provence and Market East Associates' MARKET8 isn't on the agenda.
PHL has put much emphasis on LoSo during its pitches to the board, a project it began working on in response to the city's assertions that the next Philadelphia casino can't just be about gambling. At the suitability hearings in Philadelphia, PGCB members made similar, strong statements that in the competitive, ever-more-crowded gambling environment, the project they choose will have to offer more than just slots and table games.
(The competition played up their non-gaming amenities, too, with The Provence and MARKET8 projecting the two largest non-gaming revenue shares.)
LoSo can't happen – even if PHL gets the license – without a sale from PIDC, a joint venture between the City of Philadelphia and the Greater Philadelphia Chamber of Commerce.
"PIDC certainly seems to be amenable to further discussions on the topic," said PHL Local Spokesman A. Bruce Crawley. "Our people are working with their people even now to set a meeting for that purpose."
Calls to PIDC were not immediately returned for comment.
According to PHL presentations, documents and renderings, LoSo Entertainment would include an indoor water park, food and beverage and retail attractions, soccer fields, a dry-ski area, racquet sports, a zip-line park, rock climbing facilities, a golf-driving range, and areas devoted to music and live entertainment.
PHL's offer-to-buy is contingent on them beating the four other teams hoping to win the casino license.
Site plan for LoSo

PHL Local Gaming's proposed entertainment and recreation district