Philly's Michael Woodard still alive on 'American Idol'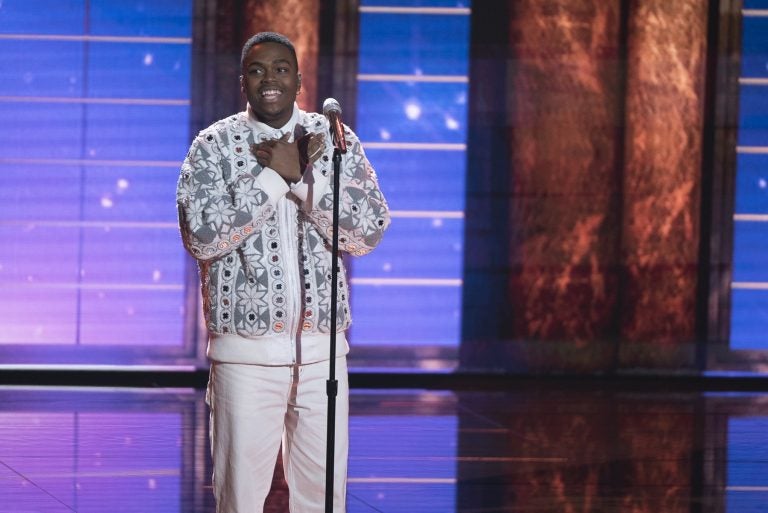 And then there was one.
In April, Philadelphia had three singers enter the final 14 of American Idol, performing live on television and voted by viewers across the country in real time. With two rounds to go before the winner is declared, only Michael Woodard, of the East Falls neighborhood, remains in the final five contestants.
Sunday evening's live broadcast was Prince night: Each contestant sang a Prince song, and a song from the year of their birth. Woodard sang "I Would Die 4 U," relatively faithful to the original version.
Former Prince percussionist Sheila E. accompanied him onstage on drums. They performed the hit from 1984 against a projection of an gigantic boombox tape deck. Woodard, born in 1997, followed it up with a slower ballad, "My Heart Will Go On," the theme from the film "Titanic" by Celine Dion.
The other local contestant, Catie Turner from Langhorne in Bucks County performed "Manic Monday," the 1986 hit by The Bangles, which is not often associated with Prince. (He wrote it under the pseudonym "Christopher.")
Unfortunately, Turner bungled the lyrics, forgetting the second line and picking up in the middle of the first verse. While finishing the song strongly – she was praised by judge Lionel Richie for her ability to recover – the flaw was fatal: Viewers voted her out of competition.
(The third Philadelphia contestant, Dennis Lorenzo, was eliminated from the top 14 round on April 23.)
But the public has not seen the last of Turner. "American Idol" host Ryan Seacrest announced that all of the seven finalists from Sunday night will be part of a 40-city tour this summer. The revue will come through this area on Aug. 14 at the Tower Theater in Upper Darby.
The winner of "American Idol," now in its 16th season, will be determined during the broadcast on May 21.