Philadelphia's getting new protected bike lanes. Here's where.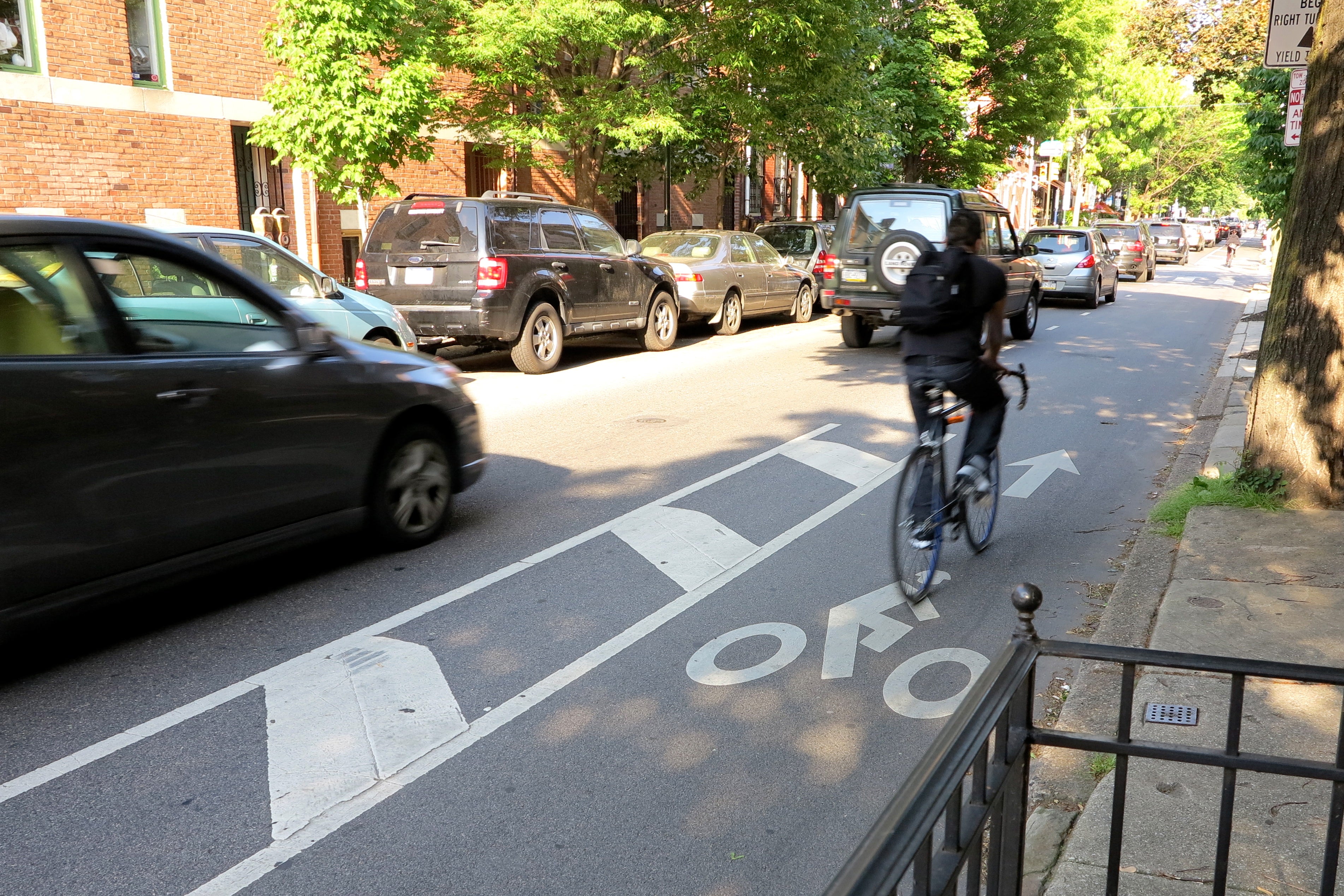 Thanks to $300,000 in federal Transportation Alternative Program (TAP) funds recently awarded by the Delaware Valley Regional Planning Commission (DVRPC) and another $200,000 expected to come from PennDOT, the Philadelphia Streets Department will soon upgrade and expand the city's bike facility network with new protected and buffered bike lanes.
"Protected" bike lanes refer to lanes that use flexible plastic delineator posts to help physically separate automobile and bicycle traffic. "Buffered" bike lanes are slightly wider bike lanes that use a bit of extra paint to create a more visible buffer.
According to Mike Carroll, deputy commissioner of transportation at Philadelphia's Streets Department, the following projects highlighted on this map* will be implemented with the TAP funds:
No. 3. Torresdale/Frankford Avenues Two-Way Protected Bicycle Lane: On Torresdale, this will add delineator posts to a stretch of the existing bike lanes. On Frankford, the bridge over Pennypack Creek will get protected bike lanes. Both of these are two-way cycle tracks, which allow bikes to travel in both directions on one side of the road, as opposed to painting a bike lane on both sides of the street.
No. 4. Race Street Protected Bicycle Lane: Running from 9th Street to 5th Street, this new protected bike lane will be the first bite at implementing a DVRPC-prescribed road diet on Race Street. The Chinatown Development Corporation and Old City District both support the effort to make Race Street safer and easier to walk across.
No. 7. Parkside Avenue Protected Bicycle Lanes: The conventional bike lanes curving around Fairmount Park will be upgraded to protected.
No. 8. N. 33rd Street Protected Bicycle Lanes: This conventional bike lane will be upgraded to protected.
No. 9. Spruce/Pine Street Protected Bike Lanes: Adds delineator posts to existing buffered bike lane running between 22nd and Front Streets.
No. 10. Walnut Street Protected Bike Lane: Adds delineator posts to existing, left-side bike lane from 23rd Street to 63rd Street. The city piloted protected bike lanes on the Walnut Street Bridge.
No. 11. 30th Street Protected Contraflow Bicycle Lane: The existing bike lane between Walnut and Market Streets will get delineator posts. Between Chestnut and Market, the bike lane is a contraflow lane— 30th Street automobile traffic flows south, but bicycle traffic goes north. As the Bicycle Coalition has noted, drivers frequently mistake contraflow bike lanes as a parking lane. The posts will help prevent that confusion.
No. 13. South/Lombard Streets Protected Bicycle Lanes: Lombard Street has a bike lane from 22nd Street until it curves at the base of the South Street Bridge. South Street has a bike lane from the bridge until 22nd. Both of these will be upgraded with delineator posts.
No. 14. Lindbergh Boulevard Protected Bicycle Lanes: New protected bike lanes will be painted along this connector street linking the John Heniz National Wildlife Refuge to Bartram's Garden. Funding for this project hasn't yet been fully secured: Philadelphia has applied for PennDOT-distributed TAP funds, which will be distributed later this year.*
No. 15. Passyunk/Oregon Avenue Protected Bike Lanes: The West Passyunk Avenue's bike lane currently disappears when the road spans the Schuylkill. Protected bike lanes will be added to the bridge. In a related but separate project, PennDOT will resurface the bridge's grates, which can be particularly slippery and dangerous for bikes and motorcycles. Oregon Avenue's existing bike lane between Passyunk Avenue and 22nd Street will also be upgraded to protected.
The city was hoping for a total of $600,000 in TAP funds, which is why only some of the projects on the application have been authorized. Carroll said one or two more might be added, if funds allow.
These protected bike lanes won't be the city's first. Bike lanes on Ryan Avenue and a small section of Frankford Avenue should be upgraded with delineator posts this summer.
Carroll also told PlanPhilly that, separate from the TAP-funded projects, 15th Street will get a conventional bike lane between JFK Boulevard and Ranstead. The bike lane will be located on the left side of 15th street. The lane will cross automobile traffic looping around City Hall at the signal located at the southwest corner of Dilworth Park, which you might know as the "Crosswalk to La Colombe."
Federal TAP funds require a 20 percent local match, said Carroll, but the match can come in the form of in-kind design or installation work by city staff. Streets still needs to perform further public outreach, and finish up design before construction can begin, so Carroll said it was unlikely that any would be installed before next spring. Philadelphia will forfeit the federal funds unless they are under contract by 2018.
The design work mainly means that Streets has to figure out the frequency and spacing of the delineator posts. "We can accommodate some use of the curb for other purposes by virtue of the way we space the delineator posts," said Carroll. Wider gaps between posts would allow business deliveries and nearby residents to load and offload vehicles temporarily stop in the lanes, and allow for worshippers to park in the lanes while attending religious services.
"The idea that we are proceeding with is not to take that away necessarily," said Carroll. "What we want to make sure is that as we're driving down the road there is a clear indication about whether you are in the bike lane or not."
STU-ING OVER FLIMSY BITS OF REFLECTIVE PLASTIC
Cyclists excited for these proposed safety improvements shouldn't pop celebratory wheelies just yet. As unfailing bike lane critic Stu Bykofsky noted Thursday, the city hasn't solicited feedback on these specific proposals since the DVRPC awarded the funds.
"There is probably a need at this point [for more outreach] because it has been something that has come up and then kind of lapsed from people's consciousness, especially with the new administration" said Carroll. Carroll added that his office would reach out to Registered Community Organizations (RCOs) and district councilmen to organize the outreach.
The goal of more and better bike lanes has already been approved through adoption of two iterations of the city's Pedestrian and Bicycle Plan, Philadelphia's Complete Streets Design Handbook, the city's comprehensive Philadelphia 2035 Citywide Vision city plan, and in all of District Plans completed so far—each developed after three rounds of public feedback meetings planned in conjunction with district councilmen and RCOs. There will be at least one more public feedback session per bike infrastructure project. And with each, another shot for opponents to shout the project down.
*CORRECTION/UPDATE: This story has been updated with an up-to-date map, which clarifies which funds have been secured so far and which projects have been left off this round.
WHYY is your source for fact-based, in-depth journalism and information. As a nonprofit organization, we rely on financial support from readers like you. Please give today.