Phillies come shy of second-straight World Series appearance, fall to Diamondbacks in Game 7 of NLCS
"We're not fair-weather fans," said one fan outside Citizens Bank Park Tuesday night. "We're gonna be with you through tough times."
Listen
:59
From Philly and the Pa. suburbs to South Jersey and Delaware, what would you like WHYY News to cover? Let us know!
After an electric postseason run, the Philadelphia Phillies came shy of a second-straight World Series appearance, falling to the Arizona Diamondbacks in a winner-take-all Game 7 of the National League Championship Series.
"Pain, pain, and more pain, like it has been for a very long time being a Philly fan, but we're used to it." Kevin Dunn said outside Citizens Bank Park Tuesday night.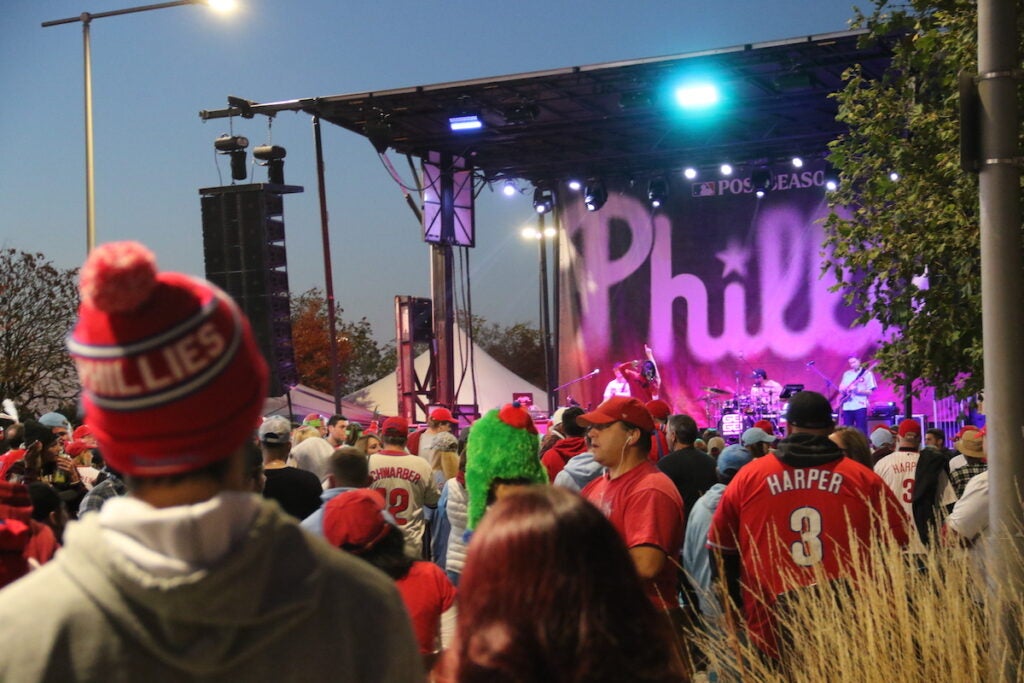 Brian French said regardless of the outcome, Philadelphia sports fans will always stick through the ups and downs of each season.
"When they're really upset, they're gonna let you know. And when we're doing really well, we're gonna really support you. That's just the way Philly fans are," French said. "We're not fair-weather fans. We're gonna be with you there through tough times."
During a post-game press conference, manager Rob Thomson congratulated the Diamondbacks on winning the NL pennant.
"You come in this building and beat us twice — and in this type of atmosphere, you're doing some things right," Thomson said.
While Julie Sebastian felt down after the 4 to 2 loss, she said this season has been "an amazing experience."
"Hearing the whole stadium cheering and singing all the songs, it was really amazing," Sebastian said. "Even though they lost tonight, I think next year. It'll be a great season. Everybody will come back."
It was the first Game 7 ever played in the Phillies' 141-year franchise history after the Diamondbacks took Game 6 Monday 5 to 1
Before Tuesday's game, Bridget Buckley said she was excited to watch the historic game alongside other loyal Phillies fans, hailed by manager Rob Thomson as "the best fanbase in maybe all of sports."
"I feel like the fanbase has really shown up in the playoffs, and it's definitely electric down here," she said.
"This team has something special. It's exciting," added her husband, Joseph Buckley.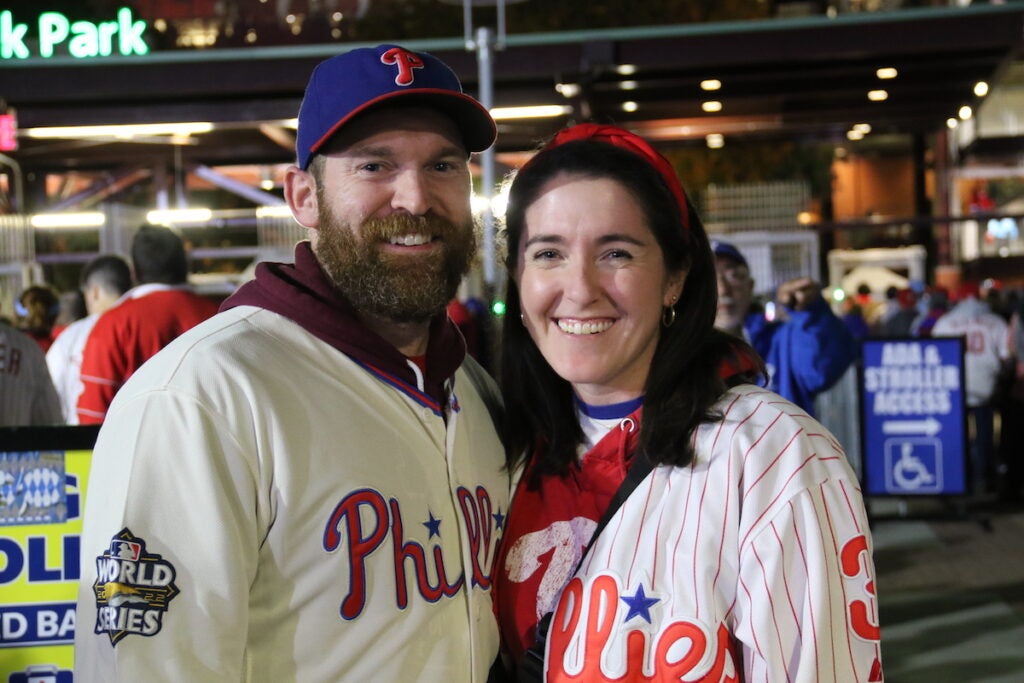 Despite the Game 7 loss, Thomson said he was proud of his team's determination throughout the season, saying they "kept fighting."
"I love them all, I really do, so it is disappointing," Thomson said. "It's tough to get back to this position two years in a row, it is, but they fought like hell to get here and you know, we came up short and that's baseball sometimes."
It wasn't long ago that Philadelphia went more than a decade without making the postseason, but after winning the NL pennant last year, the Phillies went into this postseason hot — sweeping the Miami Marlins in the Wild Card series and defeating the Atlanta Braves in the Division Series.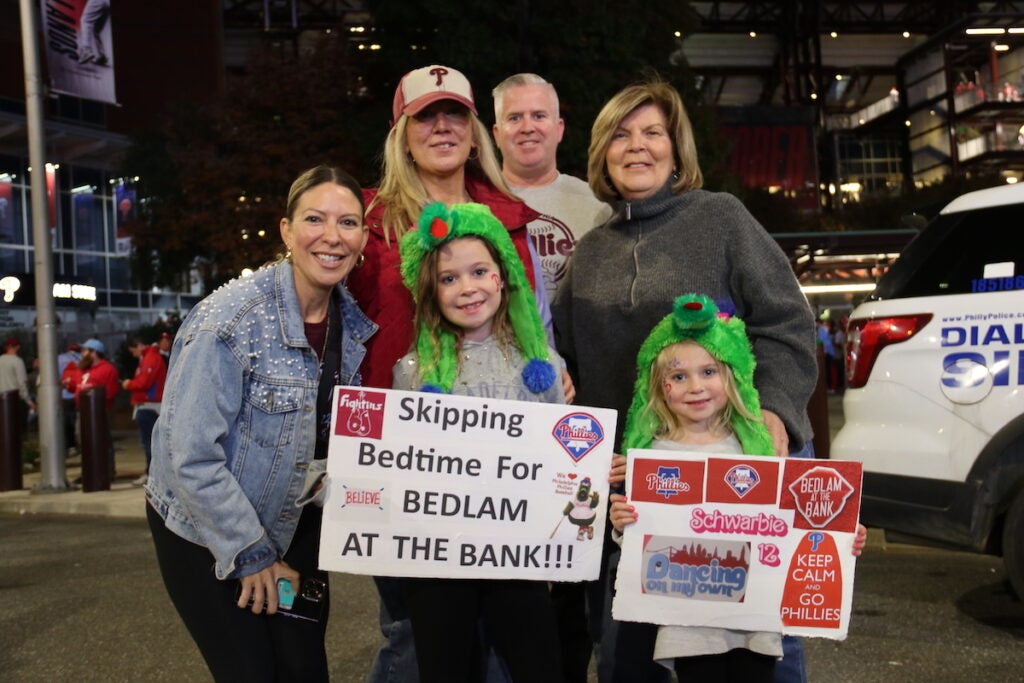 Left-handed pitcher Ranger Suarez started on the mound for the Phils Tuesday. First baseman Bryce Harper, designated hitter Kyle Schwarber, and right fielder Nick Castellanos all entered Game 7 with five home runs each during the postseason. Harper, along with shortstop Trea Turner and left fielder Brandon Marsh, each had batting averages of over .300.
According to MLB.com, teams that have won Game 6 to force a Game 7 have come out on top in that winner-take-all contest 57% of the time. Ahead of Tuesday's matchup, teams playing at home are only 62-64 all-time in winner-take-all postseason games, including 30-28 in best-of-seven series.
The Diamondbacks will face the Texas Rangers in the 2023 World Series. Game 1 of the seven-game series is Friday.
Thousands gathered at Citizens Bank Park for the Philadelphia Phillies first ever Game 7 on Oct. 24, 2023. (Cory Sharber/WHYY)

Fans emptied out of the Broad Street Line at NRG Station to witness their favorite team play for a shot at the World Series. (Cory Sharber/WHYY)

Fireworks lit up the night sky ahead of Game 7 of the National League Championship Series at Citizens Bank Park between the Arizona Diamondbacks and the Philadelphia Phillies. (Cory Sharber/WHYY)

Thousands made their way through the gates to see if the Phillies would make a second straight trip to the World Series on Tuesday. (Cory Sharber/WHYY)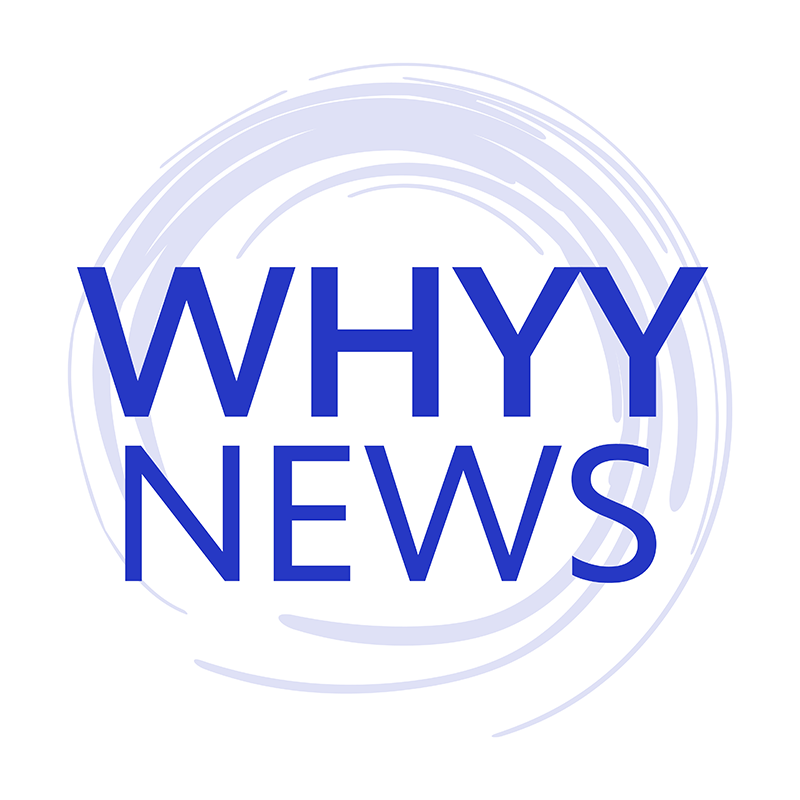 Get daily updates from WHYY News!
WHYY is your source for fact-based, in-depth journalism and information. As a nonprofit organization, we rely on financial support from readers like you. Please give today.