PHA auction brings in $2 million, bidders surprised by high prices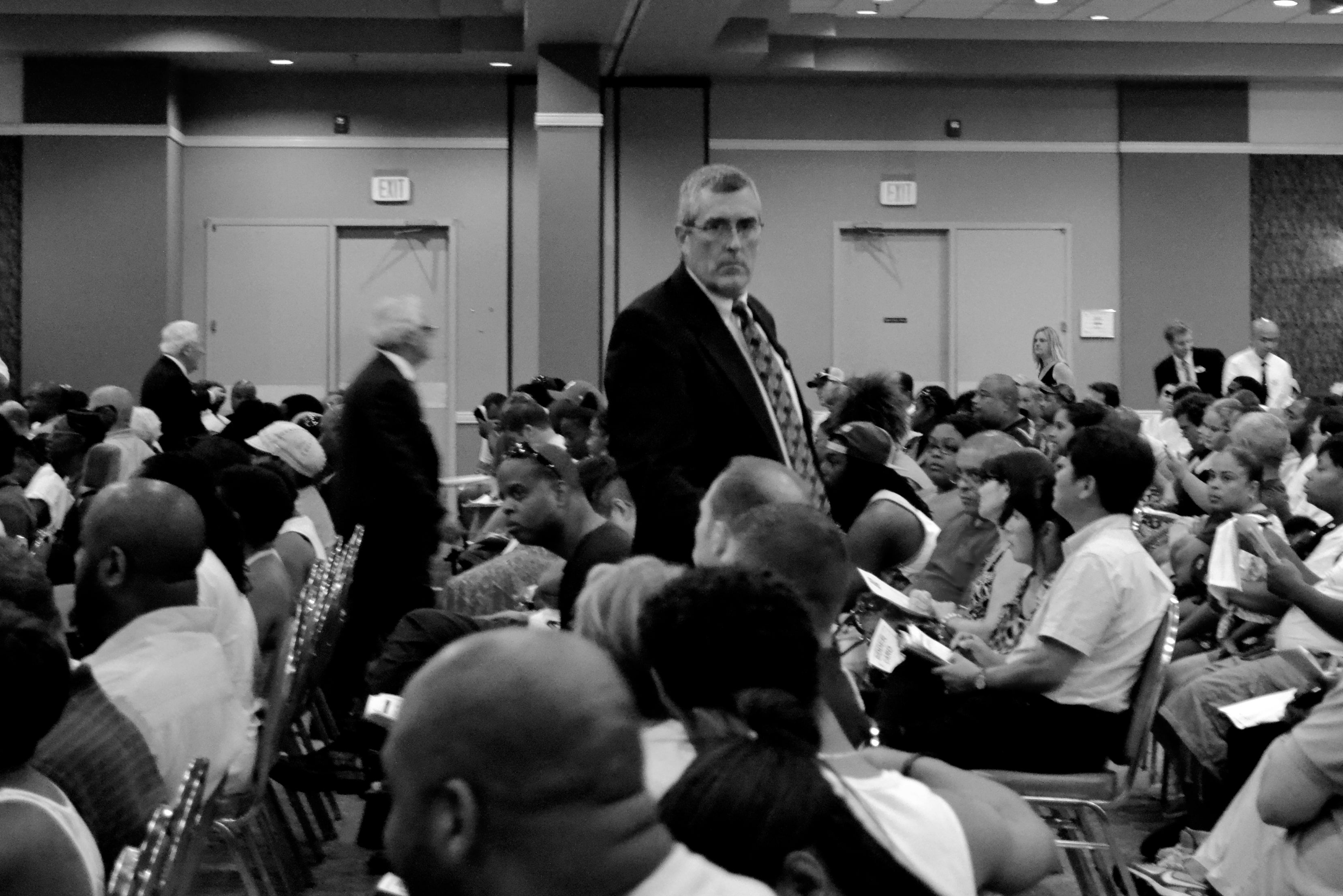 The Philadelphia Housing Authority sold 189 properties for just under $2.1 million at its third vacant property auction yesterday.
The auction, like two held in 2011, was intended to unload some of PHA's vacant property backlog and generate funds that PHA will put toward its operating budget. Eyes on the Street talked with bidders Tuesday morning to get a sense of the auction from their perspective.
Several attendees had their eyes on just one or two properties, but in the fast-paced auction setting no one knew how high the prices would go. That was the top priority on everyone's mind.
"When the numbers go past the budget, it doesn't make much sense," said Walter Mangual, co-owner of demolition contract company Mangual Excavations, LLC.
PHA auction, July 2013

PHA auction, July 2013

PHA auction, July 2013

PHA auction, July 2013
Mangual attended the auction in hopes of purchasing a few properties in Brewerytown and West Philadelphia to rehab and sell or rent. He had previously attended a PHA property auction, but he and company co-owner Carla Mangual said the prices were too high at the previous event to place any bids.
He said these auctions are, "mainly for contractors because a lot of these properties are beat up." Buyers beware, he cautioned. What you see online is not necessarily what is being sold.
Like the Manguals, many registered bidders had their hopes set on purchasing properties to rent or sell, but there was a range of alternative uses as well.
Marion Cruz, for instance, hoped to obtain two vacant lots. Cruz owns a truck restoration company and plans to park trucks in the lots.
"I'm trying to buy both lots," he said. "They're together, so if I buy one and I can't buy the other, I'm not doing no [sic] good."
A man who asked not to be named attended the auction in hopes of buying two to three houses that the Society of St. Vincent de Paul on Luzerne Street could then turn into safe houses for women escaping domestic violence and abusive relationships.
Midway through the auction, the crowd began to thin slightly as some decided the properties were selling for what they considered too much money.
"The feeling is the prices are too high," said Jeff Friedman, a real estate wholesaler who attended the auction not to purchase a property but to sell one of his own on the side.
Kinard Lang, who owns a picture framing and prints store in Olney, left the auction after seeing two properties he hoped to purchase for $2,000 to $3,000 sell for more than $40,000 a piece.
"The market being… so plentiful, I said gee wiz. I figured I could steal something in there," Lang said.
He was surprised to see the properties selling for so much money, especially when, "You don't know what you're gonna have to spend [on renovations]… It's a really risky business, and I think people get caught up in the drama," he said. "Unless they know something I don't."
Lang had also considered a property on Ridge Avenue, but he suspected it had been gutted and stripped of its pipes. He decided not to pursue that property because he was concerned the house might be stripped again while he was fixing it up.
"Where they're located, it's a rough, rough area of North Philadelphia," Lang said. "The problem is getting in there, getting it fixed up, security and then [finding someone to rent or buy it]."
Mathen Pullukattu purchased one house for $41,000, $6,000 more than the $35,000 limit he had set. Pullukattu watched as a neighboring property he had also wanted to buy sold for $38,000.
Pullukattu said in the grand scheme of things he is not too worried about the price he paid.
"I might have overpaid, but now I have to contain my costs elsewhere," he said.
He plans to renovate the building, a "massive" three-story house on Cecil B. Moore Avenue, but does not know exactly what he'll do with it.
"The decision making process starts today," he said.
Initially Pullukattu had considered bidding on a third property, but before the auction he decided it would sell for too much money. It sold for $76,000.
Despite the high prices, he said, "As a neighbor, [the auction] is the best place to come buy something for five grand… It's good to see people from the neighborhoods in there buying, but at the same time, you can see a lot of developers in there [too]," he said.
He worries about people buying properties without knowing what they are getting into.
"There are people here who are bidding site unseen, which is very scary," he said.
Initially PHA and Max Spann Real Estate and Auction Company, the company that ran the auction, advertised the sale of 196 properties. Before the auction, seven of those properties were removed from the list. The remaining 189 properties sold for between $1,000 and $170,000 a piece.
"We are happy when we have a satisfied client, and PHA is happy with the auction results," said Max Spann, Jr., president of the auction company in an email.
Whether or not all of these sales will go through is yet to be determined. Of the 400 properties PHA sold at its first auction of this kind in November 2011, only 341 sales were finalized. In total that auction still net PHA roughly $6.4 million.