Northeast Philly Love Note: Pennypack Park in Fox Chase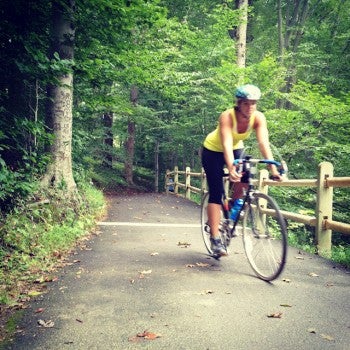 Cresting this one particular hill on a bike can be challenging for some but the reward at the top is worth it- a great view of the creek and far enough from any road so you feel like you're not even in Philly.
Because a lot of people walk part of the hill or rest at the top, this spot brings out the trail talk in people, no polite head nod as someone runs by, no "on your left" to the biker ahead but real talk amongst strangers. I've heard encouragement: "come on, you've got this" "hey, nice job you made it" "Tough hill huh!?" "Try shifting lower, you should make it then." Thoughtful conversation: "I saw your tee, what did you think of that race?" "Be safe, don't stay in the park past dusk young lady" "I'll make that hill someday, I've just started biking. Any Advice?" and love: from a couple sitting at the top – "Oh we love this view, we bike here just to sit and read on this bench."
I've been inspired on this hill too – met a 65 year old triathlete, a 76 year old long distance biker committed to biking so he doesn't "go crazy in retirement", a Mom of 6 committed to finally losing "the weight" and that adorable couple – sitting in their happy place reading together. (Insert: look off into the distance.) Ok, the fond memories make me long for it again, time to grab my bike.
The hilltop I love is at the 2 mile mark (if you bike from Pine Road into the park it's 2 miles). You can hop on the path at Veree and it's a shorter ride. It's the 3rd hill you crest from Veree, the first with a bench at the top.
We've partnered with Philly Love Notes to make sure you see all the love notes written about Northeast Philadelphia. Love notes about Northeast spots will be published here after they appear on the Philly Love Notes blog, curated by Emma Fried-Cassorla. Anyone can email love notes to phillylovenotes [AT] gmail.com and coordinate their photo opps with Fried-Cassorla. This post originally appeared on Philly Love Notes on Sept. 13 and is written by Jill Sybesma.