On North Korea, Trump flunks Diplomacy 101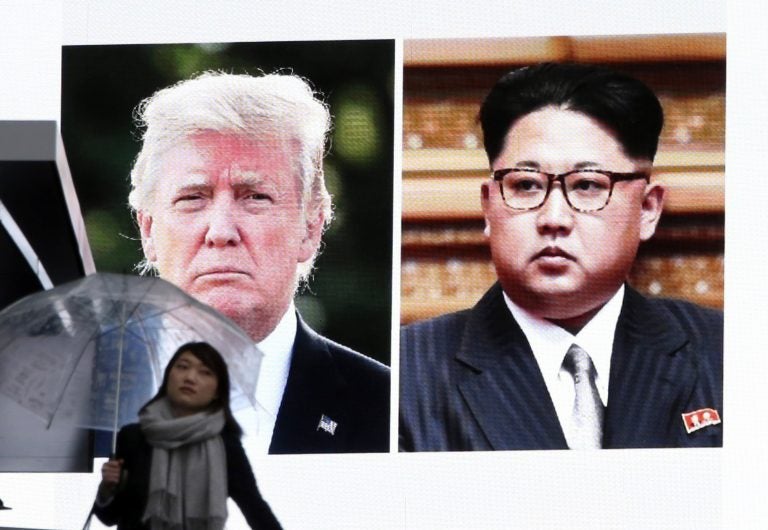 If anyone out there can truly explain what's going on with Trump and  North Korea, please raise your hand. Because all we know for sure is that Trump got his diplomacy degree from Trump University.
As always, this woefully inept White House is drifting in a fog of obfuscation. On Thursday it declared, virtually on the spur of the moment, that Trump will meet personally with the Little Rocket Man himself to magically craft the art of the nuclear deal. Kim Jong Un had suggested a meetup, passed the word to South Korea's national security adviser, who in turn told Trump. Trump immediately said yes — thus driving Stormy Daniels from the news cycle (briefly), and taking his thin foreign policy team by surprise. South Korea said the summit would happen "by May."
The general reaction was "Huh?!" because it was clear Thursday that Trump hadn't set any preconditions before such a summit could take place, and he hadn't sought any input from his ambassador to South Korea … oh wait, he doesn't have an ambassador to South Korea … and he didn't even consult with the State Department's top expert on North and South Korea … oh wait, that post is vacant because State's top expert recently quit.
And how could he possibly say yes to a talk with Kim without even setting any preconditions?
Why say yes, and risk going on stage with Kim and thus bestowing upon Kim the global legitimacy he craves? Earlier on Thursday, Trump's Secretary of State had said that we're not meeting any time soon with Kim: "We're a long ways from negotiations … Until we are able to meet ourselves face to face with representatives of North Korea, (we can't determine) whether the conditions are right to even begin thinking about negotiations." And not long ago, another Washington higher-up had tweeted, "Talking is not the answer!" Oh wait, that was Trump.
So much for Thursday.
On Friday, Sarah Huckabee Sanders, tasked as usual with trying to bring clarity to confusion (and, as usual, making matters worse), said that Trump intends to meet with Kim, but only if Kim agrees first to "denuclearization." Sanders said that Trump "will not have the meeting without seeing concrete steps and concrete actions take place by North Korea. Look, they've got to follow through on the promises they've made."
Oh, so maybe there are preconditions. But what? Kim never made any "promises" before issuing his invitation. And there's no way he'd agree in advance to stop his nuclear program anyway. And was Sanders saying that Trump wants Kim to permanently stop the nuclear program, as a summit precondition — or just halt the program for the duration of the summit? Sanders couldn't say, because rest assured she has no idea, because rest assured Trump hasn't yet got any guidance on that issue from "Fox and Friends."
And one other thing: Even though South Korea declared that this summit would happen "by May," Trump now says he'll meet only at a "time to be determined." Although, just to be clear(?!), another Trump official said Kim's "invitation has been extended and accepted, and that stands."
So what are we to make of this episode, which Republican foreign policy expert Max Boot calls "a head-snapping display of incoherence"? The simplest explanation is often the best. On Thursday, beleaguered by a string of humiliating news stories, Trump needed a new story line for his reality show. The national security adviser from South Korea showed up and gave him one.
A meetup with Kim? Perfect!
Will a summit even happen? Nobody knows, least of all Trump. Not for the first time, he has acted on impulse and left the details for later. But in the world of global diplomacy, and with millions of lives potentially on the line, the details are everything. In delicate matters such as this, the presidency is no place for someone so irrationally erratic.
Thanks a lot, Trump voters.