The Niger ambush: Imagine if Hillary behaved like Trump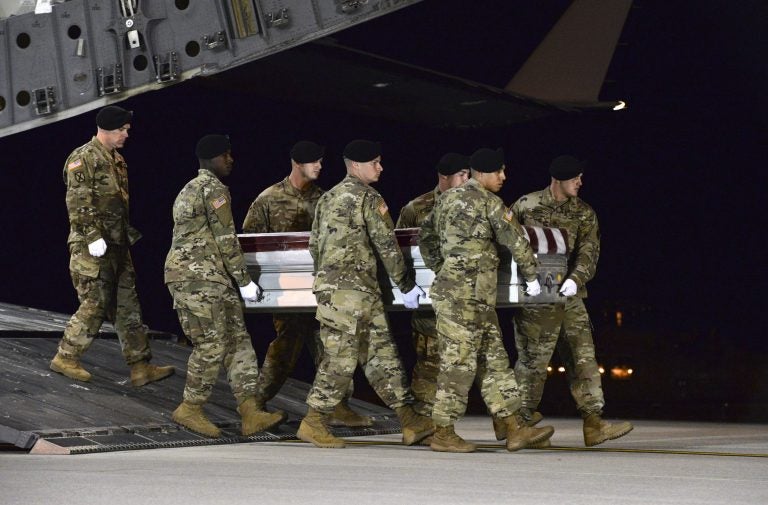 With four Green Berets dead after a terrorist ambush in Niger, let's play Imagine If.
Imagine if Hillary Clinton were president, and she'd gone two weeks without saying a single word about the deadliest combat mission of her young tenure. And imagine if her National Security Council had drafted a statement immediately after the Oct. 4 ambush (declaring that the president was "heartbroken" and that the "heroic Americans who lost their lives did so defending our freedom and fighting violent extremism in Niger"), but that she'd never released the statement. How do you think Republicans would be reacting?
Imagine if Clinton were president, and despite her silence the news began to trickle out that an ISIS group was probably responsible, that the soldiers had no advance warning of a potential attack, and that no U.S. rescue and recovery assets were positioned nearby. How do you think the right-wing media outlets would be reacting?
Imagine if Clinton were president and it slowly became known, without any word from her, that it took nearly an hour for three dead and two wounded soldiers to be evacuated, and that for reasons still not known, one of the dead was left behind for several days. How do you think the social media Hillary-haters would be reacting?
Imagine if Clinton were president and for two weeks she'd failed to reach out to the grieving families — and that when she finally did so, she told the widow and the widow's mother-in-law that, hey, the dead soldier in the family (the one who'd been left behind) surely knew what he'd signed up for. What do you think losing candidate Donald Trump would be tweeting about that?
Easy answer: They'd all be screaming about "Hillary's new Benghazi," agitating for immediate House and Senate hearings, raging about how she's losing the war on terrorism, mocking her reluctance to take political heat for a combat defeat, and ranting about her insensitive dearth of empathy for a once-great nation's fighting heroes.
But since it's Trump in the hot seat, handling the Niger episode in his inimitable manner (refusing to discuss it, refusing to acknowledge that the buck stops with him, fighting yet again with another Gold Star family), the response from Republicans and the rabid right has been predictably tepid. Few seem bothered by what we still don't know. As always, it's amazing what kind of aberrant behavior they're willing to excuse, in the hopes of getting his signature on a fat tax cut.
Only a few stray GOP lawmakers seem willing to confront the alleged commander-in-chief; in the words of John McCain, "I want the information that the Senate Armed Services Committee deserves and needs." Asked yesterday whether the Trump regime has been up front about what happened in Niger, McCain replied: "No." And a Senate colleague, Mike Rounds, invoked Benghazi yesterday and said that "if similar facts were to be determined in this particular case, you may very well see the same type of demand for a review."
Imagine if Clinton were president, and she'd been asked at a Monday press conference, "Why haven't we heard anything from you so far about the soldiers that were killed in Niger?" and she'd refused to engage the question, answering instead that she likes to call or write letters to grieving families, something that her predecessors supposedly didn't do. Her critics, with Trump aflame on Twitter, would be demanding to know:
What is Hillary hiding? Did she pick a fight with the Gold Star family to avoid talking about what happened in Niger? Why won't she publicly address the ambush that killed four brave men? We have 800 troops in Niger, but are they adequately prepared for such an ambush? Why did our intelligence assets apparently fail to anticipate this particular ambush? And since there have been three different versions of the recovery effort — the first U.S. statement was that the French military flew the medevac chopper, the second statement said the U.S. military flew it, now it's possible it was flown by a private contractor — doesn't this suggest that Hillary's forces botched the response to the ambush?
Most of all, right-wingers would already be assailing Clinton for failing to fulfill her duties as commander-in-chief, for refusing to shoulder the weighty responsibility that comes with her office. They'd be saying things like, "Leadership: Whatever happens, you're responsible. If it doesn't happen, you're responsible."
Oh wait! That's a quote I borrowed from a tweet. It was posted in 2013 … by Donald Trump.