Neighborhood associations prepare for zoning reform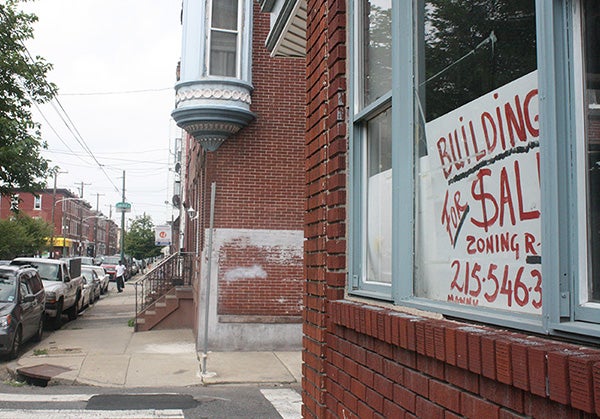 For years, Philadelphia's neighborhood civic associations have had de facto negotiating power with developers who want to build in their communities. That power results from a number of factors. For one thing, the zoning code—commonly regarded as "broken"—hasn't adequately reflected the character of Philadelphia's neighborhoods for decades.
Much of what developers want to do with city properties requires exceptions or zoning variances. Under the current code, little development is by right. And in order for developers to get a variance, they need approval from the Zoning Board of Adjustment. Since the ZBA takes community input into account when deciding whether to grant a variance, the concerns of civic associations are built into the development process.
Under the reformed code, however, far more development will be by right, which means variances will be more scarce. And without the extra step of a ZBA hearing, some citizens feel the power of civic associations could be diminished.
Last week, PlanPhilly spoke with representatives from a number of these groups from neighborhoods across Philadelphia. Some of them expressed concerns about their changing role in zoning, most were generally optimistic about zoning reform, and all agreed they wouldn't know how significantly things would change until the code is enacted.
As the president of Northern Liberties Neighborhood Association for most of the last decade, Matt Ruben is no stranger to working with developers. Ruben—who characterized the volume of development in his neighborhood over the last ten years as "shocking"—said that developers generally approach NLNA either after their proposal has been rejected by L&I or when they expect it will be. In short, developers talk to the neighborhood when they need a variance. And for the most part, Ruben said, his group's goal is to work with the developer so that they don't have to "have it out in front of the ZBA."
"On the whole," Ruben said, "most developers are responsive to our concerns, to a point." Of approximately 55 projects in Northern Liberties that went before the ZBA in 2008, Ruben said NLNA only outright objected to one. Most of the time, developers are willing to compromise.
Ruben said that NLNA's general policy was "support with provisos or oppose with reasons."
"We don't have a problem with restaurants," Ruben said, giving an example, "but a 300-seat restaurant next to a person's house is not a good idea."
What his group and many of its counterparts in other areas of the city really oppose is overbuilding.
Ruben said that the accusation that civic associations are anti-development is groundless. Andrew Dalzell, the programs coordinator at South of South Neighborhood Association, agreed. "Our goal is to try and negotiate good projects with developers and the community," Dalzell said. Dalzell also said he believed that the new zoning code would generally improve the development process in Philadelphia.
Even with more by-right development, Ruben and Dalzell both feel that the new zoning code is good for the city and its neighborhoods. "What people want to build and what the land is zoned for is going to be much more in line," Ruben said. The reformed code requires that neighborhood groups register with the planning commission as Registered Community Organizations (RCOs). Developers who want to use a property in a way that is not allowed by right but needs a special exception will be required to notify all RCOs in proximity to their proposed project and elicit feedback.
Presumably, this requirement should preserve a community's ability to voice its concerns effectively. But some fear that it will unfairly undercut the power of civic associations. Lorna Katz, chair of the Zoning and Historic Preservation Committee with the Society Hill Civic Association, said that the "one size fits all approach" to zoning that the ZCC has employed will be a detriment to community character.
"The [neighborhood's] role will be diminished from the past role," Katz wrote in an email. "In the case of Society Hill I feel that is an inappropriate reduction when I review long-term the relationship between community and development interests in our neighborhood." Ruben of NLNA echoed that concern. He said that even though community input is going to be a mandatory part of development under the new code, the strength of the input will be less. He worries that neighborhood associations will be reduced to the status of individuals giving brief testimony at ZBA hearings.
Still, if redistricting works the way it should, communities shouldn't have to worry as much about inappropriate development in their neighborhoods. "[Neighborhood groups] are not going to have as much input, but we're not going to need as much," Ruben said.
Erika Tapp of the Kensington South Neighborhood Advisory Council said it would take some time to get used to the fact that development will be more streamlined. "People have gotten really used to the idea that they have a say in everything," Tapp said, "and that's not going to be the case anymore."
In many cases, of course, that could be beneficial. As long as a district is zoned properly, there shouldn't be any development taking place which is offensive to the surrounding community. Hannah Angert of the Newbold Neighbors Association said she was looking forward to a decrease in variances and ZBA hearings. "To head things off before they go to the appeals process is more beneficial than letting them go to appeals," Angert said. "I certainly would like to see some kind of alleviation of bureaucracy," she added.
What it will really come down to is how development reacts to a modern, working zoning code. Currently, developers can always fall back on the notion that the zoning code is broken in justifying the approval of a variance. But when the new code goes through, that will no longer be legitimate. "I'm really hopeful that the word 'hardship' becomes more a part of [developers'] vocabulary," said Dalzell.
Ideally, the only justification for granting a variance should be that the current zoning puts an undue hardship on the property owner, not that the zoning code is obsolete. In some groups' opinions, the code's impotence has been used to justify inappropriate projects. Ruben pointed out that if a developer wanted to build a residential property to his own specifications in Philadelphia, one of the easiest ways to do so would be to get a use variance in a non-residential district. That is, rather than conforming to the specific requirements of a certain residential area, a developer can get a use variance in, say, an industrial district, to build the property he wants. "That's the perversity of the use variance," Ruben said. "You just write your own ticket."
But zoning reform should make use variances rare. With more by-right development and more appropriate districting, development should naturally conform to the character of Philadelphia's neighborhoods. Developers will no longer have to approach neighborhood groups for virtually every project they want to start, but just how much that will benefit communities as well as developers has yet to be seen. "We're hoping it's going to make life easier for everyone," said Ruben, "but you never know."
Contact the reporter at jaredbrey@gmail.com
WHYY is your source for fact-based, in-depth journalism and information. As a nonprofit organization, we rely on financial support from readers like you. Please give today.