Neighbor appeals permit for Dranoff tower in Fitler Square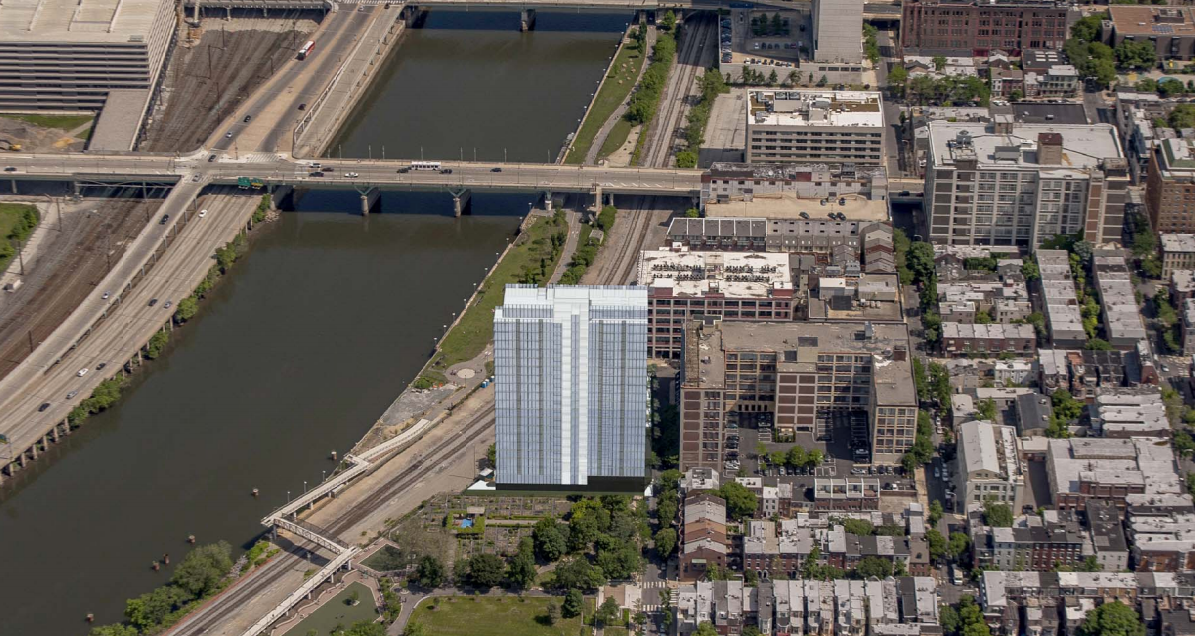 A resident of the neighborhood surrounding developer Carl Dranoff's proposed One Riverside tower, a 21-story apartment complex at 25th and Locust, has appealed the developer's conditional zoning permit.
The architect, Cecil Baker, says he took pains to design the building so that it would need no zoning relief, a rare feat for projects of that scale in Philadelphia. But according to L&I records, the appeal from resident Ted Reed claims that the Floor Area Ratio (FAR) bonus was overestimated.
Per the zoning code, developers can receive height, mass, and density bonuses for including certain elements in their designs.
In this case, the developer claimed a square-footage bonus for putting the building's parking facilities underground. The parking garage is partially above-ground, however, and the appellant is arguing, according to the L&I record, "A bonus for [FAR] is not properly granted because the proposed parking is not sufficiently 'underground.'"
Reed could not be reached for comment on Friday.
Dranoff's attorney, Peter Kelsen, said he is glad that the controversy over the project has at least narrowed.
Since its proposal, One Riverside has generated protest and petitions from near-neighbors, as well as questions from some about whether the property should be developed at all. Kelsen said that a discussion about the legitimacy of the FAR bonus is preferable to the more existential question of whether a building should be there at all.
"It's actually a very nuanced matter of law," Kelsen said.
The zoning board is scheduled to hear the appeal on Wednesday, October 23, at 2 p.m.
WHYY is your source for fact-based, in-depth journalism and information. As a nonprofit organization, we rely on financial support from readers like you. Please give today.