NE Hall of Fame honors second class of inductees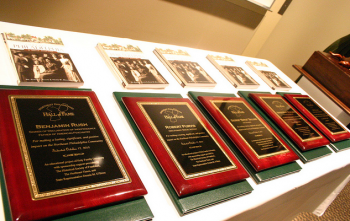 For the second year in a row, Northeast residents came together to reflect on history, celebrate progress and embrace the future.
The second annual Northeast Philadelphia Hall of Fame honored five new members yesterday at an induction ceremony at Holy Family University.
"It's always a pleasure to reflect on individuals or groups — living or dead — who ebody the spirit of Northeast Philadelphia," said Sr. Francesca Onley, president of Holy Family.
HFU was one of the main sponsors of the event, which also included the Northeast Times, State rep. Dennis O'Brien and the Historical Society of Frankford.
The new members join last year's inductees, bringing the total number of honorees to 13.
"[These nominees] are fighting for the most vulnerable in our society," O'Brien said of the new HOF class.
"It's an honor…"
Acceptance speeches from the 2010 HOF inductees:
Benjamin Rush "defined the importance of service." — Dr. Lockwood Rush, great great great grandson of inductee Benjamin Rush
"It was truly an honor growing up as a Purvis." — Sarah Purvis, descendant of inductee Robert Purvis
"Butch Ballard is a rare gem." — Robert Perkins, friend and colleague of Butch Ballard
"Being here reminds me how grateful I am to be part of this community." — Sr. Mary Scullion on her induction
"We are grateful. We are pleased. We are humble." — David Lossino, CEO and founder of inductee SPIN, Inc.
The five new members are:
Benjamin Rush, a Morrell Park and Frankford resident known as the "father of American psychiatry"
– Robert Purvis of Byberry, considered to be the president of the Underground Railroad
– George "Butch" Ballard, a Frankford resident and renowned jazz drummer who's played with greats like Duke Ellington
– Sr. Mary Scullion of Oxford Circle, who founded Project H.O.M.E., which fights against homlessness [video]
– SPIN, Inc., the Far Northeast nonprofit devoted to helping people with mental, physical or sensory impairment [video]
In an effort to continue honoring past inductees, the HOF introduced new aspects to this year's ceremony.
Casey Berner of St. Hubert High School won the essay contest. High school students across the region were invited to share the answers to "Why I Love Northeast Philly."
Berner, a junior, won a $2,000 scholarship to HFU and a laptop for her answer. She wrote in part: "The great friendliness that I feel every day in my neighborhoods is why I love Northeast Philly."
Created with Admarket's flickrSLiDR.
Also honored at the event was Meghan Meyers. The 20-year-old Rhawnhurst resident and HFU senior designed a sculpture to memorialize the 2009 HOF inductees.
Meyers' "Taking Root" featured a tree with eight roots to signify the members of the inaugural HOF class.
Now with 13 members, the Northeast Philadelphia Hall of Fame has honored the living, dead, individuals and groups of the Northeast who've brought change, development, progress and hope to our region.
O'Brien said before the ceremony, "I hope we all leave with a renewed sense of purpose."