Montco GOP hopeful running for Congress with confidence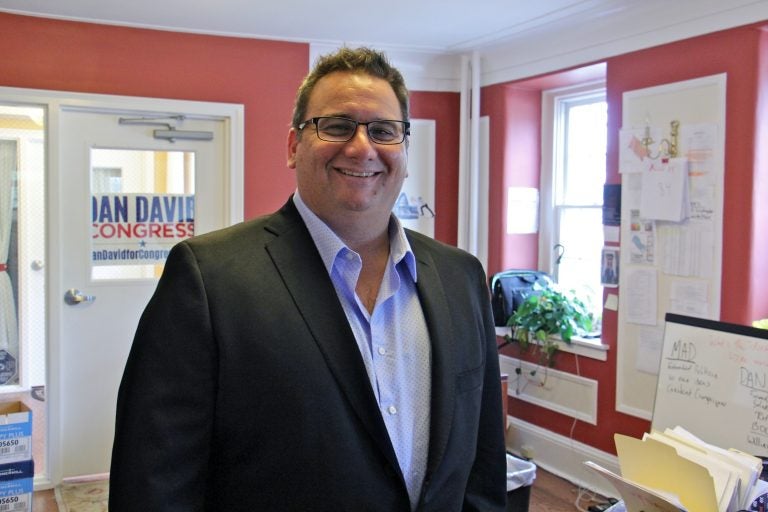 For a first-time candidate running a race that many in his party regard as a hopeless cause, Dan David is pretty upbeat.
"We're going to win," David said, exuding the confidence of a man who built a successful financial research firm and did work showcased in a feature-length documentary without ever finishing college.
David is the Republican candidate for the newly drawn 4th Congressional District, which includes most of Montgomery County and a piece of Berks.
It's rated by national political analysts as distinctly Democrat-leaning, but David insists he has a case to make and a profile to fit the political terrain.
"I'm fiscally conservative and socially moderate," David said in an interview at his campaign office on Skippack Pike in Blue Bell.
The Trump factor
When asked about President Donald Trump, David said a member of Congress "should support or oppose a president on one issue at a time."
He said Trump is "dead wrong" in refusing to acknowledge Russian interference in the 2016 election, and he strongly opposes separating immigrant children and families at the border.
He does believe in strengthening the U.S. border and opposes Philadelphia's "sanctuary city" policy of not routinely honoring detainer requests from U.S. Immigration and Customs Enforcement.
David said the Affordable Care Act is "a disaster in its design," but he wouldn't have voted for the Republican health care bill "because we lied. We said we'd repeal and replace, and we never had a replacement. That's a lie."
On abortion rights, David said he's been dubbed "pro life" because has concerns about late-term abortions. But he said he favors "the status quo" on access to abortions.
He said he is concerned about government spending
"People ask me who I'm running against," David said. "I'm running against socialism. We can't afford it. I mean, socialism is the best form of government until you run out of other people's money to spend."
David's opponent, Democratic state Rep. Madeleine Dean, doesn't identify as a socialist. She has spoken in favor of universal health care and free community college.
Getting here
David, 49, grew up in Flint, Michigan. He attended Northern Michigan University and spent a year at Mott Community College before starting a business career that included retail sales management and, eventually, GeoInvesting, an investment management and research firm he co-founded.
The firm's work investigating fraudulent claims made by Chinese companies seeking American investors made David a featured subject of the documentary "The China Hustle" by Alex Gibney.
David said he was frustrated by U.S. regulators' inattention to the problem, After trying to get Congress to move on the issue, he decided he should run for office himself.
David was the only Republican who filed nominating petitions for the district in the GOP primary this spring, one measure of party leaders' judgment that campaigning for the seat is an uphill battle.
The most recent campaign finance reports show David had raised $330,000 as of June 30, though $160,000 of that is a personal loan from David. He had about $202,000 on hand, roughly twice the available cash of Dean, who had to win a competitive primary to get the nomination.
David, who has been holding town hall meetings that he posts live on Facebook, said he's not just recruiting Republicans for the encounters.
"I specifically try to get Democrats and independents out," David said. "I'm trying to change the narrative so that we understand that the Republican Party isn't a one-size-fits-all, that it has bent over time, and it will bend back."
David said he plans to hold 20 to 30 town halls between now and the Nov. 6 election.