Minor flames rekindle as boardwalk fire investigation continues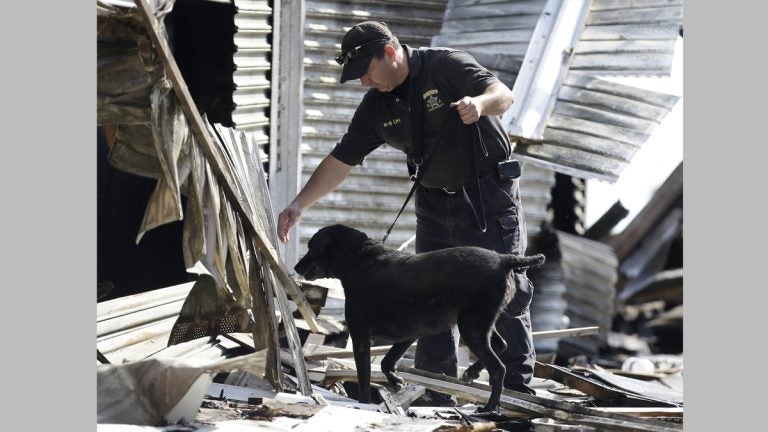 The normally bright and beautiful Seaside sunrise was tainted Saturday morning by smoke from smoldering debris. It was a blatant reminder of the devastation that had taken place less than two days ago.
On Thursday, a massive fire ripped through the Jersey Shore boardwalk, leveling four blocks of bars, pizza shops and ice cream stores. The fire raged for hours, sending fireballs into the sky over Seaside Heights and Seaside Park, reducing more than 30 businesses in the neighboring towns, still recovering from Superstorm Sandy, to charred remains.
While most of the fire is contained, firefighters are still on constant standby due to minor flare ups.
"The reports of minor rekindling overnight are correct," said Al Della Fave of the Ocean County Prosecutor's Office. "This is to be expected. On scene units have the fire contained and are staying on top of minor flare ups."
ATF investigators returned to the scene as they continue to try and find the cause of the massive blaze. At this point, they say, they have not seen any evidence that the fire was suspicious.
"No one at the Ocean County Prosecutor's Office has labeled the fire suspicious," Fave said. "Our only comment is that the investigation continues."
As firefighters and investigators remain at the scene, curious summer residents and tourists also gathered around the area to take pictures.
"I was not imagining the size of the fire that I saw on the news," said Beth Anderson of Brooklyn, New York. "I was thinking it would be something small and contained."
Two Seaside Park Police Officers are also still in the hospital after an accident on Friday on the way home from the boardwalk fire. Officials says three Seaside Park Police officers were sitting on a bench in the back of a military-type rescue vehicle when the seats gave way.
Officer Brian Jackawski, 39, Officer Chelsea Richard, 26, and Officer Daniel Reale, 19, were all injured in the accident. Officer Jackawski was treated and released, Officer Reale is in stable condition and Officer Richard is in critical condition.
Governor Chris Christie will meet with owners of businesses gutted by the blaze Saturday afternoon. Some of the business owners on the boardwalk say they have no insurance and are already in debt from rebuilding after Superstorm Sandy.
"We have no job," said Eric Faranda, owner of Shore Amusements. "We have a loan that we have to pay back and no way to do it."
"To watch that burn was just devastating," said Suzie Faranda, while fighting back tears.
Starting next week, crisis counselors will head to the scene to provide emotional support for those affected. Officials with the Christie administration say counseling will be available at the Seaside Heights Community Center at bay and Hancock Avenues from 3 p.m. to 9 p.m. on Monday, Tuesday and into the week if necessary.
"So many of these residents have just gone through an extended period of anxiety and uncertainly, and, now, the fire. We expect they will need emotional support," said Disaster and Terrorism Branch (DTB) Director Adrienne Fessler-Belli. "Many business owners already have seen their livelihood threatened and may be facing more losses."
________________________________________________________
NBC10 is a content partner with NewsWorks.