Philadelphia Mayor Jim Kenney's budget proposal focuses on education, police, and fire
Mayor Jim Kenney wants to invest more in education and career development with no tax increases during the last budget address of his first term.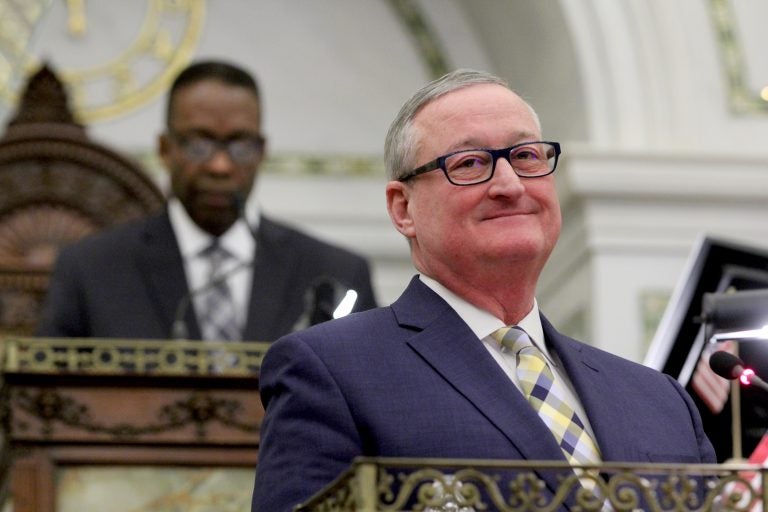 Mayor Jim Kenney's last budget address before running for a second term prioritizes Philadelphia kids and adding to police and firefighter ranks, but does not increase taxes.
Kenney began his address imagining the city in five years. He envisioned children reading by grade level because of his initiative, Read by Fourth, kids having quality pre-K programs, and children being able to go to schools within their own neighborhoods.
The spending plan increases the number of pre-K seats paid for with the sweetened beverage tax. According to Kenney, that increase means 3,300 three and four-year olds would be served in the coming school year and 5,500 by 2023.
"In 2024 every 5 year old starts their first day of kindergarten, ready to learn because they participated in a quality pre-K program," Kenney said. "Parents and caregivers know their children are receiving a world class education in a safe, nurturing and caring environment."
Kenney is supporting this ideal with a $1.2 billion investment in the school district's general fund, which is $700 million more in new funding over five years, and an additional $1 million to the Out-of-School Time Initiative, which provides safe spaces for kids. The Department of Human Services plans to ask for proposals that get these programs to align with the district's goals for reading and career readiness.
"We did this because these are all of our kids, no one else's, and it's incumbent upon us to do what's right by them so they can reach their full potential," Kenney said.
The mayor's budget proposal calls for spending $54 million more for the Philadelphia Police Department to cover wage increases, hire 50 new officers, and purchase 1,500-body cameras for the effort to ensure that all officers have that equipment by fiscal year 2021.
The Philadelphia Fire Department will be hiring an additional 120 firefighters, using $28.4 million in city funds and $16.6 million from a federal SAFER grant. That will allow the city to expand fire capacity to a level not seen since the Great Recession.
It also includes $30 million for a five-year comprehensive anti-violence program.
Kenney would like to create a new joint office with the school district, the Office of Career Connected Education, to give high schoolers more job opportunities. It would place 10 more career counselors in schools. The city will also invest $1 million for quality summer jobs. The mayor also calls for starting to pay the city's summer interns.
He also wants $1.3 million more to encourage high schoolers to take dual-enrollment programs at the Community College of Philadelphia. That would bring total spending on high school students attending CCP to $34 million.
Other priorities include repairing Philadelphia streets ($200 million), more investments for affordable housing ($80 million), street sweeping ($11.7 million), and raising the minimum wage for city workers and contractors ($14 million).
—
Correction: This story has been updated to reflect that the $700 million increase in Philadelphia school funding is over  five years.
WHYY is your source for fact-based, in-depth journalism and information. As a nonprofit organization, we rely on financial support from readers like you. Please give today.