Black female athletes: Having Black female coach is crucial
Black female representation in the coaching and sports administrative ranks has often existed on a minute scale.
South Carolina senior guard Brea Beal knew she could trust Dawn Staley before she even suited up for the Gamecocks.
It wasn't just Staley's coaching accolades, which include fueling South Carolina's meteoric rise in women's basketball, that sold Beal. Beal knew that Staley — a Black woman like her — would best understand how to guide her as she navigated both life and playing basketball on a big stage.
"People that were telling me what this community was about, I know it's somewhere I wanted to be," Beal said. "As soon as I got here, she definitely led me down a journey so I could find out who I am."
Black female representation in the coaching and sports administrative ranks has existed on a minute scale — even in a sport like basketball, which along with track and field has the highest concentration of Black female college athletes. Black female players who have been coached by a Black woman told The Associated Press that it was crucial to their development.
"There are some coaches who will just have all guys with no understanding that there are sometimes things that a young woman may need to talk to another woman about," said Kiki Barnes, a former basketball player and jumper at New Orleans and current Gulf Coast Athletic Conference commissioner.
While the number of women coaching women's sports has increased in the past decade, Black women continue to lag behind most other groups. During the 2021-22 school year, 399 Black women coached women's NCAA sports teams in Divisions I, II and III compared with 3,760 white women and 5,236 white men.
In women's NCAA basketball, a sport made up of 30% Black athletes, Black women made up 12% of head coaches across all divisions during the 2021-22 season, according to the NCAA's demographics database.
Fourteen Black women led women's basketball teams across 65 Power Five programs this past season — up one from 2021. That's less than 22% of the total in a sport that was played by more Black athletes (40.7%) than any other race in Division I, according to a report with data from the 2020-21 season.
For the first time in a decade, four Black coaches advanced to the Sweet 16 of the women's basketball tournament, including Staley, who said she believes it's more popular to hire a woman at "this stage of the game."
"And it's not to say that I'm going to sit here and male bash, because we have a lot of male coaches who have been in our game for decades upon decades," said Staley, who will lead her team into the Final Four this weekend. "But I will say that giving women an opportunity to coach women and helping women navigate through life like they have navigated through life will allow your student-athletes a different experience than having a male coach."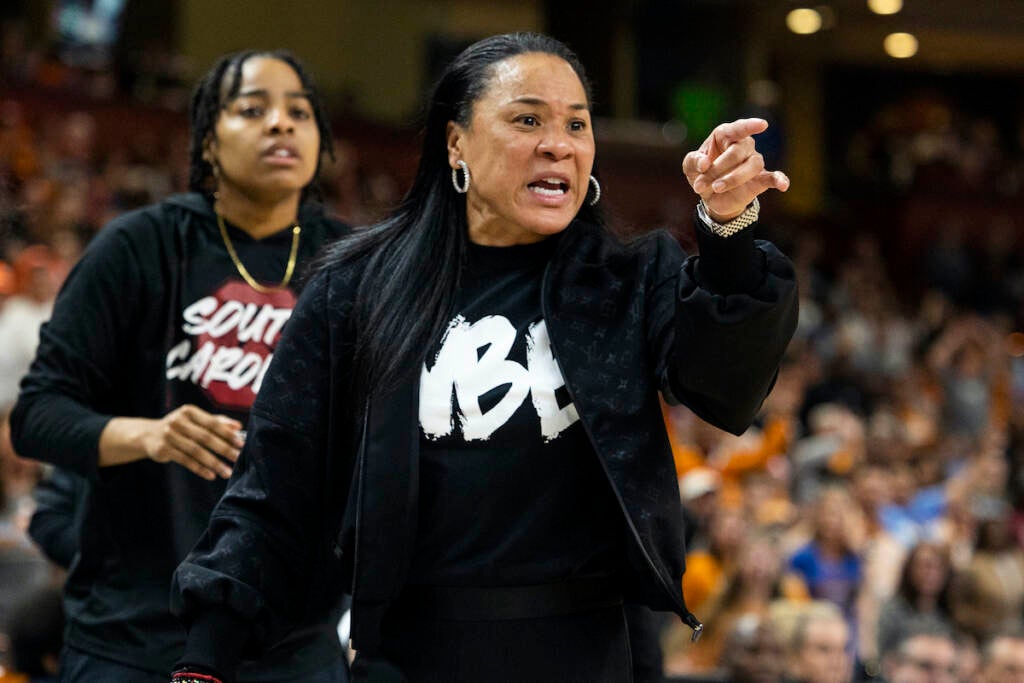 For years Staley has been an advocate for hiring more female coaches — especially minorities — in college basketball, but WNBA player Angel McCoughtry said Black female coaches as successful as Staley are still too few and far between in the sport.
"When I was getting recruited in high school, I don't remember having a Dawn Staley to look up to," said McCoughtry, who played at Louisville from 2005-09.
McCoughtry also named Carolyn Peck, the first African American woman to coach her team to an NCAA women's basketball title in 1999 with Purdue, as another example of representation in the sport.
"So there's one or two every decade," McCoughtry said. "Why can't we have 10? There's 10 Caucasian coaches every decade."
McCoughtry, a former No. 1 overall pick by the WNBA's Atlanta Dream, got used to being around people who didn't look like or understand her. She is Black. Her AAU and high school coaches were Black men. Her college coaches were white men. Marynell Meadors, a white woman, was her first coach in Atlanta.
She's fielded frustrating questions from white peers, coaches and owners — like how often she washes her hair, or whether her passionate play was because she was from Baltimore.
"There's just a disconnect in understanding things," the 36-year-old said, adding: "We need more coaches to protect us."
McCoughtry has never had a Black female head coach, but did have the impactful guidance of Michelle Clark-Heard, a Black woman whom Jeff Walz brought on as an assistant when he took over at Louisville in 2008.
She also leaned on Tim Eaton, a Black assistant coach who she said advocated for her in her freshman year, when then-coach Tom Collen wanted to send her back to Baltimore because she was late to one of her first practices. Similarly, McCoughtry said, she felt she had less room to make mistakes than white teammates. When she questioned a coach, she was labeled a troublemaker; when she got fired up about a play, she was told she had a bad attitude.
"We just never had any inch to be human, like our Caucasian counterparts," she said, adding: "But who understands that? Our Black coaches. Because they went through everything we went through. They have a story too."
Part of the reason for the lack of Black female coaches is because of who ultimately holds the power to hire, Barnes said. That's often athletic directors, a level where there is an even greater lack of diversity — 224 of 350 in Division I are white men. Plus, she added, there are changing requirements for what it takes to get leadership opportunities.
"And now the system has changed to where now you've got to know search firms because now search firms are the ones that are managing and determining who gets these opportunities," she said. "Every time we understand how to get in the room and what it takes to be prepared, it's like the rules change."
Barnes played high school basketball in her hometown of Minden, Louisiana, where she had an assistant coach who was a Black woman; Barnes still refers to her as "Coach Smith."
"For her, it wasn't just about basketball. It was about who I was as a young lady," Barnes recalled, adding, "I would say it's similar with a young woman wanting to talk to a mom about womanly things. It's not that a man couldn't do it, but I wouldn't feel as comfortable talking to either my dad or any other man about woman things."
Priscilla Loomis, a 2016 Olympic high jumper who is Black, said she became a coach to provide kids that look like her the representation the sport has lacked. NCAA track and field numbers mirrored women's basketball numbers in 2021-22: 5% of head coaches were Black women, while 19% of women's NCAA track and field athletes are Black.
"They want so badly to feel seen and to feel loved and to be given guidance," Loomis said. "And so that's why I always say it's important to get women of color, men of color to the starting line, because a lot of times we're so many steps behind."
___
AP Sports Writer Pete Iacobelli in Columbia, South Carolina, and AP Basketball Writer Doug Feinberg contributed to this report.
WHYY is your source for fact-based, in-depth journalism and information. As a nonprofit organization, we rely on financial support from readers like you. Please give today.