Lower Northeast District meeting Tuesday; text tool available for those who can't attend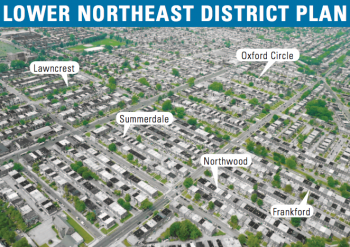 The Philadelphia City Planning Commission has scheduled its second meeting for the Lower Northeast District.
Stakeholders from Frankford, Northwood, Summerdale, Lawncrest, Oxford Circle and part of Castor Gardens first met in early April to identify their neighborhoods' strengths, weaknesses and opportunities. They gathered around seven large maps of the area to discuss the assets and detractors.
A second meeting is planned for Tuesday at 6:30 p.m. at St. Martin of Tours School, 5450 Roosevelt Blvd. Attendees will meet with city planners to review input from the April meeting, discuss draft recommendations and determine future development scenarios.
Across the city, residents are working with city planners to improve their neighborhoods along the lines of zoning, transportation, development, green space and community interaction. It's part of the the city's comprehensive plan, Philadelphia2035.
The Planning Commission is taking online RSVPs for the meeting.
For those who can't attend the meeting, keep an eye out for the city's new interactive posters. Across the Lower Northeast District, posters asking questions about some of the improvement ideas will provide phone numbers that residents and business owners can text their answers to. For example, text YES or No to 215-987-5444 to answer the question, "Would you use rapid transit along the Boulevard to get to Center City?"