In some cases, new assessments could bloat delinquent bills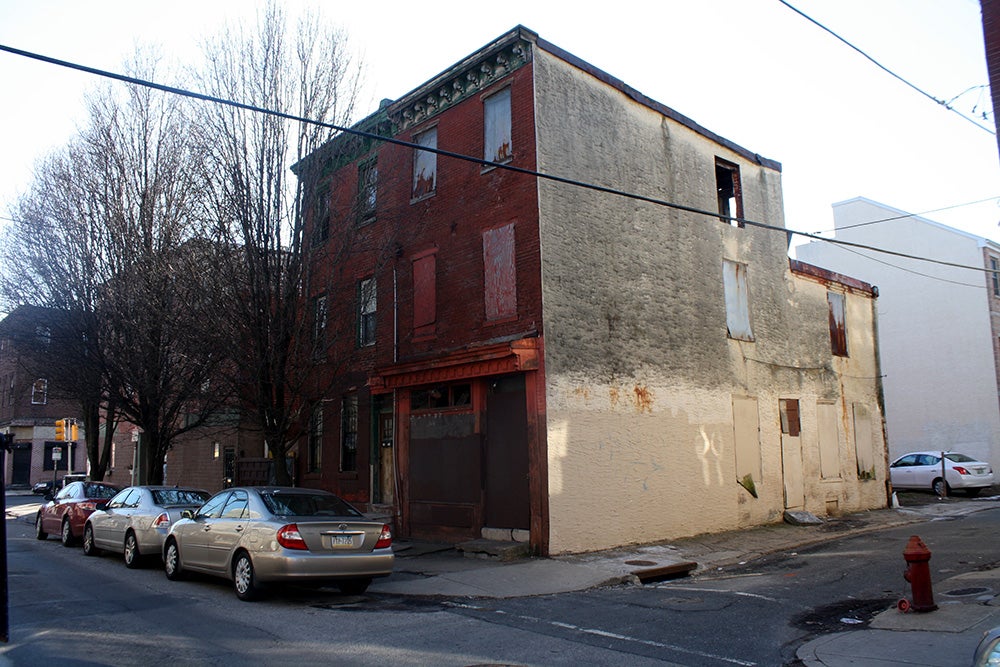 The 800 block of South 19th Street flows through the heart of southwest Center City, the rapidly gentrifying neighborhood known, alternatively, as the Graduate Hospital area (G-Ho) and South of South. The South of South Neighborhood Association (SOSNA) has headquarters at its southern end and new and in-construction homes sit side to side with classic brick row houses, punctuated by a few empty lots.
Two doors north of the SOSNA building is a collection of three tax-delinquent parcels, owned by the same individual, according to Office of Property Assessment records. Two are dilapidated houses, vaguely buckling out onto 19th Street; the third is a vacant lot directly around the corner on tiny Webster Street.
According to OPA records, the owner, Jennie Russell, last paid her tax bills for any of the three properties in 2005. She owes a combined $9,725.04 for all three properties, each one carrying a yearly bill between $200 and $500 for the last seven years, plus interest and penalties.
According to neighbors, an elderly woman lives in 816 s. 19th, the less-dilapidated of the two standing houses. She did not answer the door for a reporter, and SOSNA president Andrew Dalzell said he's never been able to talk to the woman, despite several attempts at conversation. He doesn't believe she is the owner. A man who answered the intercom at the Center City apartment listed as Russell's off-property address said she no longer lived there.
So it's not clear whether she's being willfully derelict or has a financial hardship of some kind. It is clear that if she continues not to pay, her debt will increase dramatically. The City's new assessments value her properties at a combined $386,900—more than 16 times greater than their previous $24,000 combined assessment. The tax bills for the two standing homes will grow by more than 900 percent.
The houses are in poor shape. The front door of 814 is deadbolted, windows are open on its upper floors, and there are clear cracks in its brick walls. Old newspapers are stuffed into the first-floor windows of the occupied house, 816, which also shows peeling paint and cracked bricks. All three properties have been cited by L&I in the past year for unsecured doors and windows and other maintenance violations.
Anthony Frick owns a massive two-address home directly across the street from the delinquent parcels. He says he bought it half-constructed at a short sale in 2011 for $369,000—it had previously been offered for $1.2 million before the housing bubble burst. He plans to finish construction this spring, get married in August, and move into the home. If he were to sell the house, though, he says the delinquent properties across the street would bring down the asking price.
"I think they would," Frick said. "I think that's a pretty easy conclusion to draw."
Michael Hill, Frick's next-door neighbor, feels differently. He said that a nearby church caused more trouble—between services, events, noise, and parking—and that the vacant house across the street hasn't attracted crime or squatters. Hill said he believes the area is so "hot" that delinquent properties like those on his block don't significantly bring down home values. If they do, though, that's OK by him.
"With what they're going to do with taxes in the next year," Hill said, "I'm glad it's there."
Dalzell agreed the properties haven't attracted much crime any more serious than graffiti, but can't understand why the properties remain delinquent in such a desirable area.
"Every developer in the neighborhood has shown an interest in purchasing those properties," Dalzell said.
WHYY is your source for fact-based, in-depth journalism and information. As a nonprofit organization, we rely on financial support from readers like you. Please give today.