Hundreds line up for mobile food pantry in Delaware after food stamp confusion
Hundreds of cars lined up outside a southern Delaware church for a mobile food pantry. The Food Bank is handing out trunk-loads of food to those affected by the shutdown.
Listen
1:02
Long before food was scheduled to be given out, drivers lined up in the parking lot of the Crossroad Community Church near Georgetown in southern Delaware. At 11 a.m. Friday, volunteers loaded car trunks and back seats with boxes of pulled pork, cartons of liquid eggs, milk, beans, and other food.
The Food Bank of Delaware hosted the mobile pantry as a response to the disruption caused by the government shutdown that ended Jan. 25. The shutdown left some food stamp recipients to go as long as two months between getting their Supplemental Nutrition Assistance Program benefits.
Last month, Delaware and other states distributed February's benefits weeks ahead of schedule for some recipients. State officials warned recipients not to spend their benefits early and to budget their funds so they would still have money to buy food in February.
That messaging has caused lots of confusion for a woman who preferred not to give her last name.
"They said, 'You have to save your benefit,' then I hear some people say, 'You have to spend all of it by the end of February, if not, by March 1, you cannot use your card anymore,'" said Denise of Dagsboro while waiting for her car to be filled with food. "It's confusing, especially for people with a whole lot of kids. It's crazy."
While the shutdown has left some pantries bare, the Food Bank of Delaware has an overabundance of food to hand out ﹘ thanks, in part, to President Donald Trump's trade war with China.
Much of the food being distributed comes from the federal government, which has purchased lots of food that U.S farmers were unable to sell to China due to the dispute over tariffs, said Patricia Beebe, food bank president.
"We have just been inundated as an organization with all this wonderful products: blueberries, chicken, ham, pinto beans, cheese, milk. We've never had so much," Beebe said.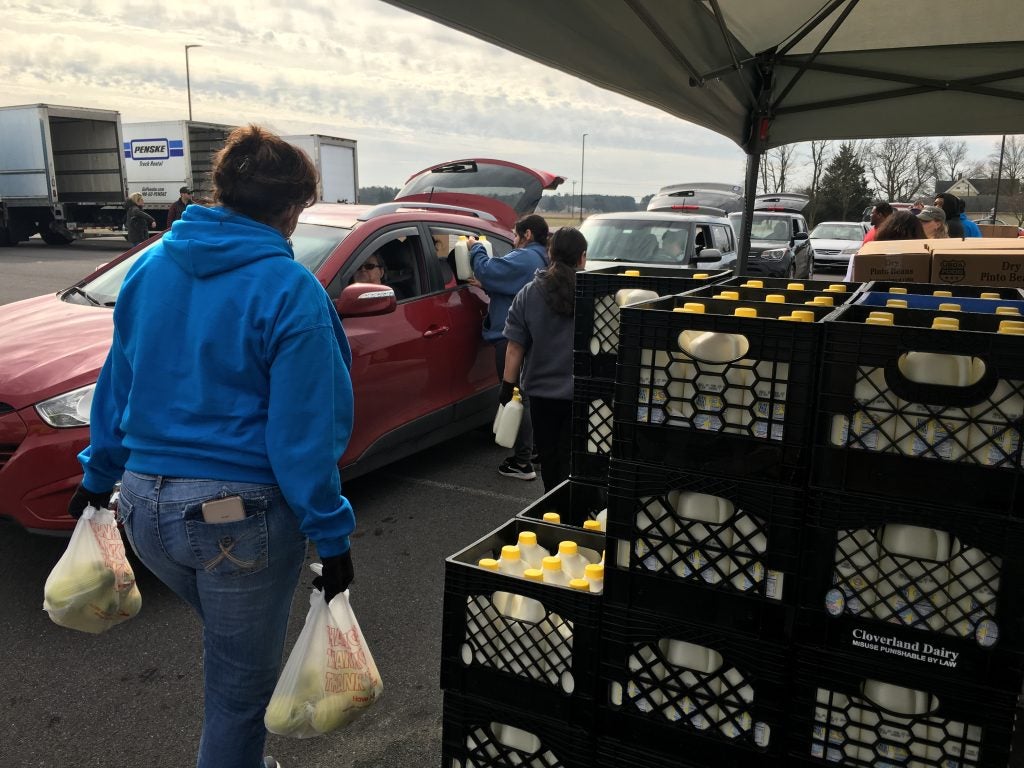 The organization had to rent extra trucks to transport all the food, she said, adding that "we are taking full advantage of it, we are not turning anything down."
The food bank plans to set up another mobile food pantry in Dover Friday, when the government could shut down over the border security impasse.
"If they're shutting the government again on the 15th, we won't get any benefits until when? I don't know. Until they say I guess," Denise said.
SNAP recipients can get food Friday at 11 a.m. at Calvary Church in Dover.
WHYY is your source for fact-based, in-depth journalism and information. As a nonprofit organization, we rely on financial support from readers like you. Please give today.