Here's how much snow fell at the Shore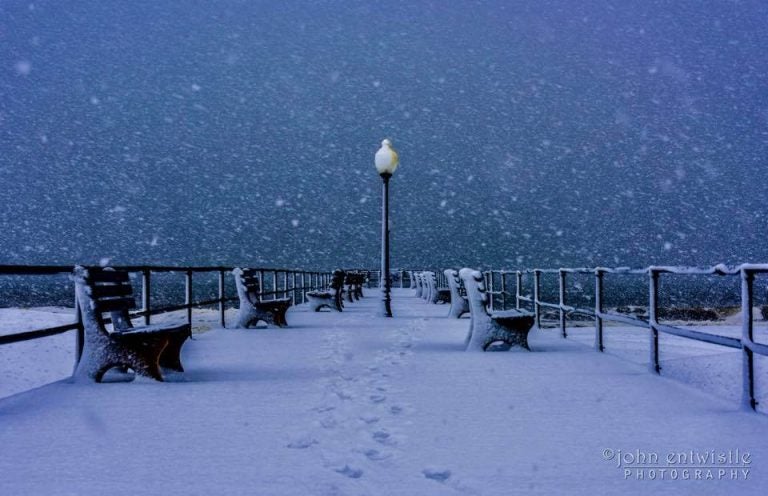 A powerful coastal storm that lashed New England Tuesday only grazed the Jersey Shore but dropped moderate snow accumulations in some areas, contributed to a messy commute for some, and sparked a debate whether school openings should have been delayed.
The National Weather Service's forecast issued on Monday mostly came to fruition as snow began falling in coastal areas late Monday night and lasted through Tuesday morning.
As forecasted, an intense snow band moved onshore shortly after sunrise and contributed significantly to the overall accumulation totals.
While accumulations were mainly minor, snow fell at the worst possible time for early morning commuters.
Here is a preliminary snow map for March 13. You can also see snow totals in list format here: https://t.co/zxSz7xeZiv #pawx #njwx #dewx #pawx pic.twitter.com/PZ25tJEWT3

— NWS Mount Holly (@NWS_MountHolly) March 13, 2018
Accumulations in table format:
...Atlantic County...
   Pleasantville          0.8  1258 PM  3/13  Newspaper
   1 WNW Hammonton        0.4   900 AM  3/13  CoCoRaHS
   4 SW Egg Harbor City   0.3   815 AM  3/13  CoCoRaHS
   Estell Manor           0.3   800 AM  3/13  Co-Op Observer
   Atlantic City Intl A   0.2   800 AM  3/13  ASOS
   Linwood                0.2   850 AM  3/13  CoCoRaHS
   Atlantic City            T  1258 PM  3/13  Newspaper


...Monmouth County...
   Freehold               4.7  1018 AM  3/13  Social Media
   Clarksburg             4.5   830 AM  3/13  Trained Spotter
   Wall Twp               3.8   745 AM  3/13  Trained Spotter
   1 E Colts Neck Twp     3.7  1000 AM  3/13  CoCoRaHS
   Colts Neck             3.7  1000 AM  3/13  Trained Spotter
   Wayside                3.1  1057 AM  3/13  Social Media
   15 E Windsor           3.1   700 AM  3/13  CoCoRaHS
   3 W Howell Twp         2.8   700 AM  3/13  CoCoRaHS
   Howell                 2.7   737 AM  3/13  Social Media
   Freehold Twp           2.7   730 AM  3/13  Trained Spotter
   Shrewsbury             2.7  1154 AM  3/13  Trained Spotter
   9 NE Lakehurst         2.5   708 AM  3/13  CoCoRaHS
   Manalapan              2.5  1215 PM  3/13  Trained Spotter
   2 SW Long Branch       2.4   700 AM  3/13  CoCoRaHS
   5 SW Long Branch       2.4   700 AM  3/13  CoCoRaHS
   1 SW Long Branch       0.8   648 AM  3/13  CoCoRaHS
   Long Branch            0.8   718 AM  3/13  Social Media
   Manasquan              0.8   700 AM  3/13  UCOOP

...Ocean County...
   Brick Twp              2.9  1253 PM  3/13  Trained Spotter
   Toms River             2.5  1000 AM  3/13  Public
   10 NNW Lakehurst       2.1   735 AM  3/13  CoCoRaHS
   Bayville               2.0  1015 AM  3/13  Trained Spotter
   2 NNE Brick Twp.       2.0   900 AM  3/13  CoCoRaHS
   Waretown               2.0   834 AM  3/13  Social Media
   Lacey                  1.8  1025 AM  3/13  Trained Spotter
   Mystic Island          1.5   752 AM  3/13  Social Media
   9 ESE Lakehurst        1.5   700 AM  3/13  CoCoRaHS
   3 NNW Stafford Twp.    1.0   700 AM  3/13  CoCoRaHS
   Point Pleasant Beach   1.0   700 AM  3/13  CoCoRaHS
   Tuckerton              1.0  1030 AM  3/13  Trained Spotter
   Lakehurst              1.0   700 AM  3/13  CoCoRaHS
   3 SSE Berkeley Twp.    1.0   700 AM  3/13  CoCoRaHS
   Little Egg Harbor Tw   1.0   737 AM  3/13  Social Media