Friends of Bill Eder remeber "the best"
Bill Eder's best friends remember him as a guy who loved life, and who always wore a smile.
"I can't remember a time when he didn't have a smile on his face," said Rob Venango, a longtime friend of Eder's.
Eder was one of four men who died in a car crash on I-95 over the weekend when their Mitsubishi Lancer slammed into and ended up partially under a tractor trailer near the Girard Avenue ramp.
Now friends of the 23-year-old Wissinoming resident are mourning his loss and remembering his greatness.
"Bill was by far the best person you could ever meet," Venango said. He recalled a time when Eder picked him up at 3:30 in the morning, and said his friend would "do anything" for his buddies.
"He knew what a friend was," said Ryan McGinnis, who has been friends with Eder since the two were in 5th grade at St. Bart's. McGinnis said his friend was always willing to hang out, even if it wasn't necessarily his thing.
Venango said he and his friends are especially torn by the tragedy, given Eder's sense of responsibility and the promise his life held. The Vankirk Street resident was a 2000 graduate of St. Bartholomew and a 2004 graduate of North Catholic. He graduated from Temple University in May.
"This was not supposed to happen," Venango told NEast Philly. "Bill was always responsible, he would never speed, he always wore his seatbelt.
Eder's friends have started a facebook group in his honor, where they share their photos and their fondest memories of a person Venango and McGinnis call "the best."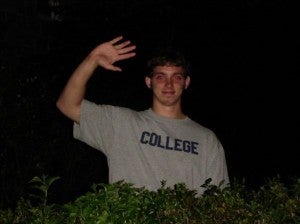 EDER, WILLIAM J. — suddenly on Oct. 4, 2009, age 23. Loving son of Michael (Joanne) and Virginia (nee Scott). Brother of Ginny (Ian), Angela and Michael. Grandson of Marie Eder, Virginia Scott and Anita Capko. Loving companion of Corin Daly. Also survived by many loving aunts, uncles, nieces, cousins and friends. Relatives and friends are invited to his Memorial Gathering on Thurs., Oct. 8th from 9-11 A.M. in St. Bartholomew R.C. Church (Harbison & Cheltenham Aves). Funeral Mass, 11 A.M. Holy Sepulchre Cemetery. In lieu of flowers, please make donations in William's memory to American Heart Association , 625 W. Ridge Pike A-100, Conshohocken, PA 19428.
Photos courtesy of friends of Bill Eder via In Loving Memory of Bill Eder.