Food For Thought: recipes to stay home for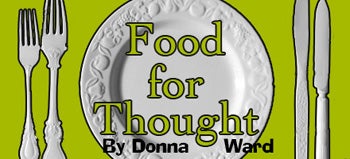 With the increasing financial hardship and economic strain, more NEasters are choosing to dine in and save some money, rather then eat out. Given the fact that more and more people are taking on this custom, I am including a recipe that I came upon a few weeks ago for all our money-saving friends, and those who want to try a little something different. A Beef teriyaki with cucumber salad recipe I discovered in an Asian-style cookbook (Homestyle Asian) intrigued my creative side, as well as my taste buds.
The preparation time is around 20 to 30 minutes, takes 20 minutes to cook and serves 4 people.
What you will need for the beef teriyaki:
4 filet steaks
2 tablespoons mirin
1 tablespoon of sake (optional, but recommended)
1 garlic clove, crushed
1 teaspoon of sugar
1 teaspoon of ginger
1 teaspoon of sesame seeds
1/3 cup of soy sauce
What you will need for the cucumber salad:
1 large cucumber, peeled and diced
2 scallions, thinly sliced
2 teaspoons of sugar
1 tablespoon of vinegar (rice wine vinegar preferred)
½ red pepper, diced
¼ a cup of water
Continue reading for cooking instructions
To prepare, begin by combining the soy sauce, mirin, sake, garlic and ginger in a small bowl. Place the steaks in a non-stick dish and pour the above mixture over the steaks so it coats them evenly. Refrigerate for about 20-30 minutes.
Next, put the cucumber, pepper and onion in a bowl. Then place the sugar, vinegar and water in a saucepan and stir over light heat until the sugar dissolves. Increase the heat and stir quickly until mixture thickens (about 3-4 minutes). Pour over the cucumber mixture and let cool completely.
Drain the steaks (keep the marinade aside) and grill to your liking. Rest the meat for a few minutes before slicing and serving. Put the marinade in a saucepan and heat while stirring. Add the sugar and continue to stir until it has fully dissolved, then bring to a boil and let stand for about 2 minutes.
Slice the steaks as desired and serve with the marinade and a sprinkling of sesame seeds on top. The cucumber salad can be served on the same plate or in a separate bowl.
This tasty meal is sure to have your family and friends wanting to dine in at your house rather than a restaurant. Bon appetite!
Food For Thought is a NEast restaurant review column written by Donna Ward that runs every other Thursday on NEastPhilly.com. See all of Donna's reviews here. Read other NEastPhilly columns here.