Fiorina falsehood follies: There's something worse than lying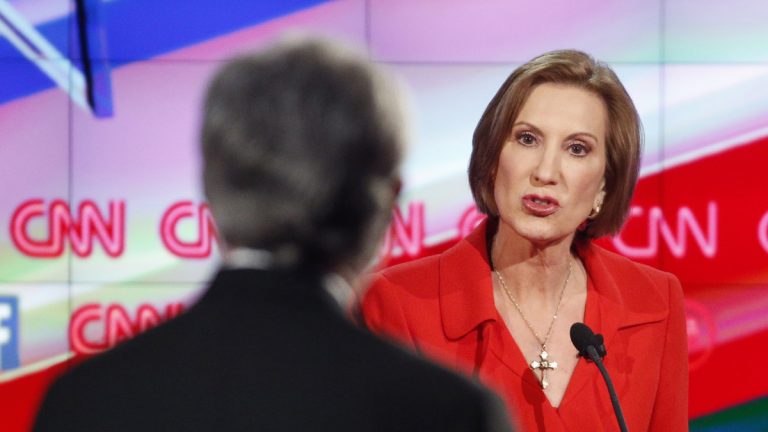 As we bid goodbye to Republican debate V, let's try to identify the most mendacious liar in the pack.
Mein Donald and Ted Cruz are definitely in contention — I loved it when Cruz lauded Bill Clinton for deporting "12 million" illegal immigrants; turns out, the true figure is 681,000 — and I got a big kick out of Chris Christie's claim that as president he'd stand shoulder to shoulder with King Hussein of Jordan, which would be quite a feat, given the fact that King Hussein of Jordan has been eternally horizontal since 1999. But I don't count that as a lie; that's just Christie trying and failing to name-drop a foreign policy player.
No, the worst liar award goes to Carly Fiorina. Again. If there's any justice in this world, her willful falsities — and, worse yet, her refusal to be held accountable — should disaqualify her from snatching the second slot on the Republican ticket.
One problem with watching these debates is that the assertions fly so fast, it's virtually impossible to perform veracity checks in real time. Even so, something seemed fishy when Fiorina said:
To wage war, we need a commander in chief who has made tough calls in tough times and stood up to be held accountable over and over, not first-term senators who've never made an executive decision in their life. One of the things I would immediately do, in addition to defeating [ISIS] here at home, is bring back the warrior class — Petraeus, McChrystal, Mattis, Keane, Flynn. Every single one of these generals I know. Every one was retired early because they told President Obama things that he didn't want to hear.
One more time: Every single one … was retired early because they told President Obama things that he didn't want to hear.
She lied.
Gen. James Mattis, briefly the head of Central Command in Afghanistan, was indeed removed by Obama, and Lt. Gen. Michael Flynn left a top Pentagon intelligence post — possibly because they had policy differences with the administration, but just as likely because their management styles reportedly clashed with civilian Defense officials. Which is not exactly unique in our history. Gen. Douglas MacArthur was famously fired by President Harry Truman because they differed on policy and management style — and, lest we forget, the military serves under civilian supervision.
As for Gen. Stanley McChrystal, who led American and NATO troops in Afghanistan — he was not fired because he told Obama things he didn't want to hear (On the contrary, Obama gave McChrystal most of what he asked for, notably troop hikes.) — but because McChrystal breached protocol by publicly dumping on Joe Biden and other civilian leaders while talking to a Rolling Stone reporter.
Then there's Gen. David Petraeus. Fiorina boasts that she knows him, but, if so, she either doesn't know his record very well, or she does know why he retired from the military and simply decided to lie about it. First of all, he didn't retire because of any policy clash with Obama. He retired in 2011 because Obama nominated him to run the CIA. He later quit the CIA, again not because of any policy clash with Obama, but because he was outed for sharing classified materials with an extramartial mistress.
That brings us to Gen. John Keane, a former Army vice chief of staff. Fiorina's lie about him is the most delicious of all.
In her telling, he was retired because he had policy clashes with Obama. The problem is, he retired from the Army in 2003 — six years before the inauguration of Obama.
We know this, because Keane himself stated the truth on Fox Business Network. Host Stuart Varney asked him, "Did you in fact, general, give advice to President Obama, which he didn't want to hear and didn't take?" And Keane replied: "No, I have never spoken to the president. That's not accurate, and I never served this administration. I served the previous administration."
Why would Fiorina concoct such an elaborate falsehood ("every single one" was dumped because they told Obama what he didn't want to hear) when it was clear, from the moment it left her mouth, that she would be fact-checked? Perhaps a shrink could tell us. Or perhaps it's because she knows darn well that, in these agitated times, a lot of the voters she's trying to woo are more than happy to fuse fact and fiction.
Most of us were taught, as kids, to 'fess up when caught in a lie. But Fiorina, more vociferously than her rivals, puts a different spin on that traditional America value. She believes that when you're in caught in a lie, you double down. Which is worse than the lie itself. Which is what she did (and still does) when asked to explain her lies about the Planned Parenthood video. And which is what happened on Wednesday of this week, when reporters asked her whether she … misspoke … about General Keane, given the fact that the 12-year retiree never even served under Obama. Natch, her response was to dig in and shift the goalposts:
"No, I didn't misspeak. But he has been someone of great experience who has been highly critical of the way this administration has not taken threats seriously, and unfortunately he hasn't been listened to. I would listen to him."
Again, if there was justice in this world, Fiorina's anti-empirical hijinks would be the reason why her poll numbers are so tepid. But alas, Donald Trump has flourished with his lies, and heck, his fans nurture lies of their own. One Trump voter — I heard about this last night — firmly believes, despite the dearth of evidence, that President Obama is flying "the Muslim flag" on a daily basis in front of the White House.
It's a post-fact fever swamp. Fiorina is merely swimming it.
—
Meanwhile, the Democrats will debate tomorrow night. Again, a Saturday night — this time in the midst of the holiday shopping season, when most Americans are guaranteed to pay less attention. I'm already on record saying that the party's debate schedule is politically stupid. As I asked then, "What's the Democratic party afraid of?"
—
Follow me on Twitter, @dickpolman1, and on Facebook.