Financial Perspectives: Don't get too comfortable with a rising stock market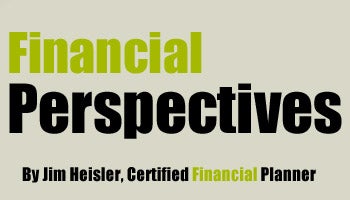 The markets have risen over the past few weeks, but many strategists and economists think that this market does not have legs. While we have seen positive earnings, seemingly lower unemployment and a small improvement housing starts, we have a long way to go globally.
The troubles in Europe have not added a lot of volatility to the market over the last few weeks, but the same problems still persist. It seems probable that there will be some amount of default (probably in Greece first) based on the fact that the countries cannot cut their spending enough to reduce their debt levels.
The market has already priced this in with yields as high as 7 percent in Italy, which is very high for the debt of a sovereign country. Due to this pressure, many experts are predicting a European recession. The downgrades by S&P this week just added fuel to the fire.
Within the U.S., our debt levels are extremely high, as well. A study conducted by two famous economists (Carmen Reinhart and Ken Rogoff) and published in their book, This Time is Different: Eight Centuries of Financial Folly, points out that countries whose debt level exceeds 90 percent of GDP usually experience a 1 percent reduction in economic growth. We are at or slightly above 100% now and growing every day. We are running on the same tracks as Europe and need to take steps soon to avoid the issues they are dealing with today.
The point of all this is that you should not be taking undue risk in your portfolio. A rising market can make people think that the market is not risky. The risk of a recession, even if it does just happen in Europe, will have a ripple effect on the US. A general review of your portfolio to assess your asset allocation (percentage split between stocks, bonds and cash) should probably been done sooner rather than later.
The completion of some sort of risk assessment to determine what allocation you should be in would make sense. Then adjustments between the current allocation and the targeted allocation can be made. If you are uncomfortable with this you may consider engaging a professional to help you.
Jim Heisler is a Certified Financial Planner with Family Wealth Services in Holmesburg. You can read all his Financial Perspective columns here.
Registered Representative, Securities offered through Cambridge Investment Research, Inc., A Broker/Dealer, Member FINRA/SIPC and Investment Advisor Representative, Cambridge Investment Research Advisors, Inc. a Registered Investment Advisor. Family Wealth Services, LLC and Cambridge are not affiliated.
Jim Heisler, CFP®, CDFA™, CASL™ Family Wealth Services, LLC is located at 8275 Frankford Ave. (215-332-4968)
The views expressed are not necessarily those of Cambridge and should not be construed as an offer to buy or sell any security. These situations are hypothetical in nature and do not represent a specific client.