Feet First Philly "where's my effin' sidewalk?" contest winners
A few months ago Feet First Philly asked Philadelphians "where's my effin' sidewalk?" – kind of. They asked Philadelphians on foot to take photos of sidewalk obstructions that leave everyone asking this question and to submit them to the "where's my effin' sidewalk?" photo contest.
This week the results are in, and Feet First Philly has chosen its top three photos, which can be seen here.
First place went to Lauren Wolf, who captured a flooded street with "No Diving" graffiti painted at the waters edge. Second and third place went to examples of construction fences and vehicles blocking sidewalks, in one case sending a pedestrian into the street.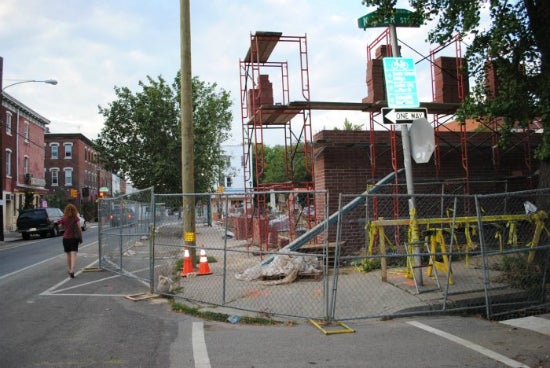 Feet First Philly is a pedestrian advocacy group working to raise awareness of pedestrian issues, improve and secure the pedestrian environment and to encourage more people to walk more. The Clean Air Council sponsors Feet First Philly, and the group hosts regular meetings at the Clean Air Council's offices on the third Monday of every month at 6 p.m.
Though the "Where's my effin' sidewalk!?" photo contest has ended, Feet First Philly still encourages people to report sidewalk obstructions to Philly 311 through the mobile app or website. As the Feet First Philly blog explains: Most sidewalk encroachments are preventable, and some of them are illegal. We need your help to bring attention to these when they arise.