Family separation at the US-Mexico border: Candidates take on the issue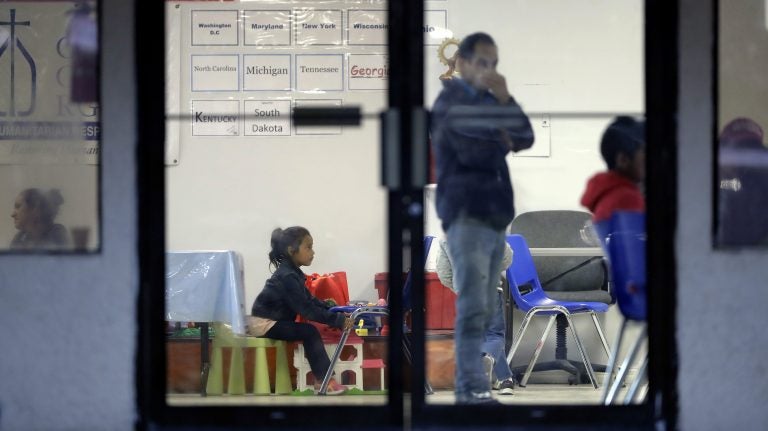 Up until President Trump reversed his policy via executive order, the U.S. government had separated more than 2,000 unauthorized children from their parents at the southern border over two months. This was under the Trump administration's now modified "zero-tolerance" immigration policy. After ProPublica released a recording of children crying in a detention facility (you can hear that recording here), the policy had become a hot-button issue for 2018 midterm campaigns across the country.
In Pennsylvania and New Jersey, candidates for the U.S. Senate and House of Representatives have echoed one another's condemnations of the policy. In the races covered here, all Democrats blasted the president's policy, demanding immediate and unilateral action to end family separation. All Republican candidates in Pennsylvania and New Jersey congressional races also called for an end to the practice — aside from two Pennsylvania GOP candidates who could not be reached and did not have public statements posted online.
Senator Bob Menendez, D-New Jersey, spoke with WHYY over the phone before Trump announced his executive order, condemning the family separation policy and calling for its end. "The president's zero-tolerance policy and his decision to separate families is a crisis of his own making," Menendez said.
While speaking in Springfield, N.J., Menendez said that there is "nothing in the law that requires the Trump administration to separate children from their families … this is heartless, this is cruel, and so we are going to continue to fight."
While Menendez excoriated the Trump administration, Bob Hugin, the Republican vying for Menendez's seat in the November midterms, also called for an end to family separation before Trump reversed course.
"We need comprehensive immigration reform now," he said in a video posted online.
As a parent, it's unconscionable to me that we would separate children from parents. It's the wrong thing to do and it should stop immediately. Time to put people over politics. We need comprehensive immigration reform now. -BH pic.twitter.com/6IlJI0JtvP

— Bob Hugin (@BobHugin) June 19, 2018
"It's not just the administration. Bob is calling on all ineffective politicians in Washington to stop the partisan exercises and finger-pointing, and get to work on solving the immigration problems facing our nation by passing compassionate, comprehensive immigration reform," wrote Nick Iacovella, Hugin's press secretary, in an email to WHYY.
U.S. Sen. Bob Casey, D-Pennsylvania, decried family separation in a press call, while his midterm opponent, Republican Lou Barletta, called for Congress to change laws in order to end the controversial policy.
In the 1st through 6th Districts in Pennsylvania, all Democratic candidates and many Republicans have blamed the president for politicizing the lives of children and families.
"The Congress did not create this problem," said U.S. Rep. Dwight Evans, D-Philadelphia. The Trump administration "is playing political pingpong with these families. It's not right. It's morally wrong," he said.
Evans' opponent in the November House race, Republican Bryan Leib, also called for change. "What's happening right now needs to change. I believe that Congress should reverse the Flores Consent Decree, settle these case in a more expedient manner and appropriate more dollars for family shelters at the border to keep these families together," Leib wrote in a statement to WHYY.
In an online post, congressional candidate Chrissy Houlahan, a Democrat in the 6th District, not only called for an end to family separation, but she vowed to work for "meaningful comprehensive immigration reform" if elected.
Her opponent, Republican Greg McCauley, could not be reached for comment.
Here's a list of candidates in the region and their positions.
Pennsylvania 1st District (mostly Bucks County)
U.S. Rep. Brian Fitzpatrick (R):
"I firmly detest the heartless and inhumane practice of separating children from their parents at the border."
Scott Wallace (D):
This will be one of the great moral tests of our time. I can tell you if I were in office today, I would be busting down doors to save these children — and to hold this administration accountable as it stomps on our American values. What is @RepBrianFitz doing? pic.twitter.com/HS6umro9dH
— Scott Wallace (@ScottWallacePA) June 19, 2018
Pennsylvania 2nd District (Philadelphia)
U.S. Rep. Brendan Boyle (D):
The takeaway: This is a Trump Administration policy, and President Trump can reverse it on his own – any time. #KeepFamiliesTogether pic.twitter.com/ElYr47OcrB

— Rep. Brendan Boyle (@CongBoyle) June 19, 2018
David Torres (R):
"I'm not for separating mothers and their children."
Pennsylvania 3rd District (Philadelphia)
U.S. Rep. Dwight Evans (D):
"The fact of the matter is the Trump administration has created this problem because they want to play politics with these families.
Bryan Leib (R):
"Put simply, what's happening right now needs to change."
Pennsylvania 4th District (mostly Montgomery County)
Madeleine Dean (D):
I stand with the people protesting Vice President Mike Pence and the current administration's cruel and un-American treatment of families at the border, tonight in Philly. pic.twitter.com/dRJjVw1Ne8

— Madeleine Dean (@mad4pa) June 19, 2018
Dan David (R):
No comment available online, and he did not respond to request for comment.
Pennsylvania 5th District (mostly Delaware County)
Mary Gay Scanlon (D):
"An America where children are used as a bargaining chip in our immigration policy is not an America to be proud of. This practice is, at its core, inhumane."
Pearl Kim (R):
I couldn't agree more. Congress should work together to pass bipartisan meaningful immigration reform. #PA5 pic.twitter.com/NA3vg4iZvO

— Pearl Kim (@PearlKimPA) June 19, 2018
Pennsylvania 6th District (mostly Chester County)
Chrissy Houlahan (D):
"Let me be clear: With obvious exceptions for extreme cases, there is no morally defensible excuse to rip infants and toddlers from the arms of their parents."
Greg McCauley (R):
No comment could be found online, and he did not respond to a request for comment.
New Jersey 2nd District (far South Jersey)
Jeff Van Drew (D):
There is no question that our immigration system is broken, and our nation has a moral obligation to make sure families are not torn apart. Nearly 2K minors separated from their families in the past 6 weeks is unacceptable.https://t.co/kXP5NEjv7w

— Van Drew for Congress (@VanDrewForNJ) June 15, 2018
Seth Grossman (R):
"We need a national, adult conversation on why immigration laws are important, and why they must be enforced. For every poor family that comes to our border, there are hundreds of thousands more who want to come."
New Jersey 3rd District (Burlington and Ocean counties)
U.S. Rep. Tom MacArthur (R):
"The separation of children from their fathers and mothers must stop immediately."
Andy Kim (D):
The White House and Congress can and should stop the separation of children from their families today. I'm tired of watching politicians in Washington pretend it is not their responsibility https://t.co/hkApFxugp0 (1/3)

— Andy Kim (@AndyKimNJ) June 18, 2018
New Jersey 7th District (central New Jersey)
U.S. Rep. Leonard Lance (R):
A 2014 bipartisan bill authored by GOP Sen. Cornyn and Democrat Rep. Cuellar that would keep families united and require judges to rule on cases within 72 hours is a good starting point for compromise and should be revived. — L.L. https://t.co/DWVD7N91pp

— Rep. Leonard Lance (@RepLanceNJ7) June 15, 2018
Tom Malinowski (D):
"I strongly oppose the Trump administration's policy of separating children from their families at the border."
WHYY is your source for fact-based, in-depth journalism and information. As a nonprofit organization, we rely on financial support from readers like you. Please give today.