District 172: Business owners discuss change on Frankford Avenue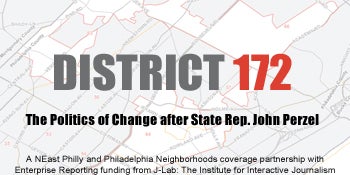 This is part of ongoing coverage in "District 172: The Politics of Change after State Rep. John Perzel," a collaborative effort with Philadelphia Neighborhoods funded by J-Lab.
Change is relative. That seemed to be the message from long-time locals living and working near Frankford Avenue in Mayfair.
The heart of Mayfair, Frankford Avenue has certainly gained a few nail salons and lost a few retail outlets over the years, but not all locals believe these changes to be monumental — or even for the worse.
"People have all these memories of Mayfair as a golden age. It hasn't really changed that much," said Mike "Scoats" Scotese, president of the Mayfair Business Association and owner of Frankford Avenue's Grey Lodge (as well as Fox Chase's Hop Angel Brauhaus).
Joe Veneziale disagreed. "There's no retail on the street anymore," said the owner of Giggles Gifts. "Thirty, 35, 40 years ago, there was nothing but retail stores on the avenue. You could get anything you wanted."
Ed Lloyd, longtime owner of Lloyd Sixsmith, has noticed similar changes over the years. Where there used to be clothing and shoe stores, there are now nail salons and doctor's offices, he said.
Scotese acknowledged that retail has been lost on the street, but said that it's not just a Frankford Avenue problem; it's an everywhere problem.
Bob Domanico, owner of Pat's music on Frankford and Ryan avenues, felt that Frankford Avenue was a good area in terms of retail business. "Some stores would say no, but I think there's a lot of retail business in Mayfair," he said. "We have some good stores on these four or five blocks."
Many locals have also noticed vacant store fronts cropping up over the years.
The vacant stores are victims of the malls, which began to drive businesses out of Frankford Avenue in the 1980s and early 1990s, Lloyd said.
Although some on the avenue, like Lloyd, and Stephen Kanoff, owner of nearby Morry's Dinettes, have definitely noticed more vacancies over the years, others, like Scotese, disagreed.
"There are vacancies, but there's not a crazy number of vacancies. You really can't find a lot of vacant store fronts around here," he said. "Frankford Avenue is holding up very well."
Many were divided on whether or not chain stores, like Walgreens, the Family Dollar and Dollar Tree, have taken over Frankford Avenue.
Kanoff said he was not happy with what he considered big business taking over small "ma and pop" shops in the last two decades. "How many butchers and shoe makers and tailors have all gone out of because of the corporations?" he said. "And that's the way it is."
Others had a more sunny assessment of chains on the street.
"We've lost a pharmacy or two and gained a Walgreens," said Scotese. But "there always have been chain stores on the avenue. I think we have fewer than normal."
Scotese and fellow Business Association member, Antoniette Montgomery, owner of Torresdale Flowers on Frankford Avenue near Aldine Street, would welcome the chain stores if they brought more people onto the street to shop and check out the local bars and restaurants.
"It's a shame we can't get bigger stores in the area — like a Barnes and Noble — that would attract the area a little bit better," said Montgomery, who has lived in the neighborhood for more than 20 years.
"I don't have a problem with the Family Dollar," she added. "The more problems we have are with the check cashing places showing up because some of them end up being pawn shops. Once people start seeing that they get scared."
Entertainment on the street was another topic for debate.
Kelli Smelser, an employee of Penn Hardware, who's lived in neighboring Tacony for more than 15 years, felt there used to be more to do on the street.
She recalled the Concord Roller Rink, on Princeton and Frankford avenues, which shut down in 1985, and is now a public storage facility. There were also four movie theaters — the Mayfair, the Holme, the Merben and the Devon — on Frankford Avenue that have since closed.
Scotese pointed out that although the avenue's roller skating rink and single-screen movie theaters have shut down, these old-fashioned entertainment venues are pretty much obsolete everywhere.
He said it was pointless to "worry about what's not on the avenue anymore that isn't going to survive anyway."
Despite the loss of some entertainment spots on Frankford Avenue, there is still plenty to do on the street, Scotese said.
The Business Association hosts several events like the Mayfair-Holmesburg Thanksgiving Day parade, an annual Christmas tree lighting and the Mayfair May Fair and Fallen Heroes 5K run each May.
There is also entertainment on the avenue everyday, Scotese said.
"Mayfair's always had a very lively bar scene and we still do," he said. "There are a lot of restaurants, and we are starting to see some really good restaurants open up."
Saleem Ahmed and Jennifer Klimowicz are students reporting for Philadelphia Neighborhoods, the publication of Temple University's Multimedia Urban Reporting Lab.
WHYY is your source for fact-based, in-depth journalism and information. As a nonprofit organization, we rely on financial support from readers like you. Please give today.