Democratic Pa. state senators propose student loan debt relief
Three Pennsylvania state senate Democrats are launching a plan to help people with student loan debt.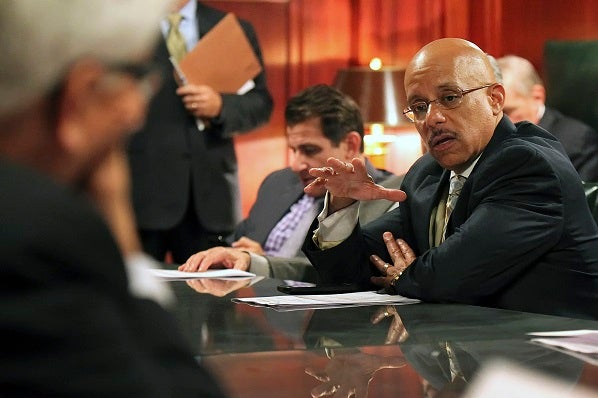 Three Pennsylvania state senate Democrats are launching a plan to help people with student loan debt.
Sen. Vincent Hughes, who represents parts of Philadelphia and Montgomery counties, is working with Sen. Katie Muth, who represents parts of Montgomery and Chester counties, and Lindsey Williams, who represents Allegheny County, to co-sponsor the PA Student Higher Education Lending Protection Act. The proposal would allow people to refinance high-interest student loan debt and claim a tax credit on student loans.
Pennsylvanians carry more student loan debt per person than in any other state, Hughes said. About 1.8 million Pennsylvanians have any amount of student loan debt, with an average debt of $36,000 for graduates, according to state figures from 2017.
Over the past couple decades, private lenders and banks crowded into the student loan market, offering loans with interest rates of 8 percent or higher, which many people are still paying off years later, Hughes said. That's been a detriment to individuals, families and the state's economy.
"Far too much of it is at interest rates that are exorbitant. And quite frankly, they can't buy a house, they can't buy a car, they can't enjoy their own life," Hughes said.
The HELP Act would lower rates to 4 percent, which Hughes said would save the average borrower at least $10,000. It would be funded by as much as $1 billion in bond financing.
The proposal also would also allow Pennsylvanians to claim a $500 tax credit on student loan debt, and allow employers to contribute to tax-reduced 529 accounts.
Post-secondary institutions would be required to submit student loan information to the state Department of Education, according to a news release. The state banking department would compile information on private lending options, including rates and repayment plans.
"Reform of higher-education financing would not be complete without protection for borrowers," said state Sen. Lindsey Williams in the news release. "I struggled to find out the true cost of my higher education, including what I would pay for textbooks, laundry and transportation. Schools must be completely candid with students about all the expenses they will incur."
The formal proposal will be introduced in the senate within a week, Hughes said.
WHYY is your source for fact-based, in-depth journalism and information. As a nonprofit organization, we rely on financial support from readers like you. Please give today.