Democratic campaigns "concerned" SEPTA strike could derail electoral victories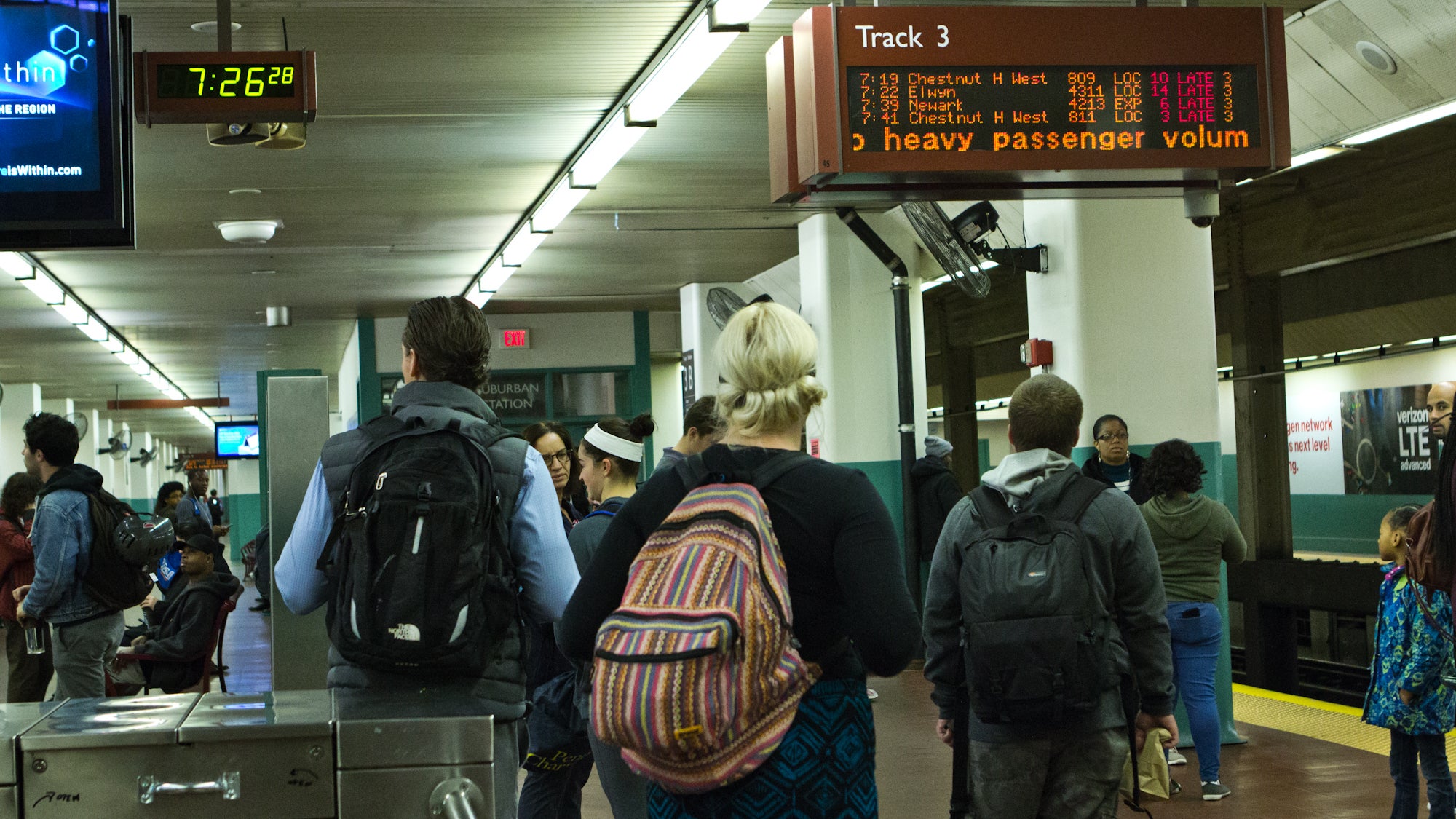 With Election Day less than a week away and Transport Workers Union (TWU) Local 234 still on strike, Democrats hoping for big voter turnout in Philadelphia are growing increasingly nervous.
"I'm worried," a senior campaign staffer for Katie McGinty told PlanPhilly. McGinty currently holds a 5 point lead over incumbent Republican Sen. Pat Toomey, according to RealClearPolitics' average of polls. Democrats are pinning their hopes of winning back control of the Senate in large part on unseating Toomey in Pennsylvania.
Hillary Clinton's campaign is also concerned, said U.S. Rep. Bob Brady on Monday. Brady, who also chairs the Philadelphia Democratic City Committee, expressed his own concerns to reporters on Wednesday.
"It's on my mind. A lot," said Brady. "[Democratic campaigns] should be concerned. I'm concerned."
Brady added that he was hopeful that a deal would be made to end the strike before Election Day.
Clinton has a 4.9 point lead over her nearest opponent, Republican Donald J. Trump, in RealClearPolitics four-way race poll.
Brady said he's hoping for a 460,000-vote margin out of Philadelphia for Clinton and McGinty. In 2012, Barack Obama received 492,000 more votes in Philly than Mitt Romney.
Earlier on Wednesday, former Governor and Democratic National Committee Chairman Ed Rendell said that he was afraid of the strike's adverse effects on Clinton's campaign.
"This will hold down the turnout in Philadelphia and the Philadelphia area," said Rendell. "I guess that would be good for Donald Trump. Who knows?"
That question isn't just a rhetorical flourish: A transit strike's impact on voting isn't clear. Turnout was actually up slightly in 2009, the last time Brown's union picketed on an Election Day. But the District Attorney's race topped the ballot that year, making it difficult to draw comparisons. In 2009, a total of 120,000 Philadelphians voted. Clinton alone hopes for something closer to the 588,000 voters that Obama received in 2012.
TWU threatened another Election Day strike in 2014, when Democratic challenger Tom Wolf unseated incumbent Governor Tom Corbett. At the time, the Philadelphia Inquirer reported unnamed sources close to Brown describing that threat as "just for leverage," and that Brown would not have imperiled Wolf's chances with a strike.
For his part, Brown swears state and national politics don't matter to him: The only voters he cares about in this fight are the Local 234 members who re-elected him as President and authorized a strike.
Injunction junction, what's your function? (Helping Philly's electorate get to the polls)
The potentially massive political ramifications are why SEPTA has said it will seek an emergency injunction to force the striking bus, subway and trolley employees back to work if the walkout persists.
To start the process SEPTA would call the Court of Common Pleas emergency injunction number. If it's regular court hours, one of the Common Pleas judges would be assigned the case based on a rotation. If it's after hours, it goes to the emergency judge – each week, one of the judges is "on call" ala a doctor on her residency, covering the 5pm to 9am shift and over the weekend. Starting Friday, it's Judge Frederica Massiah-Jackson.
The process would play out largely the same if SEPTA chose to file in federal court, which one non-lawyer SEPTA spokesperson told PlanPhilly they intended to do. Labor lawyers PlanPhilly spoke with said Philadelphia's Court of Common Pleas would be the proper venue. A jurisdictional dispute from filing in the incorrect court could delay an injunction's issuance.
The assigned judge would direct SEPTA to serve TWU with the lawsuit. SEPTA would presumably have the papers ready to go and would hand them directly to TWU's lawyers or a union executive.
Once the papers are served, the judge would schedule a hearing within hours. TWU's attorneys and witnesses would need to appear live in court written affidavits wouldn't work. Attorneys for SEPTA and TWU would submit briefs arguing for and against the injunction, respectively, and present brief oral arguments.
The judge would then rule on the matter almost immediately—at most, he or she would confer with a law clerk for a few minutes before drafting an order granting or denying the injunction.
Whatever happened at the trial court would likely stand: It's unlikely a higher court would both grant an appeal and stay the decision, although not out of the realm of possibility.
For that reason, we might see even more brinkmanship in this ongoing strike saga: SEPTA's lawyers may wait as late as Monday morning to seek an injunction. Doing so would limit TWU's ability to seek an appeal and a stay. [UPDATE: Late Wednesday night, SEPTA officials said they would seek an injunction Thursday if the union did not agree to voluntarily suspend the strike for Election Day.]
SEPTA showed its hand when they stated publically they would seek an injunction if the strike persisted; TWU's lawyers have now had time to prepare for an injunction and at least prepare some rough notes for a brief.
Would SEPTA win in court? That's tougher to say. Suffice it to say there isn't a lot of precedent here: It's rare enough that an employer would seek to enjoin a strike, and rarer still that said union's walkout on election day could affect voting.
"It's a tough call," said Joel Barras, a labor attorney and partner at Reed Smith. "It is very, very difficult to get an injunction of a work stoppage in this type of context, but if you're going to have a compelling reason to do so, a presidential election is a very good one."
WHYY is your source for fact-based, in-depth journalism and information. As a nonprofit organization, we rely on financial support from readers like you. Please give today.