Dead dog found hanging in Wissinoming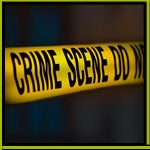 Update June 3: The PSPCA is reporting the animal found in the tree is a raccoon, based on the necropsy of the badly decomposed animal. The organization released this statement:
"While the circumstances of the animal's final disposition were very disturbing, there are currently no laws regarding the treatment of animal remains if they are already deceased. However, the Pennsylvania SPCA is continuing to investigate to determine whether the animal's death was a result of cruelty."
Update: Authorities are still investigating, and a necropsy will lead to more details, the PSPCA tells us. More information about the animal will be released pending the necropsy, but officials now believe a neighbor discovered the animal (which is suspected to be a dog) as many as two days after it died.
The PSPCA is investigating the case of a dead dog found hanging Wednesday night in Wissinoming. Families along the
5600-block of Tacony Street
found the dog.
The PSPCA released the following statement:
"According to officers, a number of families, including children were at the park and discovered the dead animal hanging from a tree and called the SPCA. In addition, a stick had been shoved down the dogs throat. The Pennsylvania SPCA will fully investigate this incident to determine the perpetrators of this crime and charge them to the full extent of the law."