Cumberland County restoring Bayshore areas damaged by Superstorm Sandy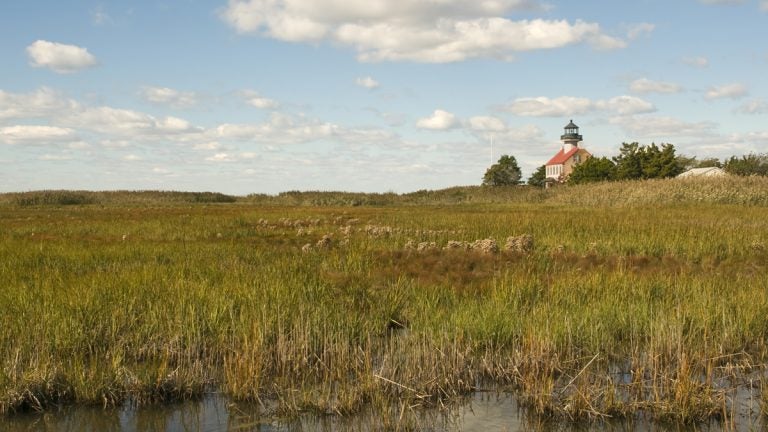 South Jersey's Bayshore region is pressing ahead with a wide-ranging plan to recover from Hurricane Sandy and prepare for future storms while developing its economy with more tourism and better infrastructure.
Community leaders from Cumberland County on Tuesday presented an update to a recovery plan that seeks to rebuild the prosperity of a quiet, rural corner of New Jersey that missed out on the bulk of Sandy recovery money, and has traditionally felt neglected by the rest of the state.
A 26-point program published in December 2013 has now seen action on 21 of its initiatives, ranging from restoring beaches to rebuilding bulkheads and boosting tourism, said Meghan Wren, who chairs the implementation team of the Cumberland County Delaware Bayshore Recovery Plan.
Wren said "great strides" have been made in securing money to rebuild coastal infrastructure and to secure the cooperation of federal, state, county, and municipal governments, together with local nonprofits, to strengthen the economy and make the area more resilient to future storms.
She said the project, which also represents parts of Cape May and Salem counties, has helped to calm local resentment that the area has not attracted the funding it deserved, especially after Sandy, and that the storm has galvanized the community in a way that might not have happened otherwise.
"The silver lining of Sandy is that people are coming together," she said.
Wren declined to put a dollar figure to the work that has taken place so far, arguing that multiple government entities and nongovernmental organizations are contributing to the recovery plan.
But she noted that Downe Township, one of four participating municipalities, has spent $3 million; that The Nature Conservancy is seeking a grant of $8 million for its part in the project, and that $100,000 from the U.S. Economic Development Authority has been spent on a tourism consultant.
Residents attending a meeting at Cumberland County College were urged to promote natural and historical assets such as beaches and colonial-era houses to lure more tourists, who would be more likely to visit if the area did a better job of marketing its attractions.
"You are not Disneyland," said Linda DiMario, a tourism consultant with the nonprofit International Economic Development Council. "Realize that you have an authentic natural experience, and be grateful for it. Run with it."
'Bundling' region's many attractions
She recommended "bundling" local attractions so that visitors would be more likely to visit several locations and stay longer; creating a year-round, countywide calendar of events; and displaying distinctive logos and signage to guide drivers and bicyclists around the area.
With its bird-rich beaches and marshes, the Bayshore region should do more to attract the thousands of affluent birders who visit nearby Cape May but may not be aware that similar habitat exists a short distance to the northwest, DiMario said.
Meanwhile, the recovery plan has promoted the use of natural barriers to defend the area's beaches and marshes from sea-level rise and the bigger storms that are expected to result from climate change.
Jennifer Adkins, executive director of the Partnership for the Delaware Estuary, said her organization has used shellfish reefs, coconut logs, and dredging spoils to build up marshes or protect shorelines that are vulnerable to erosion or flooding.
"Natural infrastructure is more resilient," she said.
The project included installation of living shorelines and tidal barriers at the mouth of the Maurice River, an area that suffers from tidal erosion, said Adkins, whose organization coordinates conservation activities by environmental nonprofits throughout the tidal watershed.
Bay beaches restored
The recovery plan's most visible achievements may be five restored bay beaches that were ravaged by Sandy but have since resumed their role as spawning grounds for the horseshoe crabs that attract thousands of migrating shorebirds each spring.
Several more beaches that were reduced to mud and rock by the storm are due for restoration this year, using a total of 100,000 cubic yards of sand, said Al Modjeski of the American Littoral Society.
On April 4, workers will build an artificial reef designed both to grow oysters, and to test the impact of reefs and aquaculture on horseshoe crabs, Modjeski said.
Elsewhere, officials are rebuilding bulkheads and other man-made coastal defenses that were destroyed by Sandy.
They include Fortescue Beach, where a coastal berm is being replaced at a cost of $1.5 million in FEMA funds, and a former vinyl bulkhead at nearby Gandy's Beach which is being rebuilt with steel to withstand storms.
Bob Campbell, Mayor of Downe Township, told the meeting he had just received notification of approval for a $750,000 feasibility study for the restoration of beaches at Gandy's Beach and nearby Money Island, to be conducted by the U.S. Army Corps of Engineers and the New Jersey Department of Environmental Protection. If it gets final approval, the restoration project is likely to take five to 10 years, he said.
Campbell said recovery projects are generally well funded and have technical expertise available, but are held back by bureaucratic delays. "Everything takes forever," he said.
He urged the state government to speed up permit issuance, and threatened unspecified action if that didn't happen.
"We are going to get tough, and if that means rattling some cages up in Trenton, that's what we are going to do," he said.
To help his township become more attractive to businesses, Campbell is also seeking extended service from cable TV and natural-gas suppliers, both of which projects would help post-Sandy recovery and boost the local economy, he said.
Campbell said he has refused to sign a new franchise with Comcast until the company makes good on an earlier agreement to extend its network, and adds two miles of cable to some outlying areas.
Without such services, the Bayshore region is unlikely to attract the businesses that would aid its recovery, Campbell said.
"If someone wants to open an ice cream stand and there's no gas, cable, or sewer, they won't come," he said.
While the recovery effort can be measured in terms of beaches restored or bulkheads rebuilt, its success is also shown by the number of groups and individuals who have contributed, said Wren, who runs the Bayshore Center at Bivalve, an environmental and cultural center.
"Personally, I'm thrilled with the energy that's brought to the table and the number of people who are thinking about and working for the future of the bay shore," Wren said.
Noting the presence at the meeting of state-level officials including Sen. Jeff Van Drew, Wren said she hoped the recovery plan marks a turnaround in the area's fortunes.
"It's been so many decades when the bay shore has not been top of mind, and has not made it to the priority list," she said. "Having people work together and agree that this is a priority is incredibly important, and has the potential to bearing even greater fruit in the future."
____________________________________________
NJ Spotlight, an independent online news service on issues critical to New Jersey, makes its in-depth reporting available to NewsWorks.