Councilwoman Cindy Bass introduces Vision Zero resolution, as report highlights street safety issues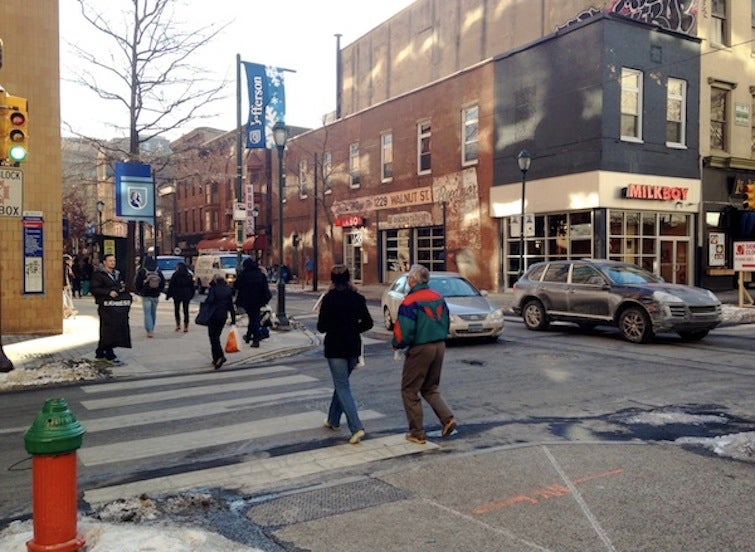 Transportation planner Jarrett Walker wrote an interesting blog post this week about a problem he terms the "uncontrolled loss of altitude" in planning that happens sometimes when cities let small-ball issues undermine their big picture visions:
However, there is always the danger of uncontrolled loss of altitude, i.e. crashing the plane. This happens when a conversation at a certain altitude is interrupted or shut down by a low-altitude issue. For example, when we're exploring the possible structure of a citywide network in a city, an operations manager may interject that a particular turn isn't possible, or that this business would never let us put a bus stop there. Those comments are plane-crashers. If we succeed, at high altitude, in developing a network vision that excites people so that they want it to succeed, all those problems will be easy to solve. But if we let those little concerns veto the high-level thinking, we'll never be able to talk about the big picture.
This calls to mind some of the recent skirmishes in Philadelphia streets politics.
At a high altitude, most City Council members would probably say they're committed to pedestrian and bicycle safety. They unanimously passed a bill, after all, authorizing the Nutter administration to draft a Complete Streets handbook in 2012, which guides the Streets Department in planning for more modes than just cars when they redesign streets.
But some low-altitude issues have been cropping up recently, threatening to crash the plane on the rocky cliffs as Councilmembers entertain tempting political opportunities to derail established traffic calming plans that are controversial at the intersection level. Still, there are signs that the politics are starting to shift, however slowly.
Family bikers have been changing the conversation at a higher altitude about who streets should be designed for, in ways that are beginning to resonate politically, and some Councilmembers are starting to view the street safety issue as a political winner. Councilmen Kenyatta Johnson and Mark Squilla responded to constituent requests to enforce the ban on median parking on Washington Avenue for safety reasons, and just yesterday Councilwoman Cindy Bass introduced a resolution calling for hearings on a Vision Zero plan to cut traffic injuries and deaths in half by the end of the next Mayor's first term in 2020.
The resolution comes on the same week the Bicycle Coalition introduced its new Safer Streets report, which shows Philadelphia lagging behind our peer cities in street safety investments, with unacceptably high human and economic costs.
Analyzing newly released 2013 collision data from PennDOT, the report points out that the roads are getting safer for all users except pedestrians, who are the victims of 4 in 10 fatalities on Philadelphia's roads.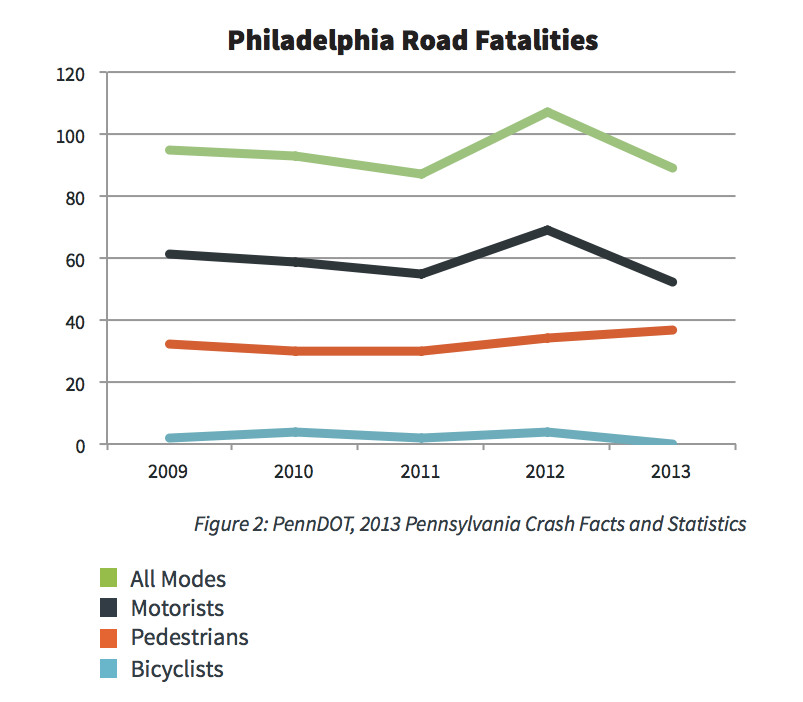 As they point out, the bicycle fatality rates are so low that it would be difficult to accurately measure the trend, though the absolute numbers did fall in 2013. And BCGP attributes the reduction in auto fatalities more to better safety features for people inside cars over the years, than to street engineering changes that reduce vehicle speeds and collisions.
They argue that the unique vulnerability of pedestrians calls for street design changes that prioritize their safety over other considerations like level of service for cars, in addition to stepped up education and enforcement efforts.
On average from 2009 to 2013, for every 1000 crashes involving a motor vehicle occupant, 7 die. For every 1000 crashes involving a pedestrian, 19 die and for every 1000 crashes involving a bicyclist, 5 die. Pedestrians are the most vulnerable road users and must be a priority in designing safe streets.
Part of the problem is money. Philly politicians have let our streets budget fall far behind those of our peer cities – even Baltimore spends more, per capita and also as a share of the city budget.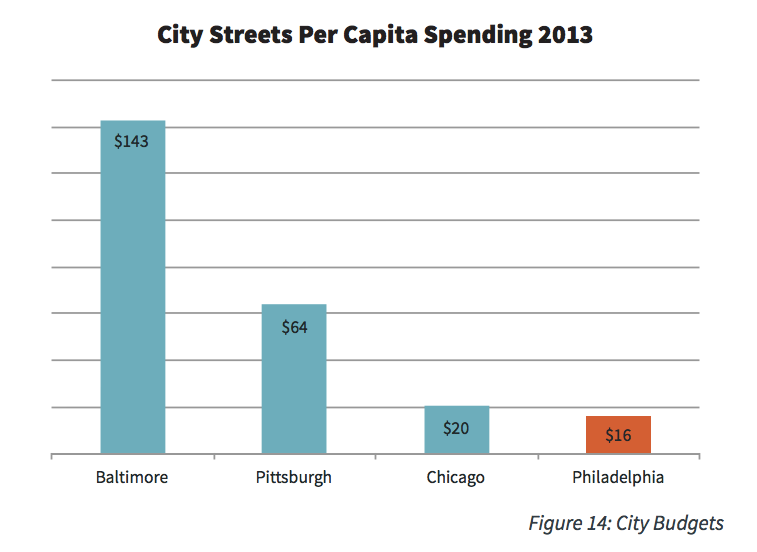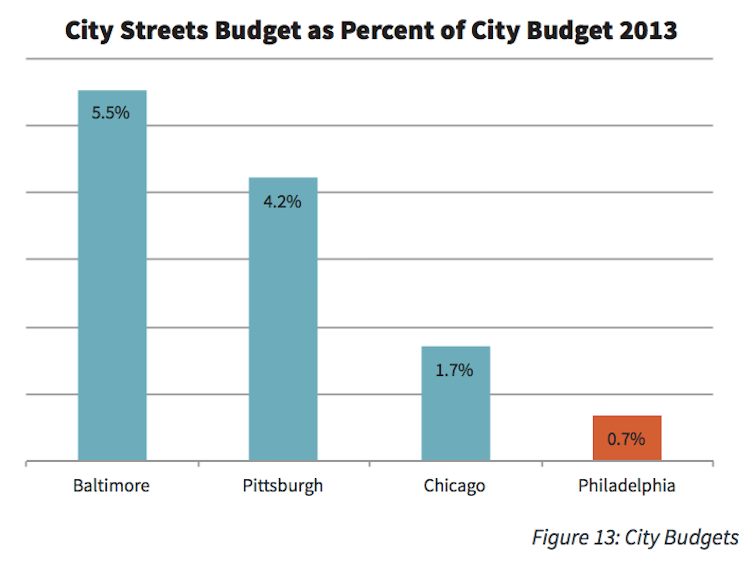 There are two parts to this problem. One is that city politicians have been cutting the Streets Department's transportation budget as a share of the budget:
The other part of the problem is that, however well-intentioned and important, "since 2010, over half the reconstruction and resurfacing budget has been allocated to judicially mandated Americans with Disabilities Act (ADA) curb ramps, contributing to the backlog of streets that require paving."
So the total budget has been shrinking, and curb cuts have been eating up a goodly share of what's left. The Bicycle Coalition's preferred solution is to increase the total paving budget, so we can meet our ADA responsibilities, but also start reducing the huge paving backlog at a faster clip.
Specifically, they want politicians to commit sufficient resources to repave 130 miles of streets a year, and install 15 miles of bicycle facilities per year, for the next 5 years. They say the bicycle portion can be done for $1 million a year.
Hang on: did you catch the switch? We started out talking about pedestrian safety, and now we're talking about bike lanes. What's the relationship?
The NYC DOT has found that actually, protected bike lanes are an important and effective component of increasing pedestrian safety. On streets that received the protected bike lane treatment, total traffic injuries have fallen, including for pedestrians.
NYC DOT thinks there are four main reasons for this. The bike lanes shorten the crossing distance for pedestrians, so they spend less time in the roadway. They make it easier to know which direction cars are coming from. The dedicated signal phases for pedestrians and bikes create fewer turning conflicts at crosswalks – one of the most prevalent sources of traffic injuries – and they reduce weaving behavior by motorists by limiting their ability to zip around cars and bikes.
The Bicycle Coalition's report points out that on Spruce and Pine, bike lanes have also cut motor vehicles collisions. In the three years after those lanes were installed, "serious motor vehicle crashes on those streets dropped by 26%" without noticeably impacting average travel times for motorists, and "fender benders were reduced by 31.5%."
But the report shows that New York has been speeding ahead of us on bike and pedestrian safety infrastructure, and so are some of our other peer cities. Philly isn't going to last very long as the leader of the top 10 biggest US cities in bike commuting if the political and funding commitment to installing bike lanes keeps stagnating.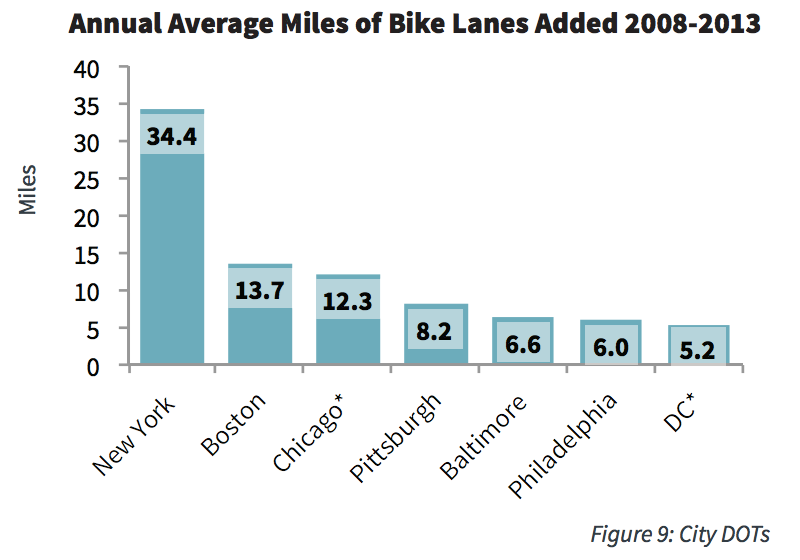 WHYY is your source for fact-based, in-depth journalism and information. As a nonprofit organization, we rely on financial support from readers like you. Please give today.