Coronavirus update: Delaware state of emergency extended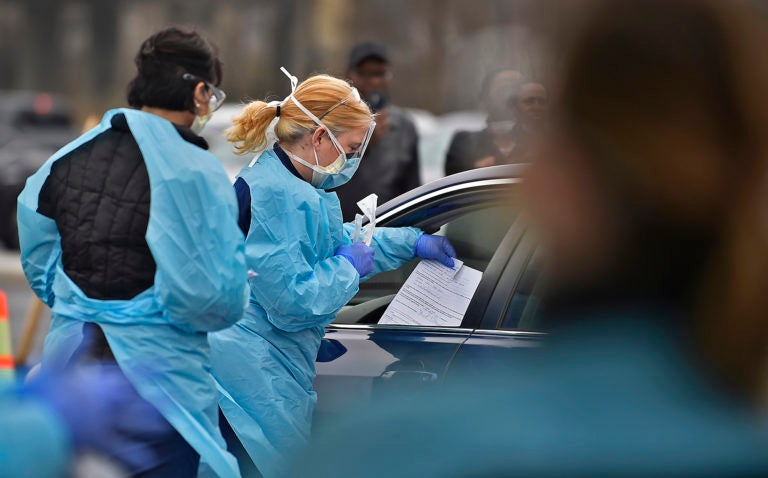 Updated 6:22 p.m.
Are you on the front lines of the coronavirus? Help us report on the pandemic.
As of Friday afternoon, Delaware has 1,326 cases of coronavirus, an increase of 117 since yesterday. Nine more people have died of COVID-19, putting the state's death total at 32. There are 201 people being treated in the hospital for the virus.
State of emergency extended
Gov. John Carney has formally extended the state of emergency he declared last week. By law, a state of emergency declaration expires after 30 days unless it is renewed by the governor. This afternoon's declaration officially renews the emergency order Carney first put in place on March 12. The ten modifications Carney added to that initial order are also extended.
Those ten modifications include:
     

No social gatherings of more than 10 people;

     

K-12 schools restricted to distance learning only;

     

All childcare centers close except for those serving essential personnel;

     

Business operations closed except for essential businesses only;

     

All Delawareans must shelter in place;

     

Table service in restaurants and bars closed;

     

Hotels and short-term rentals closed to leisure guests;

     

A moratorium on evictions and foreclosure proceedings;

     

Out-of-state travelers required to self-quarantine upon arrival in the state;
 "This is a difficult weekend as we continue to fight the spread of COVID-19 in Delaware," Carney said.
He also clarified what is expected of religious groups on this holiday weekend. Carney urged those who typically gather to celebrate Easter and Passover to do so this year only with their immediate family. He said houses of worship must conduct their activities from home or through remote video or audio methods. No more than 10 individuals — including clergy, staff, and participants — may be present inside a religious facility during any service.
"I know that so many Delaware families across our state – including mine – traditionally celebrate Easter and Passover surrounded by family," Carney said. "This year will be much different for all of us. The best thing you can do this weekend is stay home. Celebrate with your immediate family members."
Two more incarcerated people have coronavirus 
A total of four people being held in Delaware prisons have now been diagnosed with coronavirus.  The Department of Correction announced two new cases Friday afternoon. 
Both new cases are in the same housing unit at Vaughn Correctional Center in Smyrna that prison healthcare officials have been monitoring for more than a week. All four of the prison cases are from that unit. One of the new patients is in stable condition at the prison infirmary, the other was taken to a local hospital and was admitted in stable condition.
One additional probation and parole officer tested positive for COVID-19, bringing the total number to two probation and parole officers to test positive for the virus.  One additional correctional officer tested positive for COVID-19, bringing the total number to ten correctional officers to test positive for the virus.
Correctional officer cases up to nine
As of Thursday evening, nine Department of Correction officers have tested positive for the virus. DOC officials announced the two people imprisoned at the state's largest prison in Smyrna who were diagnosed with the virus earlier this week are being treated in the infirmary at James Vaughn Correctional Center. They are in stable condition.
The latest officers diagnosed include two officers assigned to Vaughn. The last time they were at the prison was Friday and Saturday April 3 and 4.
"DOC's screening and prevention protocols are helping us identify, isolate and monitor potential COVID cases early," DOC Commissioner Claire DeMatteis said.  "These measures, along with our robust quarantine, cleaning, decontamination and treatment efforts, are mitigating the risk to our officers, staff, medical team, and facilities."
An officer assigned to the Baylor Women's Correctional Institution in New Castle was also diagnosed with coronavirus. That officer is isolating at home and hasn't been to Baylor since March 31.
The prisons are undergoing extra cleaning including the use of fogging machines to disinfect large common areas. Officers and contract healthcare workers are wearing face masks which are also being provided to inmates in the infirmary and those with compromised immune systems. Inmates who work jobs like food service are also getting face masks.
Delaware Does More releases second round of funding
Delawareans struggling to make ends meet amid the coronavirus restrictions and subsequent layoffs can get some extra help thanks to the second round of funding released by the Delaware Does More Rapid Response Fund.
The fund is managed by the United Way of Delaware as part of a statewide relief effort from the Delaware Community Foundation, the Delaware Alliance for Nonprofit Advancement and Philanthropy Delaware.
The group released another $90,000 to help Delawareans struggling to pay for food, shelter, utilities or rent. The group's initial round of funding provided $150,000 for that effort on March 27.
Recipients in the second round of funding include Catholic Charities ($25,000), First State Community Action Agency ($30,000), Latin American Community Center ($25,000), Modern Maturity Center ($5,000), and Delaware 211 ($5,000).
"More than three weeks into this crisis, the Rapid Response Fund is helping close resource gaps as an increasing number of Delawareans are turning to the Fund for assistance with critical human needs," said United Way of Delaware president and CEO Michelle Taylor. "By working collaboratively with government and community-based organizations, United Way of Delaware is working hard to provide rays of hope for Delawareans struggling through this terrible time."
United Way is also expanding its Stand By Me financial coaching program to help those facing a financial crisis at this time to transition into a firmer footing when this emergency is over. "This crisis will end, and when it does, we want to be sure Delawareans quickly regain their financial footing by developing long-range personal financial strategies now," Taylor said.