City Commissioner Clark tight-lipped on questions of attendance
Listen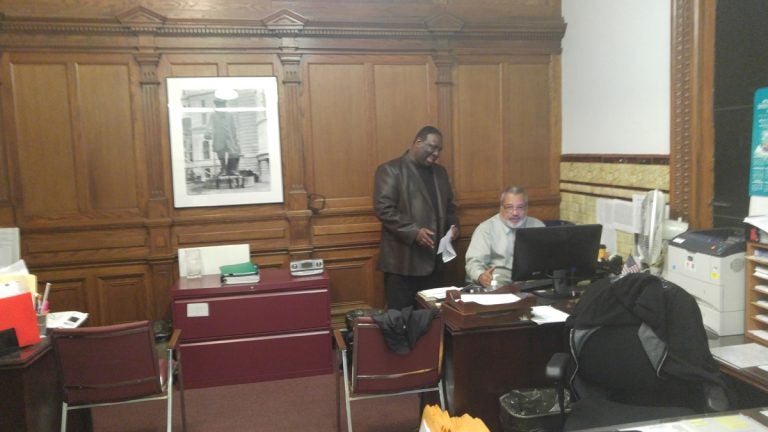 A Philadelphia city commissioner with questionable attendance is finally found on the job. After days of stopping by and asking for an interview, WHYY's Tom MacDonald discovered Anthony Clark in his office to start the week.
"I don't have any comment now. I'm busy. I'm working," said Philadelphia City Commissioner Anthony Clark.
It took five days of visits to his office to find Clark on the job. The visits were at different times during the day, but Clark says he's there all the time.
"You missed me, that's all," he said.
The commissioners run elections in Philadelphia, and Clark is running for another term.
Clark didn't want to speak about why various news outlets have had trouble finding him on the job, or where he was last week.
An exchange from Monday:
Tom MacDonald: I repeatedly, sir, asked to speak to you.
Anthony Clark: I know we asked you if you wanted an appointment. You said no.
TM: I did say yes. I gave my name and phone number.
AC: We'll get you an appointment to talk to me. That's no problem.
Clark also didn't want to talk about the request for his attendance records submitted under the Freedom of Information Act by groups such as the elections watchdog Committee of 70.
"You have to deal with the law department on that in 30 days. Right. OK, so let's be truthful," Clark said.
Clark reportedly even failed to vote in 2012, 2013 and during the 2014 primary.
David Thornburgh of the Committee of 70 says the bigger question is whether Philadelphia needs three elected commissioners or if the mayor should just appoint someone to oversee elections.
"I think it's time we raise that question again with the electorate," said Thornburgh. "There's a process we need to go through to get things on the ballot. We did that with the recorder of deeds a couple of years ago, and it may be time to take another look relative to the city commissioners."
Clark did say he would speak further about the matter after Election Day, when he is expected to win another term.