Christmas in February: Midway Beach dunes get trees, new fencing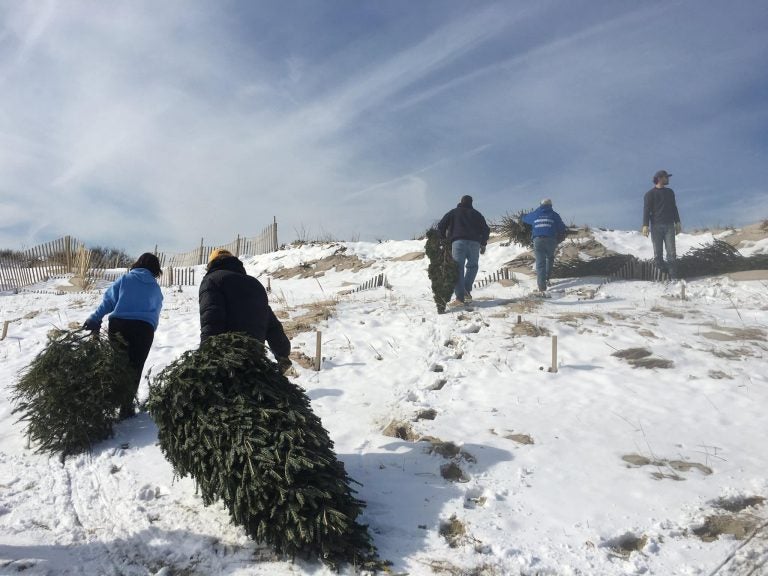 Christmas came a little late in one Ocean County community, but the residents are not complaining.
Over the weekend, volunteers unloaded discarded Christmas trees into the dunes in Midway Beach, a private South Seaside Park community, and helped erect new fencing, all in an effort to maintain and grow the protective system, said Dominick Solazzo, a local resident and founder of the non-profit organization Shifting Sands.
"Saturday morning was sunny and crisp filled with the scent of Christmas," he said. "We had 20 people show up to help unload and place the Christmas trees in the dunes on Saturday and another 15 people to help with the dune fencing on Sunday."
The crew deposited over 200 trees donated by Secaucus in Hudson County.
"Using Christmas trees to help with dune restoration can be useful but is not the answer in coastal communities where there is a history of moderate to severe coastal erosion," Solazzo said. "In Midway, where the houses are set back a few hundred feet away from the ocean, there is plenty of sand to sustain a wide and healthy beach and dune. This provides an ideal location to use Christmas trees to help limit the erosional forces of the wind and collect sand."
Following Superstorm Sandy, volunteers placed over 350 Christmas trees in the dunes.
"They have all since been buried by wind blown sand and now are part of the growing foundation of Midway's dune system," Solazzo said. "When used in conjunction with fencing and subsequently after being buried planted with beach grass, a special relationship becomes apparent."
He says that special relationship results in green and taller dune grass as the trees provide provide nitrogen and other nutrients to feed the grass and also store moisture during the summer months.
The protective barrier spared the community of damage during Superstorm Sandy.
Visit Shifting Sands' Facebook page for photos and videos of the event.