Commentary: Chris Christie nearly made thousands of disabled residents homeless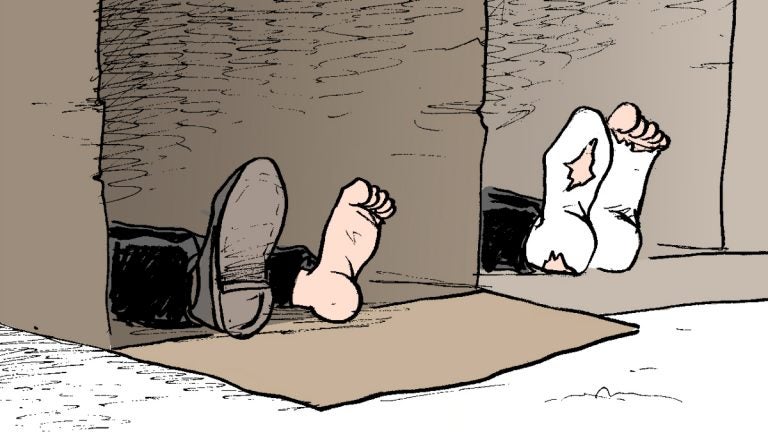 Just when you thought our absentee governor couldn't exhibit more callousness towards the less fortunate in his own state, his administration goes and cranks the "we don't care about poor people" dial up to 11.
This time, it was the blundering, misguided decision to abruptly end a program that provides housing for thousands of poor and disabled residents throughout the state.
Happy Holidays, you're now homeless.
Basically, two state hardship programs have paid the majority of the rent for 3,019 people who can't afford it on their own, either because they're chronically ill and disabled or they're the main caregiver for a sick or disabled relative.
With the program about to expire, Christie had to choose between making arrangements for an alternate plan to care for these residents (something every other governor since 1998 has done) or send seriously ill people an eviction notice.
He chose the latter.
By essentially pulling the plug on the program, chronically ill people suddenly had hundreds of dollars drained from their bank accounts and faced the very real possibility of being kicked out into the cold, thanks to Christie taking a pair of scissors to their safety net.
It took the outcry of stunned social service professionals and local welfare officials across the state to get the Christie administration to grudgingly offer a temporary plan to prevent very sick people from being booted onto the street, and even then it may not be enough.
"There are still a significant number of details that are not clear," Melville "Dee" Miller, president of the state's largest provider of legal representation for indigent clients, told NJ.com. Miller also noted the cuts were the largest sudden change in policy towards those at risk of being homeless since the late 1980s or early 1990s, all to save money.
But it's really not saving anything. The money that supports the program didn't run out. The Christie administration simply made the decision to use the $15.5 million the program costs to help balance the general emergency assistance program budget.
Just chalk this up as the latest case of Christie turning a blind eye toward people in need. In fact, throughout his tenure as governor (if you count traveling the country on the taxpayers dime), Christie has made it crystal clear that affordable housing for poor and middle-class New Jerseyans isn't something that even remotely concerns him.
That is, until he's courting votes in New Hampshire.
"I came here today because I've seen the effect that housing has had in my state, or that lack of housing has had in my state, and I think we need to fix it," Christie said at the New Hampshire Housing Summit. He went on to say people don't often make a correlation between housing and health or education, but they should.
That sounds great, but he didn't mention to voters that since he first took office, he's been doing everything he can to destroy one of the country's most important affordable housing programs. As The New York Times noted back in 2013, Christie's been trying to nix a 30-year-old New Jersey Supreme Court ruling requiring well-to-do towns to write zoning laws to make room for affordable hosing for low income families.
Christie has also tried (and thankfully, failed) since 2012 to seize money from trust funds that towns use to build affordable housing in a brazen attempt to help balance the state budget.
The state Supreme Court also took over the regulation of affordable housing, pushing back against Christie's ultimate goal of helping towns use their zoning laws to keep out lower income residents.
This disdain for lower income workers seeking affordable housing should come as no surprise to anyone who has followed Christie. Back in 2010, Christie proposed abolishing the Council on Affordable Housing – the state agency in charge of affordable housing rules – saying the state should get "the hell out of the business of telling people how many units they're supposed to have."
In fact, if you hear Christie talking about it, finding a home you can afford in one of the most expensive states in the country isn't a big deal at all.
"I… don't think we have this overwhelming need for affordable housing in the state either," Christie said back in January on NJ 101.5's "Ask the Governor" radio program.
Keep in mind this is a governor who has doled out over $5 billion in corporate tax breaks since taking office (which ironically has tripled the cost of jobs at companies receiving the awards, leading to higher unemployment).
So how effective are these tax breaks? Well, when it comes to a $260 million tax break promised to nuclear technology manufacturer Holtec International, the state's own projected return is just $155,000. To put it another way, for every $1.5 million the state is giving up to have Holtec "create jobs," the state is only expecting back about $1,000.
So Christie's math is pretty easy to understand – $5 billion for corporate tax breaks is not enough, but $15.5 million for affordable housing for the ill and disabled is too much. Got that, all you greedy moochers?
Christie's greed sundae isn't compete without a topping of whipped cream, this time in the form of a tax break he has personally pushed through the state Senate – for people wanting to buy a yacht.
In other words, hope all you poor and sick people out there have cake on hand, because you're not getting any bread from this governor.
_________________________________________________________
Rob Tornoe is a cartoonist and WHYY contributor. Follow Rob on Twitter @RobTornoe