Charges reduced against Philly man in fatal stabbing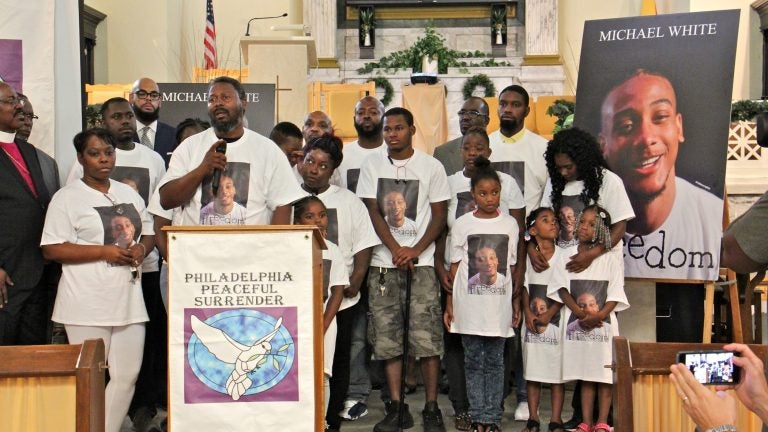 The food courier accused of fatally stabbing a real estate developer in Center City Philadelphia last month will not be charged with first-degree murder. Michael White, 21, may soon be released from prison on bail.
The reduction in charges was announced Wednesday during what was scheduled to be a preliminary hearing. Instead, Assistant District Attorney Lou Tumolo told Municipal Court Judge Charles Hayden that his office will seek charges of third-degree murder, voluntary manslaughter and possession of an instrument of crime in connection with Sean Schellenger's death.
It is possible White will be charged only with voluntary manslaughter, the lesser offense. Prosecutors are still investigating the high-profile incident.
"We have an open mind on whether this case is a third-degree case or is a voluntary manslaughter case," said District Attorney Larry Krasner after a brief hearing crowded with supporters of both men.
Krasner, who attended the hearing, said his office is not pursuing first-degree murder because "there is not evidence to support it."
On July 12, Schellenger, 37, was stabbed once in the back after arguing with White on the 1700 block of Chancellor Street, according to police. He was pronounced dead at the hospital at 11:35 p.m.
White, who was riding his bike, ran away after the stabbing. Two days later, he surrendered to detectives and told investigators where they could find the weapon, a knife he had thrown onto a rooftop.
"He has nothing to hide here. This is a fight on the highway that got out of hand," said Dan Stevenson, White's attorney.
White's family and supporters insist White acted in self-defense. Stevenson agreed, but he would not elaborate after Wednesday's hearing.
Bail is set at $150,000, and White will have to put down 10 percent of that amount to be released on house arrest while he awaits trial.
White's next court date is scheduled for Oct. 30. It will be decided then whether he'll face one or both homicide charges.
"It's the first part of a blessing. I'm not going to say it's a victory," said Quinnell Armstrong, White's uncle, after the hearing.
Schellenger's family and friends did not address reporters after the hearing.