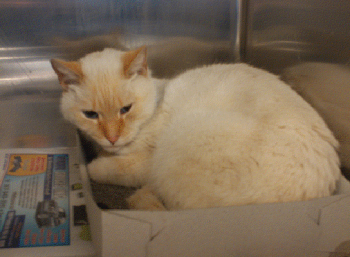 Look at this gorgeous Siamese boy! Jasper (A14379697) is an adult Siamese male cat.
He has a soft, flame point coat and light blue eyes. Jasper was found as a stray wandering around the neighborhood for the past few months. He was found to have a growth on his right side, and was lucky to have a Penn vet removed it for him. It turns out that Jasper did not have a tumor, but had an old abscess wound that had thickened. It was removed and he is just fine! He is already neutered and ready to leave today.
These animals are located at Philadelphia's animal control shelter, ACCT. They need immediate adoption or foster care. ACCT is located at 111 W Hunting Park Ave and is open 365 days a year. Adoption hours are Monday-Friday; 1pm-8pm; Saturday and Sunday; 10am-5pm. To check the status of an animal, call 267-385-3800. Check in every week with NEast Philly to see the cat and dog of the week.
This weekend, you can visit ACCT pets at:
PetSmart, Haldeman Avenue, 11 a.m. to 2 p.m.
The ACCT Adoption Center is open: Monday through Friday 1:00 PM to 8:00 PM Saturday and Sunday 10:00 AM – 5:00 PM