Bike-to-transit survey: The people want more bike parking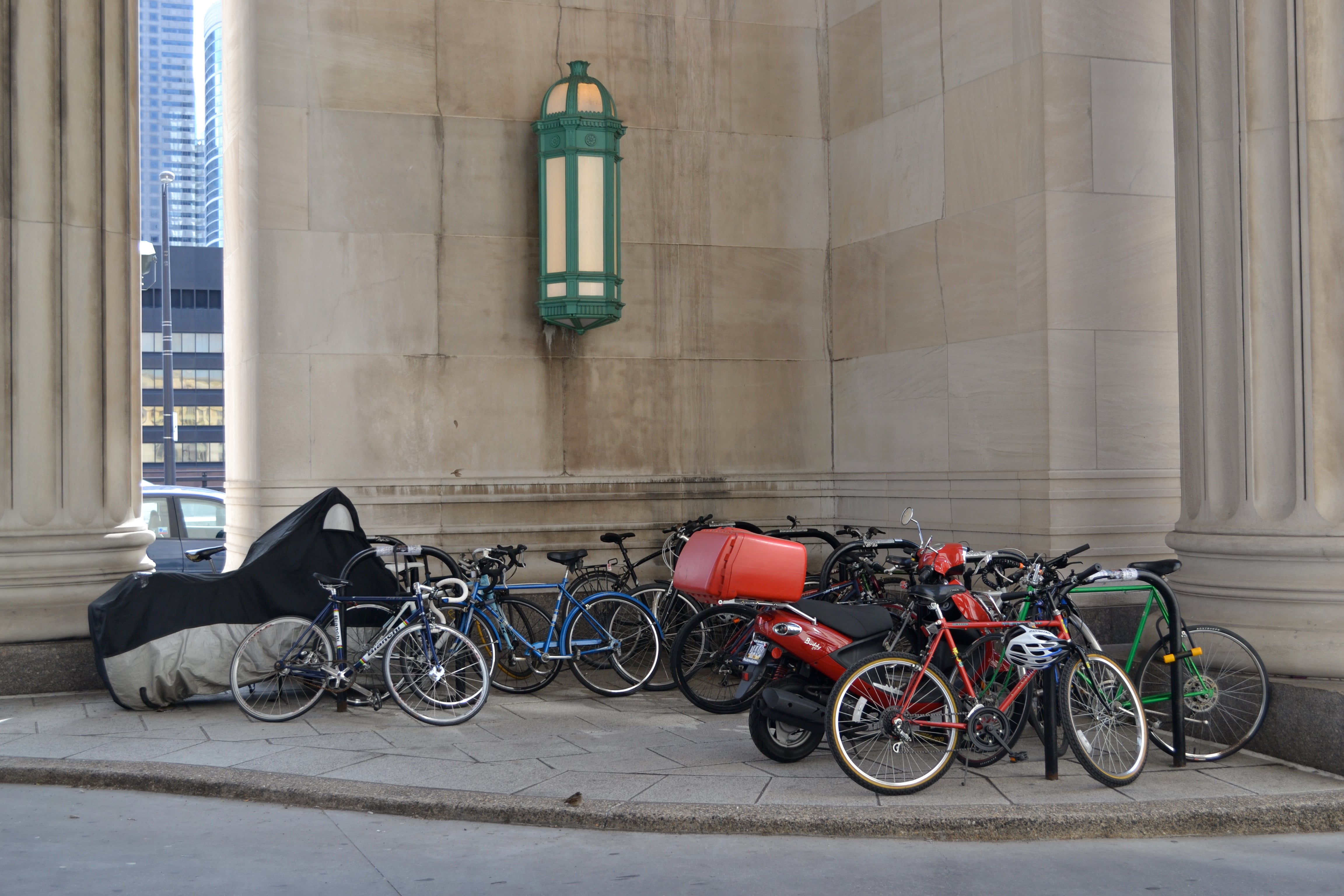 During the week, all bike racks around 30th Street Station fill quickly

Bike-to-transit survey shows people want more 30th Street Station bike parking

At 30th Street Station cyclists secure their bikes to light and sign posts
The results of this fall's Bike-to-Transit online, map-based survey are in, and it's clear. Of the 462 people who responded, 87 percent want more or better bicycle parking at transit stations throughout the region.
This fall the Delaware Valley Regional Planning Commission (DVRPC) and the Bicycle Coalition of Greater Philadelphia conducted an online survey asking participants if they would bike to regional transit stations if bicycle parking or networks were improved and if they would be less inclined to drive for any or all of the commute.
"The takeaway is we need better bike parking," said the Bike Coalition's Research Director John Boyle.
Despite the controvery it is sure to raise, Mayor Michael Nutter's fiscal year 2014 budget includes $3 million to go toward a Bikeshare Infrastructure Program. It has yet to be revealed if this will create more bike parking or how much funding, if any, the City will commit exclusively to bike parking facilities.
30th Street bike parking facility
Of all of the stations in the region, 30th Street Station received the most feedback with 55 responses.
"People had a lot of really specific ideas for design solutions to better accommodate parking," said Greg Krykewycz, DVRPC's Office of Transit, Bicycle and Pedestrian Planning manager.
Suggestions included everything from covered bike parking to a bike parking garage and a bike-parking center.
Boyle said the survey helps indicate a need for a high quality bike parking facility at both 30th Street and Suburban stations, a lack of which is one of the biggest barriers of biking to those stations.
"We're hoping the level of demand dictates we do something better," Boyle said.
"We spend a lot of money trying to accommodate people parking [vehicles]," he said. "… Yet for bike parking it's a great bang for the buck. I think a small investment for bike parking is just good business."
Security at Girard El station
The Market Frankford Line's Girard Station received the next highest level of response and the highest number of responses for any Broad Street or Market Frankford Line station.
"People felt like they were comfortable riding to the station perhaps, but they weren't comfortable with leaving their bikes for a long period of time," Krykewycz said.
In general the survey showed high demand for both more bike parking and improved bike parking at MFL stations.
"There's a lot of room for improvement at the El stations," Boyle said. "Girard and Berks seem to be the ones that have the most potential for better bike-to-transit ridership."
Bike to train results
"From what I've seen, a lot of the requests from the suburban markets are, 'I need a better way to get to the station,'" Boyle said.
In New Jersey, Princeton Junction received 20 survey responses with comments calling for improved station access, which might surprise some given the fact that Princeton Junction already has both bike parking and lockers that cyclists can rent.
With seven responses, Collingswood Station was the most commented on PATCO station on the New Jersey side of the system. That dovetailed with what PATCO expected to see as the corporation has made recent investments there.
"It was nice to get them validation," Krykewycz said.
Of SEPTA's regional rail stations, Glenside received the most responses, with six. Hatboro, Langhorne and Downingtown stations all had more than three responses each.
What's next?
"We're pretty happy at the level of response," Krykewycz said.
DVRPC's online surveys and questionnaires typically get closer to a couple hundred responses, so Krykewycz said he is happy with the 462 returns. He is particularly happy that the survey drew both a lot of feedback on regional rail stations as well as a lot of responses to the more open-ended "other" questions.
"That's a lot of good user input and public input we can use to inform our work," he said.
DVRPC is still parsing through the data but says the emerging consensus that the region needs better bike parking will help secure future funding. DVRPC plans to use the results for, among other things, an upcoming trails-to-transit project. That project will look at the last mile connections between transit and regional trail networks. DVRPC hopes to have a draft completed this summer.
The individual transit agencies, which all participated in the survey, have been given the feedback and will likely use it to help determine where they make bike parking investments.
Krkewycz said one important note is that this survey was really a questionnaire for people who already have some level of interest in bicycling and/or transit. It is not a scientific study, he said.
"We can't say that because Glenside had six responses that's where they should absolutely put more parking."
Bicycle parking is limited at Suburban Station

Some survey respondents want to see improvements over the old, simple bike racks
WHYY is your source for fact-based, in-depth journalism and information. As a nonprofit organization, we rely on financial support from readers like you. Please give today.