Beer chemist schools Grey Lodge patrons during Philly Beer Week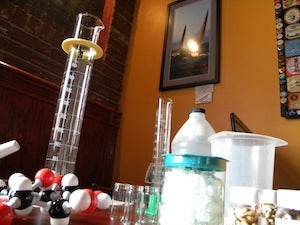 Dr. Roger Barth of West Chester is not your ordinary chemistry professor. The name of his West Chester University class is called The Chemistry of Beer.
That brewed alcoholic drink — the one many enjoy on weekends, after a hard day's work, at a family barbecue and during Philly's very own Beer Week — yes, that drink, is broken down to a science.
"I thought, 'what do the students do in their spare time,' and it worked out that there were two activities that stuck out and I thought I'd latch onto one of them. So I came up with the idea of teaching about the chemistry of beer," said Barth during his introduction at a presentation at Grey Lodge Pub during last week's Beer Week.
Barth has always been a lover of chemistry, but according to his wife Marcy, his son and daughter thought, "daddy needed a hobby."
"Naomi bought him a little beer making kit. Roger had said for years, 'maybe when I retire I'll make beer.' And it was Naomi's idea, 'why do you have to wait till you retire? You're going to enjoy this.' So he got the little beer making kit and after two batches he said, 'Oh I gotta do more than this.'"
With the help of his wife, who is a graphic designer, Barth wrote and published his the textbook that is used for his class.
This is only the second year Barth has taught the Chemistry of Beer to interested beer lovers during the celebration of Philly Beer Week and said he looks forward to the years to come.
Danny Donnelly is a student reporting for Philadelphia Neighborhoods, the publication of Temple University's Multimedia Reporting Lab.