Weekly Entertainment Guide – Mamma Mia!
Robin Bloom offers over 40 suggestions for what to do this holiday season!
What's Happening
Mamma Mia!
Bring your dancing queen to see Mamma Mia! as the final farewell tour of the national production comes to Philadelphia, December 27-31. The popular jukebox musical by Benny Andersson and Björn Ulvaeus – part of the Kimmel Center's Broadway Philadelphia season – is one of the most successful musicals and is the eighth longest running in Broadway history and features Allentown, Pennsylvania native Lizzie Markson as "Sophie." Based on the songs of ABBA, expect favorites like "S.O.S," "Money, Money, Money," "Take a Chance on Me," and of course, "Dancing Queen," at the Merriam Theater, 250 S. Broad Street, Philadelphia. Photo by Kevin Thomas Garcia.
Annual Christmas Day Crossing of the Delaware River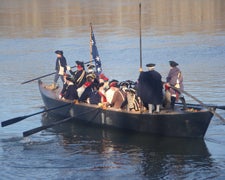 240 years ago, at one of the lowest points of the American Revolution, General George Washington and a small army of men crossed the Delaware River on December 25, 1776, and led a successful surprise attack on the Hessian garrison at Trenton, New Jersey. The Battle of Trenton, a key victory from Washington's Continental Army, boosted their confidence to persevere and ultimately triumph. Washington Crossing Historic Park, the actual crossing site, hosts the 64th Annual Christmas Crossing Reenactment on December 25 from noon-3 p.m. (crossing time at 1 p.m.), Washington Crossing, Pennsylvania.
Patriots Week in Trenton
The annual Patriots Week kicks off Monday, December 26, celebrating Trenton's unique and pivotal role in the American Revolution with dozens of events for all ages through December 31, including musical performances, family activities, battlefield re-enactments, Colonial Ball, and living history events at various locations in Trenton, New Jersey.
All-Star Days at the Academy of Natural Sciences of Drexel University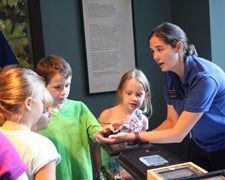 The Academy of Natural Sciences of Drexel University hosts All-Star Days, featuring Dinosaurs Unearthed Day, Bugs and Butterflies Day, Fur, Feathers, and Scales Day, and Weird Things in Jars Day, Tuesday, December 27 through Friday, December 30, celebrating its most popular attractions with live animal shows, stage shows, museum specimens, craft making, talks and more, included with museum admission, 1900 Benjamin Franklin Parkway, Philadelphia. Photo by Mike Servedio/ANS.
Hanukkah events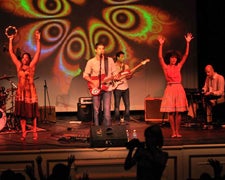 Franklin Square hosts a Hanukkah Celebration, Friday, December 23, 5:30 p.m. – 7:30 p.m., with games and crafts, free, 6th and Race Streets, Philadelphia. The Philadelphia Museum of Art hosts Festival of Lights, klezmer music by the West Philadelphia Orchestra, Friday, December 23, 5:00 p.m. – 8:45 p.m., Benjamin Franklin Parkway, Philadelphia. The Moo Shu Jew Show returns on Christmas Eve, December 24, 6pm, with an evening of Jewish inspired stand-up comedy at Ocean Harbor Restaurant, featuring comedians Cory Kahaney, Julie Goldman, Josh Gondelman, and Avi Liberman, and a multi-course Chinese banquet, 1023 Race Street, in Philadelphia's Chinatown. Food is not kosher but vegetarian options are available. Enjoy Being ______ at Christmas, the NMAJH's annual day of family fun, Sunday, December 25, from 10 a.m. – 5:30 p.m., featuring Alex and the Kaleidoscope Band (pictured), family activities including a project with the Clay Studio, story time, sweets, and more, 101 South Independence Mall East, Philadelphia. Matisyahu returns to the Philadelphia area for his Festival of Light tour, Tuesday, December 27, 8 p.m. (doors open at 7 p.m.), TLA, Theater of Living Arts, 334 South Street, Philadelphia. The Please Touch Museum hosts a Hanukkah Celebration, Thursday, December 29 with performances by the West Philadelphia Orchestra at 12 p.m. and 2 p.m., Memorial Hall, Fairmount Park, 4231 Avenue of the Republic, Philadelphia.
Kwanzaa Family Celebrations
The Please Touch Museum hosts a Kwanzaa Celebration, Tuesday, December 27, Memorial Hall, Fairmount Park, 4231 Avenue of the Republic, Philadelphia. The African American Museum in Philadelphia celebrates the 50th anniversary of Kwanzaa with the Macy's Family Fun Day: Kwanzaa Celebration, Friday, December 30, 10 a.m. – 5 p.m., and a candle-lighting, music, dance, storytelling and crafts, 701 Arch Street, Philadelphia. Included with museum admission. (AP Photo/Jennifer Szymaszek)
Festival of Trees at Morven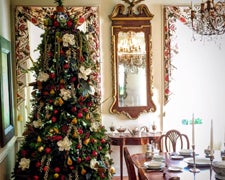 Morven Museum and Garden hosts the annual Festival of Trees, as the museum's galleries are decorated with festive trees for the holiday, on display through January 8. Morven is a National Historic Landmark and former New Jersey Governor's Mansion, birthplace of Richard Stockton, one of the signers of the Declaration of Independence, 55 Stockton Street, Princeton, New Jersey. While there, check out the exhibit Bruce Springsteen: A Photographic Journey.
Shady Brook Farm's Holiday Light Show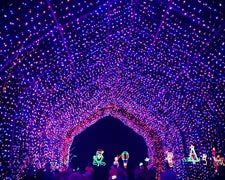 Take in Shady Brook Farm's annual Holiday Light Show, as more than 3 million lights illuminate acres of farmland with familiar characters and whimsical displays, 5 p.m. – 10 p.m. nightly (with extended hours on certain days). After the show, enjoy a bonfire and treats through January 8, 931 Stony Hill Road, Yardley, Pennsylvania. Ride in your car or on a wagon ride.
Cape May Christmas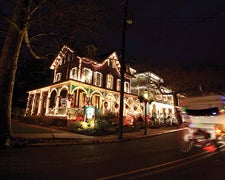 Cape May offers trolley rides, and an old-Fashioned Christmas Exhibit of holiday traditions through the years with a Dickens village, model trains, evening Yuletide tours, and more at the Carroll Gallery, Emlen Physick Estate, 1048 Washington Street, Cape May, New Jersey. Also check out Cape May Stage's One Christmas Carol.
German Christmas Traditions at Woodmere Art Museum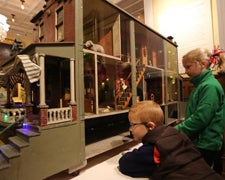 Step back into the nineteenth century and enjoy the Christmas traditions of the German settlement in Philadelphia with an exhibition of children's toys and holiday decorations from the collection of the Germantown Historical Society, on view at Woodmere Art Museum through January 8. Highlights include a nineteenth-century sculpture of Belsnickel, the predecessor of the modern Santa Claus, the holiday tree decorated according to the style of the time with historic and period-inspired ornaments, and the gallery filled with toy trains, wooden toys, puzzles, dolls, a doll house, and other objects that transport visitors back into a traditional Christmas of Philadelphia, 9201 Germantown Avenue, Chestnut Hill. Photo courtesy of Woodmere Art Museum.
Historic Smithville's Holiday Light Show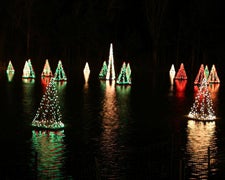 Historic Smithville, New Jersey hosts the annual Holiday Light Show, Thursdays through Sundays, through January 2, as over 120 Christmas trees in the lake, made from 50,000 lights, blink on and off to holiday music by the Colonial Inn, 615 East Moss Mill Road, Smithville, New Jersey. Free.
A Very Philly Christmas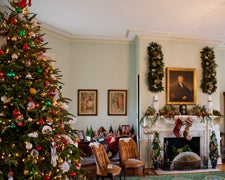 Take a Historic Houses of Fairmount Park Holiday Tour. This year's theme is "A Very Philly Christmas" as the six Fairmount Park "Charms," Cedar Grove, Laurel Hill Mansion (pictured), Lemon Hill, Mount Pleasant, Woodford, and Strawberry Mansion, are dressed up with themes for the holidays, with special events and more through the end of December. Photo by Lauren Schwarz Photography.
"A Christmas Carol" at Walnut Street Theatre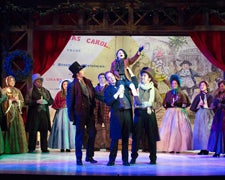 Head back to 1840s London and join Ebenezer Scrooge and the ghosts of Christmas Past, Present and Future for the annual Philadelphia tradition of A Christmas Carol, on the main stage at Walnut Street Theatre, through December 23. The hour-long musical, directed and choreographed by Ellie Mooney, is based on the classic Charles Dickens novel and features original music with Mark Collmer returning as Scrooge, 825 Walnut Street, Philadelphia. For all ages. Photo by Mark Garvin.
"The Carols" at 1812 Productions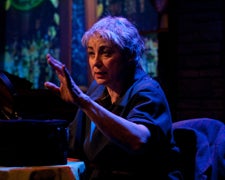 The Carols, a world premiere musical for the holidays, takes to the stage at 1812 Productions. Written and directed by Jennifer Childs, the show is set during Christmas in 1943 in the small town of Picatinny, New Jersey. As members of the community wait in the local VFW hall for their loved ones to return from World War II, they bring their own stories of hope lost and found to the stage during the hall's annual performance of "A Christmas Carol." Cast includes Mary Martello, Rachel Camp, Emily Kleimo, Caroline Dooner, Anthony Lawton, and TJ Harris, through December 31, Plays and Players Theatre, 1714 Delancey Place, Center City Philadelphia. Photo by Mark Garvin.
"A Year with Frog and Toad" at Arden Theatre Company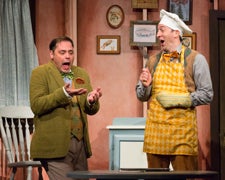 Arden Theatre Company shares the heartwarming musical A Year with Frog and Toad once again with a new generation. The children's theatre production is based on the Frog and Toad children's stories written and illustrated by Arnold Lobel about the unlikely friendships between cheerful Frog and the grumpy Toad. Featuring music by Robert Reale and directed by Whit MacLaughlin, the critically-acclaimed production features Barrymore Award-winners Jeff Coon and Ben Dibble reprising their roles with Steve Pacek, Leigha Kato and Elexis Morton, through January 29, 40 N. 2nd Street, Philadelphia. Photo by Mark Garvin.
Pennsylvania Ballet presents George Balanchine's "The Nutcracker"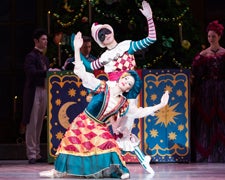 The Pennsylvania Ballet performs the annual holiday spectacular, George Balanchine's The Nutcracker, through December 31, featuring the Philadelphia Boys Choir and the Pennsylvania Ballet Orchestra at the Academy of Music, Broad Street, Philadelphia. New this year is a specially adjusted sensory-friendly performance, December 22, to provide a relaxed atmosphere for children and families with a wide range of sensory, learning, and communication differences including autism spectrum. Photo by Alexander Iziliaev.
Quintessence Theatre Group's "Wilde Tales"
Immerse yourself in Wilde Tales, Quintessence Theatre Group's mix of short stories by Oscar Wilde. Adapted and directed by Jeremy Bloom with original songs by David Cope, the holiday show is centered on the story of a selfish giant who builds a wall around his beautiful garden to prevent the local children from playing in it. Starring Ashton Carter, Ife Foy, Michael Gamache, Terence Gleeson, Mattie Hawkinson, Aneesa Neibauer, Vanessa Sterling, and Hannah Wolff with puppetry by Marina Plag through December 31 at the Sedgwick Theater, 7137 Germantown Avenue, Mt. Airy. Photo by Shawn May.
A Longwood Christmas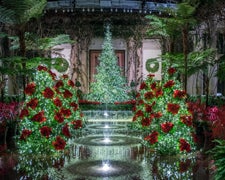 This Christmas, experience the spectacular both indoors and out at Longwood Gardens with A Longwood Christmas, and living floral displays, opulent ornaments, stunning trees, musical performances, organ sing-alongs, garden railway, and much more. Take in more than 50 trees adorned with icicles and frosty glass ornaments in the conservatory. The musically inspired 18-foot revolving Fraser Fir, decorated with musical instruments, is featured in the grand Music Room, and enjoy the 30-foot tree with more than 1300 poinsettias, ivy, and orchids. Three fire pits are placed around the gardens to keep you warm as you gaze at the night sky, watch colorful fountains dancing to holiday music, view a half-million lights. Outdoor lights come on at 3:30pm each day, through January 8, on Route 1, Kennett Square, PA. Photo by Harold A. Davis/Longwood Gardens.
Reading Terminal Market Holiday Railroad
The Reading Terminal Market Holiday Railroad returns with a third of a mile of track running 17 working trains steaming through miniature scenery depicting Center City Philadelphia, a Christmas Village, and other seasonal displays, open daily at 10 a.m. through December 31 (closed on Christmas Day), 12th and Arch Street, Philadelphia, free. Photo courtesy of Reading Terminal Market.
Gingerbread House Competition & Display at Peddler's Village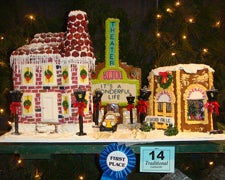 Peddler's Village hosts the annual Gingerbread House Competition and Display, a show of confections in several categories through January 1, in the gazebo, Routes 202 and 263, Lahaska, Bucks County, PA. Free admission and free parking. Photo courtesy of Peddler's Village.
The Center for Architecture and Design's Gingerbread Architecture Challenge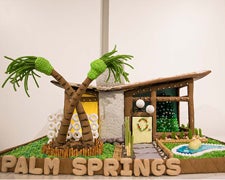 The Center for Architecture and Design hosts the first annual Gingerbread Architecture Challenge. Vote for your favorite house by December 31 and visit the free, annual, family-friendly exhibition, Constructing Play: Classic + Modern Building Toys, 1218 Arch Street, Philadelphia. Photo courtesy of Chris Kendig Photography.
Adventure Aquarium's annual Christmas Celebration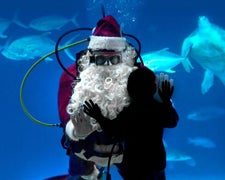 Look for Scuba Santa swimming alongside sharks, sea turtles, and stingrays in the 760,000-gallon Ocean Realm exhibit at Adventure Aquarium's annual Christmas Celebration. The building is transformed into an underwater winter wonderland with larger than life decorations, twinkling lights, glowing trees and gently falling snow, through December 31, 1 Riverside Drive, Camden, NJ. Photo courtesy of Adventure Aquarium.
Every Christmas Story Ever Told (And Then Some)
Casabuena Cultural Productions presents Every Christmas Story Ever Told (And Then Some), all of your favorite holiday classics told in a fast-paced hour and a half, with Jim Broyles, Kyle Paul Dandridge, Teresa Nutter, and Brian Weiser, directed by Mariangela Saavedra, through December 23, Stagecrafters Theater, 8130 Germantown Avenue, Chestnut Hill. Photo by Mariangela Saavedra.
"Murder for Two: Holiday Edition" at Bucks County Playhouse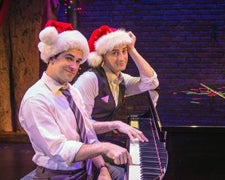 Joe Kinosian and Kellen Blair are back, blending music, mayhem and – of course – murder in Murder for Two: Holiday Edition at Bucks County Playhouse. The two performers play the roles (and the piano) in an homage to old-fashioned murder mysteries in an all-new world premiere production, extended through December 31, 70 South Main Street, New Hope, Pennsylvania. For all ages. Photo by Daniel T. Gramkee.
"Murray the Elf" at Act II Playhouse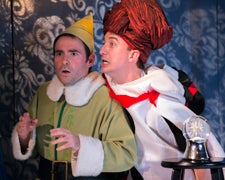 The fifth and final Murray the Elf mystery comes to Act II Playhouse. Murray the Elf and the Case of the Horrible Heist through December 29. The world premiere new play, written by Act II's Bill D'Agostino and directed by Matt Silva, mixes mystery with comedy for an exciting and fun story for the whole family. Starring Will Dennis as Murray and Andy Shaw, who plays all of the other characters including Mrs. Claus, Candy Kane, the Easter Bunny, a lightning-fast Gingerbread Man, and a millennial elf named Jingle. Designed for children ages four and older. Also onstage, This Wonderful Life, a one-man version of the classic movie It's a Wonderful Life starring Tony Braithwaite as all of the residents of Bedford Falls, 56 East Butler Avenue, Ambler, PA. Photo by Bill D'Agostino.
Yuletide at Winterthur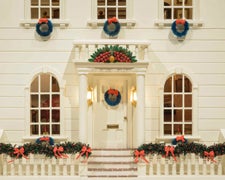 Yuletide at Winterthur returns with a glimpse at winter holidays past, exploring the holiday traditions of Henry Francis du Pont and his family. This year, Winterthur focuses on the holidays as experienced by children from 1850 to 1950 with the central attraction being a dollhouse (pictured) recently gifted to the museum by Jack D. McDaniel. His wife, the late Nancy B. McDaniel, had the fully-electrified, 18 room dollhouse built in England and it houses over 1000 objects – including over 100 pieces of sterling silver – and is fully decorated for the holidays. The exhibit also features museum room displays that include Winterthur's own collections of miniature objects. Look for the dried flower tree, Winterthur's signature showpiece, and the exhibit Lasting Impressions: The Artists of Currier & Ives, through January 8, Winterthur, DE. Photo by Jim Schneck/Winterthur.
"A Christmas Story" at Media Theatre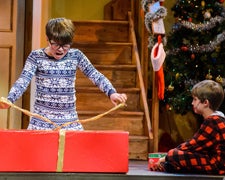 Onstage at Media Theatre is A Christmas Story: The Musical, based on the classic holiday comedy film based on the short stories of author Jean Shepherd. The two-act production features a live orchestra and is directed and choreographed by Dann Dunn. The role of Ralphie is double cast, featuring Ben Petersen and Tim Woodward, through January 8, 104 E. State Street, Media, Pennsylvania. Photo by Maura McConnell.
Hedgerow Theatre's "A Christmas Carol"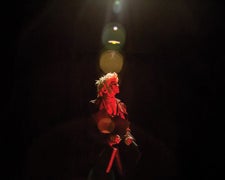 Hedgerow Theatre presents the 24th annual production of Charles Dickens' A Christmas Carol. The holiday staple is adapted and directed by Artistic Director Jared Reed with Zoran Kovcic returning as Scrooge through December 24 at "America's first repertory theater," 64 Rose Valley Road, Rose Valley, PA. Photo by Wide Eyed Studios.
McCarter Theatre's "A Christmas Carol"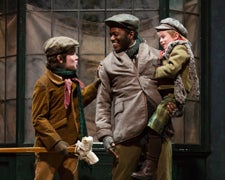 McCarter Theatre Center has reimagined its production of Charles Dickens' A Christmas Carol. Adam Immerwahr directs a new production, adapted by David Thompson with period-specific music composed by Michael Friedman. Look for a 21st century design and special effects. Greg Wood, who plays Scrooge, is joined by a cast of professional actors as well as ensemble members chosen from the greater Princeton community, through December 31, 91 University Place, Princeton, NJ. Photo by T. Charles Erickson.
"A Christmas Carol" at Delaware Theatre Company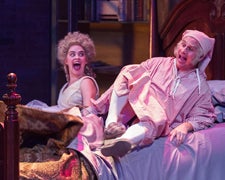 Seven actors bring some of Charles Dickens' most beloved characters to life with A Christmas Carol, onstage at Delaware Theatre Company. The new adaptation by Patrick Barlow is directed by Steve Tague through December 30, 200 Water Street Wilmington, Delaware. Catch a pre-show "Viewpoints" on Wednesday, December 28. Post-show talkbacks are held on Thursdays, December 22, and 29 immediately following the evening performance. Photo by Matt Urban, Mobius New Media.
Holidays in Delaware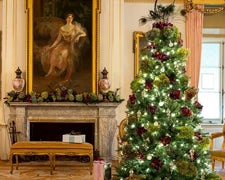 Nemours Mansion (pictured) is decorated for the season with historical artifacts, Christmas trees, hand-painted ornaments and decorations from the early 1900s to the present, and more, through January 8, 850 Alapocas Drive, Wilmington.Tales and Traditions: Holidays at the Read House offers tours of the Read House and Gardens, as the twenty-two room, 14,000-square-foot home of George Read II, son of a Delaware signer of both the Declaration of Independence and the Constitution, is decorated for Christmas with a holiday dinner setting, tree decorated with fruit and nut garlands and trinkets, and more, through December 31, 42 The Strand, on the waterfront in New Castle.
The Annual Christmas Village in Philadelphia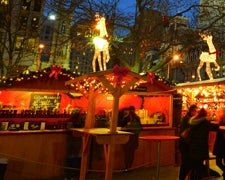 The annual Christmas Village in Philadelphia returns in a new location at Philadelphia's City Hall on Thanksgiving Day, through December 24. The outdoor German holiday market features vendors in wooden booths offering international seasonal arts and crafts, gifts, ornaments, food and more as well as live performances of local choirs and bands, 1400 JFK Boulevard. Free admission. Photo by Russ Brown Photography.
Macy's Grand Court Light Show
Macy's Grand Court Light Show returns the day after Thanksgiving through December 31. The show runs every day of the week (except Christmas Day) on every even hour from 10 a.m.-8 p.m. Best viewing times are Monday through Thursday. Also, children's activities, photos with Santa, and of course, the Dickens Village, 13th and Market Streets, Philadelphia.
Comcast Holiday Spectacular
The Comcast Holiday Spectacular returns to the Comcast Center through January 1, shown on the state-of-the-art Comcast Experience Video Wall, one of the largest LED screens in the world, spanning 83.3 feet wide by 25.4 feet high, capturing the essence of the holidays with performances by the Pennsylvania Ballet. 15 minute shows begin at the top of every hour, 10 a.m.-8 p.m. daily (except for weekdays at 5pm), 1701 John F. Kennedy Boulevard, Philadelphia. Free.
Franklin Square's Holiday Festival
Stop by Franklin Square for the Holiday Festival and Electrical Spectacle: Holiday Light Show, 4 p.m.-8 p.m. daily, through December 31, as the park is transformed into a magical place with carols, dancing snowflakes, holiday music and more. Two alternating shows every 30 minutes, 6th and Race Streets, Philadelphia. Photo by Jeff Fusco.
Holiday Garden Railway Display at Morris Arboretum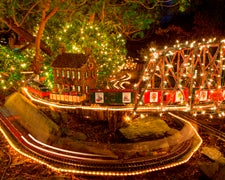 The Morris Arboretum's popular Holiday Garden Railway Display returns with a quarter mile of track featuring seven loops and tunnels with fifteen different rail lines and two cable cars, nine bridges (including a trestle bridge you can walk under), and bustling model trains. The display and buildings are all made of natural materials (bark, leaves, twigs, hollow logs, mosses, acorns, dried flowers, seeds and stones) to form a miniature landscape with rivers and buildings that are exact replicas of the original including Independence Hall and other Philadelphia-area landmarks, all decorated for the holidays through January 2. Back this year is Friday Night Lights, an opportunity to enjoy the display at night on Fridays in December, 100 Northwestern Avenue in Chestnut Hill. Photo by Mark Stehle.
A Brandywine Christmas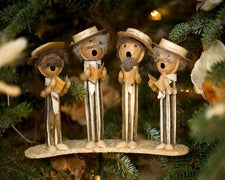 The Brandywine River Museum of Art's annual tradition of A Brandywine Christmas returns through January 8 with the O-gauge model train display, featuring nearly 2,000 feet of track, trees decorated with thousands of "critter" ornaments, and antique dolls from the museum's collection, U.S. Route 1, Chadds Ford, Pennsylvania. Photo by Carlos Alejandro.
Christmas at Hagley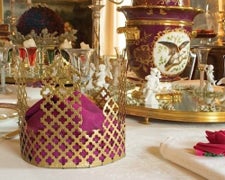 Hagley Museum and Library offers Holidays at Hagley, featuring the original du Pont family home specially decorated for the holiday season. This year's display, A Child's Delight, displays decorations of holidays past including toys, games, and dolls, including a case filled with small ceramic animals that belonged to some of the du Pont family children, through January 1 off Route 141 in Greenville, Delaware approximately 4 miles from downtown Wilmington.
Take advantage of free meter parking in Philadelphia after 11am on Saturdays through New Year's.
Each week, the Entertainment Guide spotlights interesting local arts offerings happening now, including music, dance, theater, museums, special exhibitions and other arts events from across the region.
To submit an event to be considered, email Robin Bloom at artscalendar@whyy.org.