Weekly Entertainment Guide – After Birth of a Nation
Listen
Robin Bloom shares her recommendations for what to do this week in the Philadelphia region!
What's Happening
Malpaso Dance Company
Cuba's Malpaso Dance Company makes its Philadelphia debut, February 15-19, as part of NextMove Dance at the Prince Theater. The multi-cultural contemporary dance troupe presents two major works including 24 Hours and a Dog choreographed by Osnel Delgado, Malpaso Dance Company's Artistic Director and Co-Founder, set to the theatrical and evocative music of Grammy Award-winning jazz composer Arturo O'Farrill and inspired by the daily life of a dancer in Havana. Why You Follow, choreographed by Ronald K. Brown, Artistic Director of Evidence, is an exploration of the rhythmic pace of Afro-Cuba, 1412 Chestnut Street, Philadelphia. Related events include a master class on Friday, February 17 1 p.m. and post-performance chats after the Thursday 7:30 p.m. and Saturday 2 p.m. performances. Photo by Cherylynn Tsushima.
Mummers Mardi Gras in Manayunk
The Philadelphia Mummers return to Main Street in Manayunk to celebrate Mardi Gras on Saturday, February 18. Route starts at Shurs Lane at 11 a.m. and proceeds down Main Street with performances by over 15 of the most prominent string bands parading down Main Street in a daylong celebration. Rain date Sunday, February 19. Photo by JPG Photography. Courtesy of Manayunk Development Corporation.
Black History Month Celebration at Reading Terminal Market
Reading Terminal Market hosts a Black History Month Celebration, Saturday, February 18, 10 a.m. – 2 p.m., with performances, activities from the African American Museum in Philadelphia, cooking demonstrations, music, and more, free to the public, 51 N. 12th Street, Philadelphia. The historic market opened its doors in 1892 on the site of what had been an open air market from the late 17th century. Surviving some rough years with the demise of the Reading Railroad, today it is considered one of the finest public markets in the country.
Chamber Orchestra of Philadelphia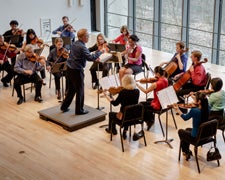 Chamber Orchestra of Philadelphia's First Editions concert series continues with The Sparkling Flute of Mimi Stillman, who leads the orchestra in a program of Mozart and three provocative new works by Zhou Tian, Ingrid Arauco and Curt Cacioppo, and Robert Maggio, Saturday, February 18, 8 p.m., Roberts Hall, Marshall Auditorium, Haverford College, Haverford, Pennsylvania and Sunday, February 19, 8 p.m., Trinity Center for Urban Life, 22nd and Spruce Streets, Philadelphia. Free and open the public without ticket. Photo by Sharon Torello.
Before Selfies: Forty Years of Photographs by Scott Weiner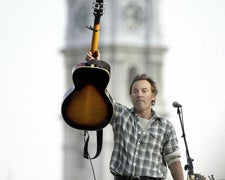 Celebrated photographer Scott Weiner's work spanning four decades can be seen in a one day only pop up photography exhibition and sale, Sunday, February 19, 3 p.m. – 7 p.m. Weiner, a photographer for Newsweek magazine and for Live Aid, has been published in hundreds of books, magazines, newspapers, and websites, and he has photographed celebrities and musicians who have come through Philadelphia for the past 40 years. Before Selfies: Forty Years of Photographs by Scott Weiner includes never-before-seen photos of musicians in concert, intimate portraits, candid settings, and historical moments, South Philly Bar and Grill, 1235-37 East Passyunk Avenue, South Philadelphia. Pictured: Bruce Springsteen at a rally for Barack Obama in Philadelphia, 2007, by Scott Weiner.
Onstage
I Go On Singing: Paul Robeson's Life in Song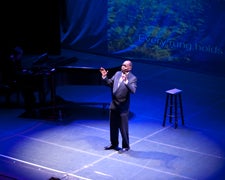 I Go On Singing: Paul Robeson's Life in Song, a documentary and live concert about Princeton-born all-American athlete, singer, actor, and civil rights champion Paul Robeson, offers a multimedia performance led by baritone Anthony Brown, February 18, 8 p.m., Annenberg Center Live. Accompanied by piano, a narrator, and archival video, musical selections range from Broadway to spirituals, 3680 Walnut Street, Philadelphia. Photo courtesy of Anthony Brown.
"After Birth of a Nation" at City Theater Company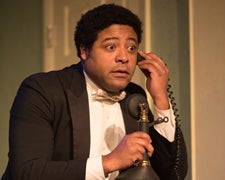 After Birth of a Nation, a new farce by local playwright David Robson, takes to the stage at City Theater Company. The world premiere is set on the evening that "Birth of a Nation" was shown at the White House in 1915 and is a funny reimagining of what events may or may not have taken place. Directed by CTC's Producing Artistic Director Michael Gray, the production features Chris Banker, Jim Burns, Dylan Geringer, Jeff Hunsicker, Kerry Kristine McElrone, Paul McElwee, George Tietze, and Dan Tucker through February 18, the Black Box, 4 South Poplar Street, Wilmington, Delaware. Photo by Joe del Tufo/Moonloop Photography.
Curio Theatre Company's "Waiting for Godot"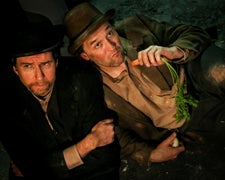 Curio Theatre Company takes on Samuel Beckett's modern classic, Waiting for Godot. Considered one of the most significant plays of the 20th century, the absurdist production about two men waiting for a man named Godot who never shows is directed by Dan Hodge with Paul Kuhn (Curio's Artistic Director), Brian McCann, Robert DaPonte, and Harry Slack, through March 4, Calvary Center for Culture and Community, 4740 Baltimore Avenue, Philadelphia. Photo by Rebecca Gudelunas.
Theatre Horizon's "Grand Concourse"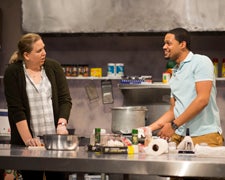 Onstage at Theatre Horizon is Heidi Schreck's Grand Concourse, a play that navigates the limits of forgiveness. Funny and insightful, the story centers on a woman who runs her church's soup kitchen in the Bronx, directed by Beth Lopes. Cast includes Barrymore Award-winner David Bardeen, Randy Nuñez, Samantha Rosentrater, and Ariella Serur, through February 26, 401 Dekalb Street, Norristown, PA. The exhibit is accompanied by "Imagine No Hunger," a social service project and art exhibit exploring issues related to food insecurity. Photo by Matthew J. Photography.
"The Matchmaker" at People's Light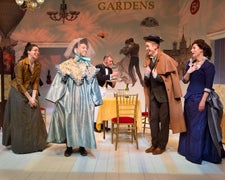 People's Light takes on Thornton Wilder's The Matchmaker. The romantic farce about a wealthy widower and a sly matchmaker in search of the perfect wife was the inspiration for the blockbuster musical Hello, Dolly! Directed by Abigail Adams, the play stars Peter DeLaurier, James Ijames, Kathryn Peterson, and Graham Smith, with live music by Liz Filios, through March 12, 39 Conestoga Road, Malvern, Pennsylvania. Related programs and events include AfterWORDS, a facilitated post-performance conversation with the cast after Thursday evening performances, Scoop on Wednesdays: History, Context, and Gossip, open caption performances and more. Photo by Mark Garvin.
"The Bodyguard" at the Academy of Music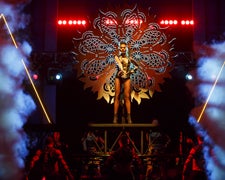 The national tour of The Bodyguard comes to Philadelphia, February 21-26. The West End hit musical is a stage adaptation of the 1992 iconic film by the same name and stars Grammy Award nominee and R&B star Deborah Cox and Judson Mills as the former Secret Service agent-turned bodyguard. Directed by Thea Sharrock at the Academy of Music as part of the Kimmel Center's Broadway Philadelphia series. Photo by Joan Marcus.
Each week, the Entertainment Guide spotlights interesting local arts offerings happening now, including music, dance, theater, museums, special exhibitions and other arts events from across the region.
To submit an event to be considered, email Robin Bloom at artscalendar@whyy.org.